Gangly lancer (Nymphon gracile)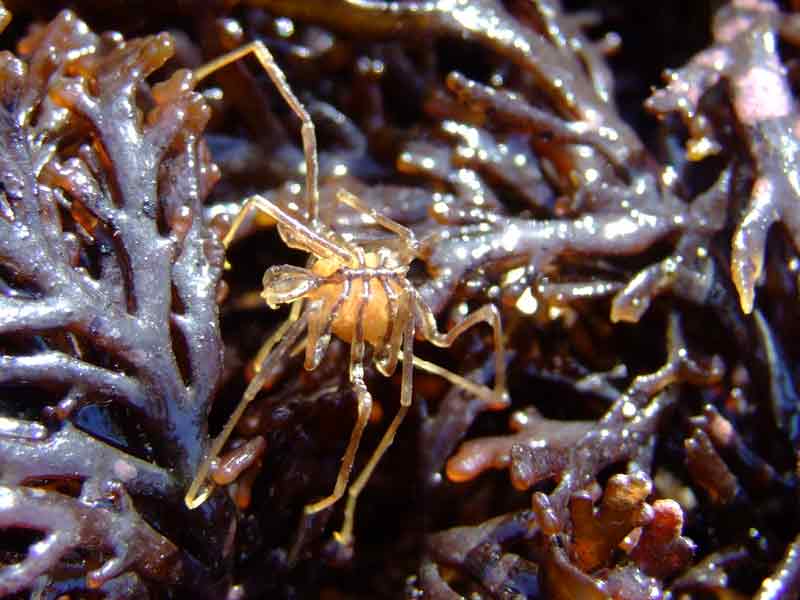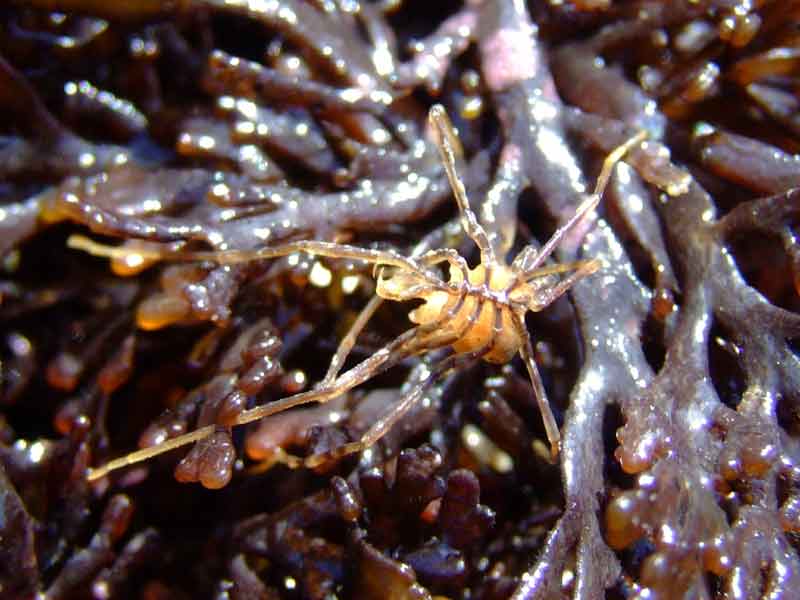 Researched by
Jessica Heard
Refereed by
Admin
Authority
Leach, 1814
Other common names
-
Synonyms
-
Summary
Description
Nymphon gracile has a smooth body up to 1 cm long. Its body segments are longer than they are wide and the proboscis is at least twice as long as it is wide. The eight legs are long and slender and roughly 3 to 4 times the length of the body. Chelifores of Nymphon gracile have well developed chela and the palps consist of 5 segments, the ultimate and penultimate segments being equal in length. Although the body is translucent, there is a visible, pink alimentary canal. Ovigerous legs occur in both sexes and have prominent toothed spines which are used to clean the surface of the body. Nymphon gracile commonly migrate into the sublittoral to breed during winter months. Males then carry the eggs back to the intertidal zone sometime in March or April. Nymphon gracile generally reach maturity within 5 months and average life expectancy is about a year.
Recorded distribution in Britain and Ireland
Nymphon gracile may be found all around the coast of the British Isles, although it is less common in the east.
Habitat
Nymphon gracile can be found in the intertidal and sublittoral of rocky shores.
Identifying features
Slender body
Elongated legs, 3 to 4 times the length of the body
Chelifores have chela
Segmented palps, the ultimate and penultimate are equal in length
Ovigerous legs present in both males and females
Additional information
No text entered
Bibliography
Bruce, J.R., Colman, J.S. & Jones, N.S., 1963. Marine fauna of the Isle of Man. Liverpool: Liverpool University Press.

Crothers, J.H. (ed.), 1966. Dale Fort Marine Fauna. London: Field Studies Council.

Fish, J.D. & Fish, S., 1996. A student's guide to the seashore. Cambridge: Cambridge University Press.

Hayward, P., Nelson-Smith, T. & Shields, C. 1996. Collins pocket guide. Sea shore of Britain and northern Europe. London: HarperCollins.

Howson, C.M. & Picton, B.E., 1997. The species directory of the marine fauna and flora of the British Isles and surrounding seas. Belfast: Ulster Museum. [Ulster Museum publication, no. 276.]

JNCC (Joint Nature Conservation Committee), 1999. Marine Environment Resource Mapping And Information Database (MERMAID): Marine Nature Conservation Review Survey Database. [on-line] http://www.jncc.gov.uk/mermaid

King, P.E. & Case, R.M., 1986. Sea Spiders (Pycnogonids) in and around Milford Haven (South West Wales). Field Studies, 6, 517-529.

King, P.E., 1974. British Sea Spiders. Arthropoda: Pycnogonida. London: Academic Press. [Synopses of the British Fauna (New Series) No. 5.]
Datasets
Citation
This review can be cited as:
Heard, J.R. 2006. Nymphon gracile Gangly lancer. In Tyler-Walters H. and Hiscock K. Marine Life Information Network: Biology and Sensitivity Key Information Reviews, [on-line]. Plymouth: Marine Biological Association of the United Kingdom. [cited 21-09-2023]. Available from: https://www.marlin.ac.uk/species/detail/2107
---
Last Updated: 19/04/2006