Scarlet lady (Fjordia browni)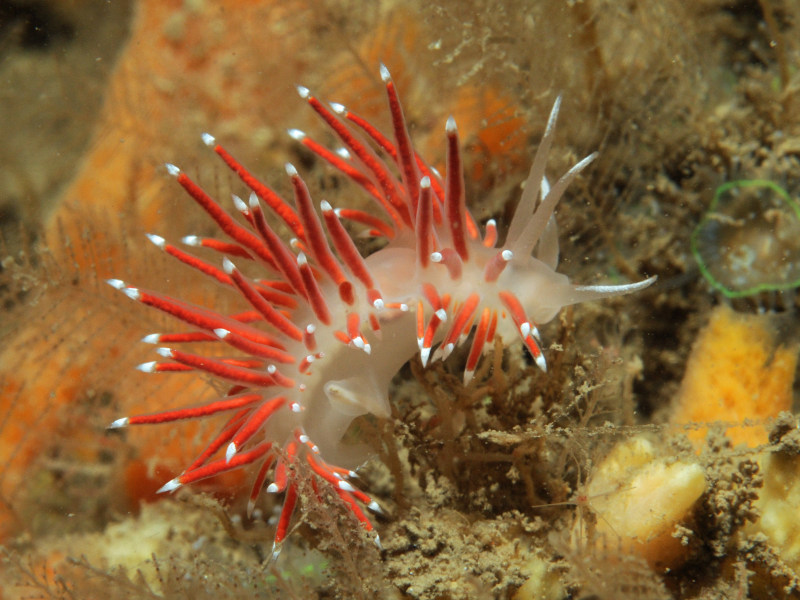 Researched by
Sonia Rowley
Refereed by
Admin
Authority
(Picton, 1980)
Other common names
-
Synonyms
Flabellina browni , Flabellina browni (Picton, 1980), Coryphella browni
Summary
Description
Fjordia browni has a narrow foot and white translucent body with up to eight clusters of cerata present on its dorsal surface arranged in transverse rows. The cerata have a broad white pigment ring just below the tip and contain red or chocolate- brown digestive glands, depending on the species diet or local conditions. The inner cerata are longer than the outer, with the first two groups clearly separated from the rest. The head bares a pair of long pointed oral tentacles and two blunt wrinkled rhinophores. Tips of the oral tentacles, rhinophores and tail also contain a broad white pigment streak. There are two pointed propodial tentacles at the front corners of the foot, characteristic of all Flabellinid sea slugs.
Recorded distribution in Britain and Ireland
This species has been recorded from the Orkney Isles and the west coasts of Scotland, Orkney Isles, England, Wales and Ireland.
Habitat
This species can be found in large numbers feeding on the polyps of
Tubularia indivisa
. It may also be found feeding on
Eudendrium spp
and the solitary hydroid
Corymorphia nutans
. It is common in spring and early summer in shallow water as well as deeper water exposed to tidal streams.
Identifying features
Up to 5 cm long.
White translucent body.
Broad white pigment rings on cerata.
Cerata contain red or Chocolate-brown digestive gland.
Additional information
This species lays white egg masses in a wavy spiral amongst or near to the stems of Tubularia indivisa, on which this species primarily feeds. Fjordia browni ingests the nematocysts (defensive stinging cells) of the hydroid and deposits them in the cerata tips, via the digestive gland, for defense against predators. This species may also be found feeding on Tubularia indivisia in mixed populations with Fjordia lineata, yet there are no known indications of interbreeding between the two species (Picton, 1980). Coryphella lineata differs mainily in having white longitudinal lines down the sides and back of the body, and white dashes on the cerata, unlike Fjordia browni which do not. Fjordia browni was described as new to science in the 1980 and was named after Greg Brown.
Bibliography
Hayward, P.J. & Ryland, J.S. 1990. The marine fauna of the British Isles and north-west Europe. Oxford: Oxford University Press.

Howson, C.M. & Picton, B.E., 1997. The species directory of the marine fauna and flora of the British Isles and surrounding seas. Belfast: Ulster Museum. [Ulster Museum publication, no. 276.]

JNCC (Joint Nature Conservation Committee), 1999. Marine Environment Resource Mapping And Information Database (MERMAID): Marine Nature Conservation Review Survey Database. [on-line] http://www.jncc.gov.uk/mermaid

Naylor, P., 2000. Marine Animals of the South West. Plymouth: Sound Diving Publications

Picton, B. E. & Morrow, C.C., 1994. A Field Guide to the Nudibranchs of the British Isles. London: Immel Publishing Ltd.

Picton, B.E. & Costello, M.J., 1998. BioMar biotope viewer: a guide to marine habitats, fauna and flora of Britain and Ireland. [CD-ROM] Environmental Sciences Unit, Trinity College, Dublin.

Picton, B.E. 1980. A new species of Coryphella (Gastropoda: Opisthobranchia) from the British Isles. Irish Naturalists' Journal, 20, 15-19.
Datasets
NBN (National Biodiversity Network) Atlas. Available from: https://www.nbnatlas.org.

OBIS (Ocean Biodiversity Information System), 2023. Global map of species distribution using gridded data. Available from: Ocean Biogeographic Information System. www.iobis.org. Accessed: 2023-09-21
Citation
This review can be cited as:
Rowley, S.J. 2008. Fjordia browni Scarlet lady. In Tyler-Walters H. and Hiscock K. Marine Life Information Network: Biology and Sensitivity Key Information Reviews, [on-line]. Plymouth: Marine Biological Association of the United Kingdom. [cited 21-09-2023]. Available from: https://www.marlin.ac.uk/species/detail/2128
---
Last Updated: 24/04/2008