Black scorpionfish (Scorpaena porcus)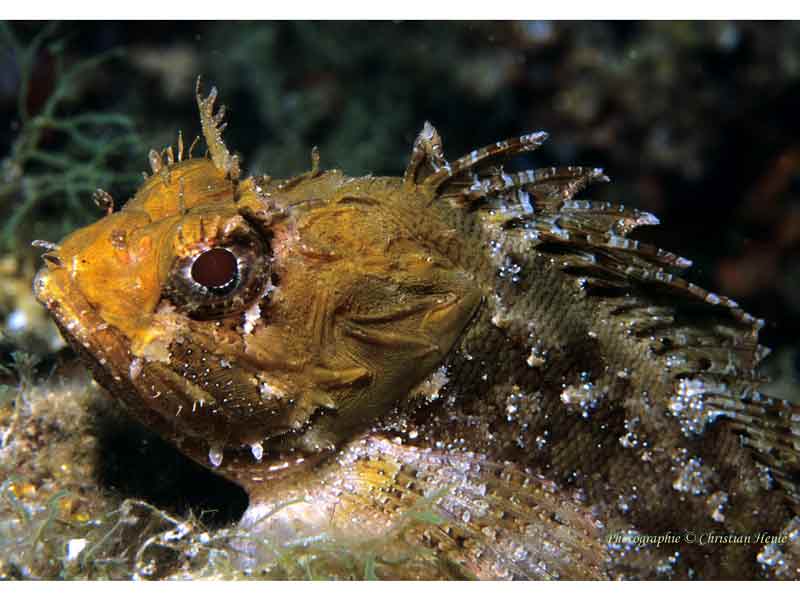 Researched by
Al Reeve
Refereed by
Admin
Authority
Linnaeus, 1758
Other common names
-
Synonyms
-
Summary
Description
Scorpaena porcus can grow to a length of 37 cm but is more commonly between 15 -20 cm. It is browny or orangy in colour with lighter patches and numerous skin appendages, which make for good camouflage. The caudal fin has three dark, vertical bars, and there is a light spot between the eigth and ninth dorsal spine. Behind the gill cover (operculum) there are usually two spines.
Recorded distribution in Britain and Ireland
The south coast of England represents the northern limit of Scorpaena porcus. It is an infrequent visitor to the coastal waters off the south coast and is unlikely to be seen very often.
Habitat
Scorpaena porcus is a benthic species found from the littoral zone down to a depth of around 800 m. Usually seen motionless and solitary amongst rocks and algae on the seabed.
Identifying features
Brown or orangy brown in colour and growing up to 37 cm in length.
Three dark vertical bars on the caudal fin.
Numerous well developed skin appendages and spines.
Large fleshy appendage behind eye.
Light spot on skin between the eigth and ninth dorsal spine.
Additional information
Scorpaena porcus
is similar to
Scorpaena scrofa
in morphology and distribution. However,
Scorpaena scrofa
occurs in water between 20 -110 m, is a brighter orange colour and has less well developed spines behind the operculum.
Scorpaena scrofa
also grows to a length of 51 cm.
Spines of the dorsal, pelvic and anal fins of black scorpionfish have venom glands at their bases. The venomous spines cause an intense pain and throbbing to people stung by it. Treatment is to immerse the affected area in water heated to tolerance level and to disinfect the afflicted area.
This species is also known as the small-scaled scorpionfish (D. Herdson, pers. comm.)
Bibliography
FishBase, 2000. FishBase. A global information system on fishes. [On-line] http://www.fishbase.org, 2001-05-03

Howson, C.M. & Picton, B.E., 1997. The species directory of the marine fauna and flora of the British Isles and surrounding seas. Belfast: Ulster Museum. [Ulster Museum publication, no. 276.]

JNCC (Joint Nature Conservation Committee), 1999. Marine Environment Resource Mapping And Information Database (MERMAID): Marine Nature Conservation Review Survey Database. [on-line] http://www.jncc.gov.uk/mermaid

MarLIN (Marine Life Information Network), 2005. SEArchable BEnthic Data (SEABED) Map [on-line]. Data Access Sub-programme, Marine Life Information Network for Britian and Ireland http://www.marlin.ac.uk,

Wheeler, A., 1969. The fishes of the British Isles and north-west Europe. London: Macmillan.

Whitehead, P.J.P., Bauchot, M.-L., Hureau, J.-C., Nielson, J. & Tortonese, E. 1986. Fishes of the North-eastern Atlantic and the Mediterranean. Vol. I, II & III. Paris: United Nations Educational, Scientific and Cultural Organisation (UNESCO).
Datasets
National Trust, 2017. National Trust Species Records. Occurrence dataset: https://doi.org/10.15468/opc6g1 accessed via GBIF.org on 2018-10-01.

NBN (National Biodiversity Network) Atlas. Available from: https://www.nbnatlas.org.

OBIS (Ocean Biodiversity Information System), 2023. Global map of species distribution using gridded data. Available from: Ocean Biogeographic Information System. www.iobis.org. Accessed: 2023-09-21
Citation
This review can be cited as:
Reeve, A. 2007. Scorpaena porcus Black scorpionfish. In Tyler-Walters H. and Hiscock K. Marine Life Information Network: Biology and Sensitivity Key Information Reviews, [on-line]. Plymouth: Marine Biological Association of the United Kingdom. [cited 21-09-2023]. Available from: https://www.marlin.ac.uk/species/detail/2131
---
Last Updated: 02/01/2007