A sea slug (Rostanga rubra)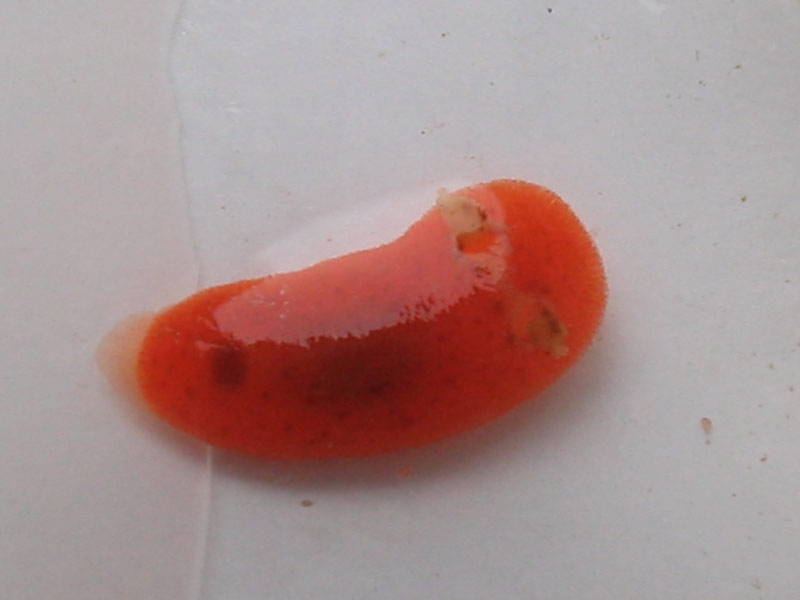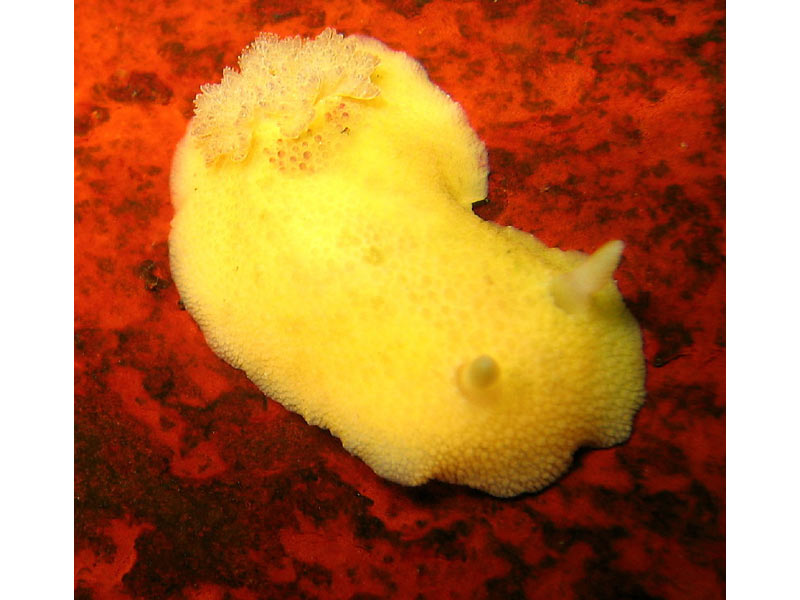 Researched by
Judith Oakley
Refereed by
Admin
Authority
(Risso, 1818)
Other common names
-
Synonyms
-
Summary
Description
Rostanga rubra is usually bright scarlet in colour and up to 2 cm in length. The body is domed and warty.The deep red coloration is derived from the red sponges Microciona atrasanguinea and Ophlitaspongia papilla on which it feeds. There may be scattered black spots dorsally and a characteristic yellowish patch between the rhinopores. Two finger-like oral tentacles project from the sides of the head. The mantle bears many short, blunt tubercles dorsally, together with defensive spicules. Up to ten simple pinnate gills may be present in a tight circle, which retract into a deep pocket or cup.
Recorded distribution in Britain and Ireland
All British coasts except the southeast. Predominantly recorded on the west coasts of England and Wales.
Global distribution
Recorded north to western Norway and south to the Mediterranean.
Habitat
This conspicuous species feeds on red sponges e.g. Microciona atrasanguinea and lives in shallow water. It occurs on the lower shore and shallow sub-littoral on rocky coasts.
Identifying features
Usually bright red in colour but may be pale orange-yellow.
Black flecks and a yellowish patch between rhinopores.
Body domed and warty.
Ten short gills in tight circle.
Up to 2 cm long.
Two oral tentacles project from sides of the head.
Additional information
Spawns in June and July.
Bibliography
Hayward, P., Nelson-Smith, T. & Shields, C. 1996. Collins pocket guide. Sea shore of Britain and northern Europe. London: HarperCollins.

Howson, C.M. & Picton, B.E., 1997. The species directory of the marine fauna and flora of the British Isles and surrounding seas. Belfast: Ulster Museum. [Ulster Museum publication, no. 276.]

JNCC (Joint Nature Conservation Committee), 1999. Marine Environment Resource Mapping And Information Database (MERMAID): Marine Nature Conservation Review Survey Database. [on-line] http://www.jncc.gov.uk/mermaid

MarLIN (Marine Life Information Network), 2005. SEArchable BEnthic Data (SEABED) Map [on-line]. Data Access Sub-programme, Marine Life Information Network for Britian and Ireland http://www.marlin.ac.uk,

Picton, B.E. & Costello, M.J., 1998. BioMar biotope viewer: a guide to marine habitats, fauna and flora of Britain and Ireland. [CD-ROM] Environmental Sciences Unit, Trinity College, Dublin.

Rudman, W.B., 2002b. Rostanga rubra [on-line]. http://www.seaslugforum.net/factsheet.cfm?base=rostrubr,

Thompson, T. E. & Brown, G. H., 1976. British Opisthobranch Molluscs. London: Academic Press. [Synopses of the British Fauna, no. 8.]

Thompson, T.E. & Brown, G.H., 1984. Biology of Opisthobranch Molluscs, vol. II. London: Ray Society.
Datasets
Citation
This review can be cited as:
Oakley, J.A. 2007. Rostanga rubra A sea slug. In Tyler-Walters H. and Hiscock K. Marine Life Information Network: Biology and Sensitivity Key Information Reviews, [on-line]. Plymouth: Marine Biological Association of the United Kingdom. [cited 04-10-2023]. Available from: https://www.marlin.ac.uk/species/detail/2140
---
Last Updated: 24/01/2007