A sea slug (Runcina coronata)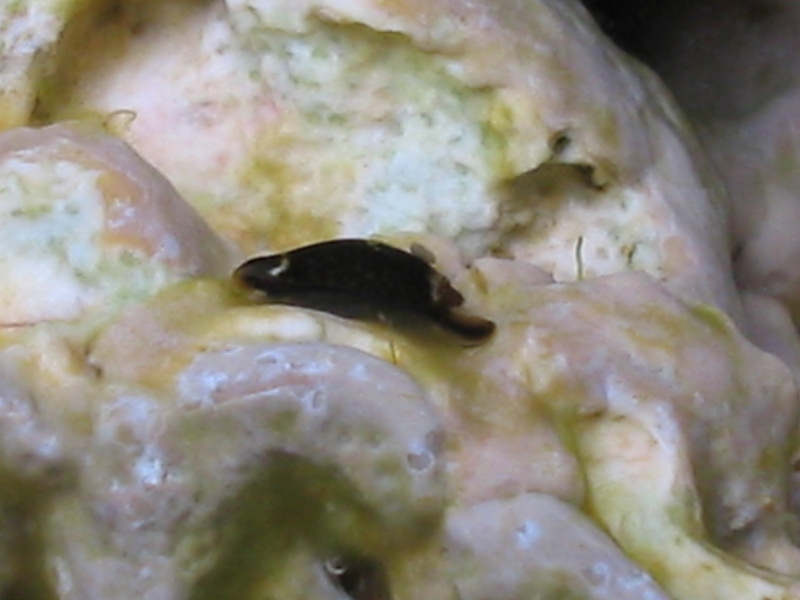 Researched by
Judith Oakley
Refereed by
Admin
Authority
(Quatrefages, 1844)
Other common names
-
Synonyms
-
Summary
Description
Runcina coronata is a shell-less species up to 6 mm long. The head is blunt at the front, with no tentacles. The body is dark brown, with paler areas on the head. Three small posterior gills protrude at the right hand end of the mantle which distinguish the genus from similar sea slugs e.g. Limapontia senetra.
Recorded distribution in Britain and Ireland
Recorded from the south coast of England, Wales, the Isles of Scilly, western Scotland and north to the Orkneys.
Global distribution
From the Atlantic and Mediterranean coasts of France and Portugal.
Habitat
Occurs intertidally in clear coralline rockpools.
Identifying features
Up to 6 mm long.
Body dark brown or olive green with paler areas on head.
Head truncate at front, with no tentacles.
Two curved white lines across the body, one just behind the head and one at the posterior end of the body.
Three simple gills project from beneath mantle rim on right hand side.
Additional information
Runcina coronata and the sacoglossan Limapontia senestra are the only European opisthobranchs in which the shell makes no appearance at any stage in its embryonic development (Thompson, 1976). Spawning in Runcina coronata occurs in the spring months. The egg masses contain 20-30 eggs (Thompson, 1976).
Bibliography
Hayward, P., Nelson-Smith, T. & Shields, C. 1996. Collins pocket guide. Sea shore of Britain and northern Europe. London: HarperCollins.

Howson, C.M. & Picton, B.E., 1997. The species directory of the marine fauna and flora of the British Isles and surrounding seas. Belfast: Ulster Museum. [Ulster Museum publication, no. 276.]

JNCC (Joint Nature Conservation Committee), 1999. Marine Environment Resource Mapping And Information Database (MERMAID): Marine Nature Conservation Review Survey Database. [on-line] http://www.jncc.gov.uk/mermaid

MarLIN (Marine Life Information Network), 2005. SEArchable BEnthic Data (SEABED) Map [on-line]. Data Access Sub-programme, Marine Life Information Network for Britian and Ireland http://www.marlin.ac.uk,

Rudman, W.B., 1999b. Runcina coronata [on-line]. http://www.seaslugforum.net/factsheet.cfm?base=runccoro,

Thompson, T. E. & Brown, G. H., 1976. British Opisthobranch Molluscs. London: Academic Press. [Synopses of the British Fauna, no. 8.]

Thompson, T.E., 1976. Biology of Opisthobranch Molluscs, vol. 1. London: The Ray Society.
Datasets
Citation
This review can be cited as:
Oakley, J.A. 2007. Runcina coronata A sea slug. In Tyler-Walters H. and Hiscock K. Marine Life Information Network: Biology and Sensitivity Key Information Reviews, [on-line]. Plymouth: Marine Biological Association of the United Kingdom. [cited 22-09-2023]. Available from: https://www.marlin.ac.uk/species/detail/2146
---
Last Updated: 07/06/2007