A sea slug (Geitodoris planata)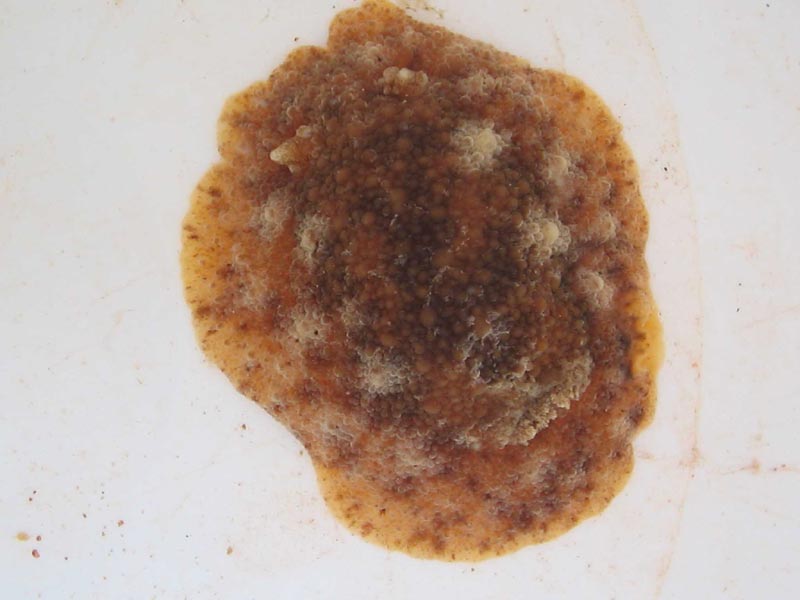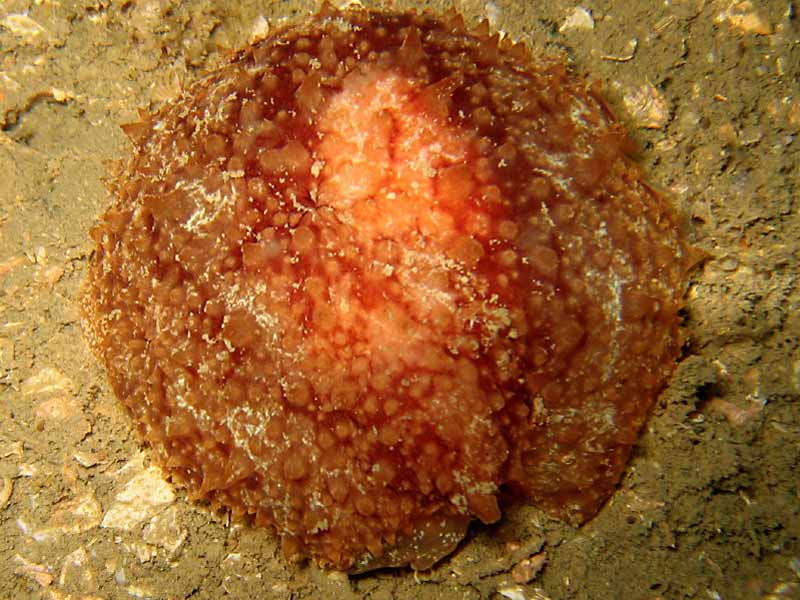 Researched by
Judith Oakley
Refereed by
Admin
Authority
(Alder & Hancock, 1846)
Other common names
-
Synonyms
Discodoris planata (Alder & Hancock, 1846), Anisodoris stellifera
Summary
Description
Adult specimens of Geitodoris planata may reach a length of 6.5 cm. The body is mottled with orange, brown or purple.. The warty mantle in Geitodoris planata is predominantly brown or dull purplish. Up to 12 star-shaped pale areas on the dorsal mantle form loose pairs which are aggregations of acid gland openings. Geitodoris planata secretes defensive fluids through these glands. The back of this sea slug is also covered with numerous small tubercles. The head bears a pair of grooved, oval tentacles. The underside of Geitodoris planata has brown spots present on the mantle and the oral tentacles are conspicuous.
Recorded distribution in Britain and Ireland
Recorded mainly on south west coasts of Britain. Uncommon on west coasts.
Global distribution
Recorded from Norway to the french Biscay coast, always in shallow water.
Habitat
A shallow sub-littoral species on rocky coasts that feeds on sponges e.g.
Hemimycale columella
.
Identifying features
Mantle usually brown or purple brown.
Numerous star-shaped pale areas form loosely paired series on dorsal mantle.
Dorsum covered by spiculose tubercles.
Head bears conspicuous grooved, finger-like oral tentacles.
Additional information
This species was recently redescribed by Cervera et al (1985) and is now accepted as belonging to the genus Geitodoris. This uncommon species bears a superficial resemblance to the common Archidoris pseudoargus. However, Geitodoris planata is smaller, less variegated and less colourful than Archidoris pseudoargus. The oral tentacles seen in Geitodoris planata are absent in Archidoris pseudoargus. The spawn of Geitodoris planata is a broad ribbon, laid in a spiral with the upper edge neatly rippled or convoluted (Picton & Morrow, 1994).
Bibliography
Cervera, J.L., Garcia, J.C. and Garcia, F.J., 1985. Redescription of Geitodoris planata (Alder & Hancock, 1846) (Gastropoda: Nudibranchia) Journal of Mollecular Studies, 51, 198-204

Hayward, P., Nelson-Smith, T. & Shields, C. 1996. Collins pocket guide. Sea shore of Britain and northern Europe. London: HarperCollins.

Howson, C.M. & Picton, B.E., 1997. The species directory of the marine fauna and flora of the British Isles and surrounding seas. Belfast: Ulster Museum. [Ulster Museum publication, no. 276.]

JNCC (Joint Nature Conservation Committee), 1999. Marine Environment Resource Mapping And Information Database (MERMAID): Marine Nature Conservation Review Survey Database. [on-line] http://www.jncc.gov.uk/mermaid

MarLIN (Marine Life Information Network), 2005. SEArchable BEnthic Data (SEABED) Map [on-line]. Data Access Sub-programme, Marine Life Information Network for Britian and Ireland http://www.marlin.ac.uk,

Picton, B. E. & Morrow, C.C., 1994. A Field Guide to the Nudibranchs of the British Isles. London: Immel Publishing Ltd.

Rudman, W.B., 2000. Geitodoris planata [on-line]. http://seaslugforum.net/factsheet.cfm?base=geitplan,

Thompson, T. E. & Brown, G. H., 1976. British Opisthobranch Molluscs. London: Academic Press. [Synopses of the British Fauna, no. 8.]

Thompson, T.E. & Brown, G.H., 1984. Biology of Opisthobranch Molluscs, vol. II. London: Ray Society.
Datasets
Citation
This review can be cited as:
Oakley, J.A. 2007. Geitodoris planata A sea slug. In Tyler-Walters H. and Hiscock K. Marine Life Information Network: Biology and Sensitivity Key Information Reviews, [on-line]. Plymouth: Marine Biological Association of the United Kingdom. [cited 11-12-2023]. Available from: https://www.marlin.ac.uk/species/detail/2147
---
Last Updated: 22/01/2007