Purse sponge (Sycon ciliatum)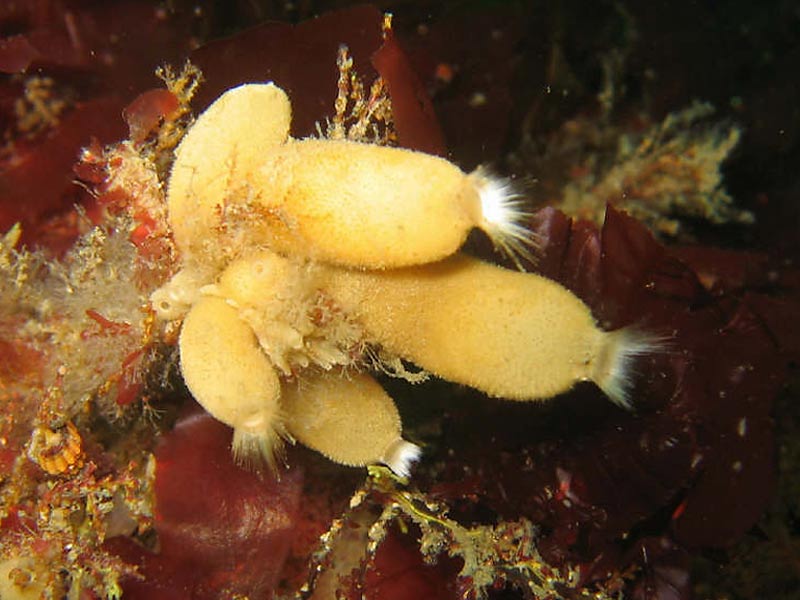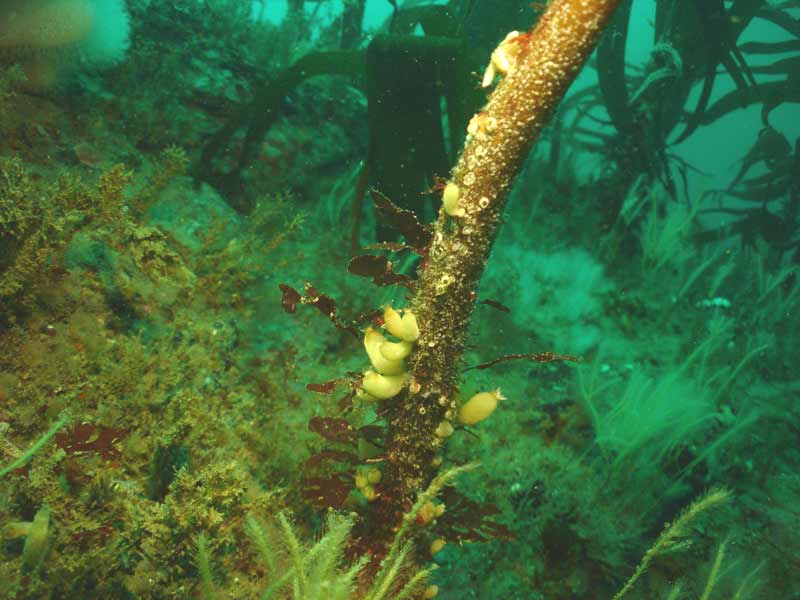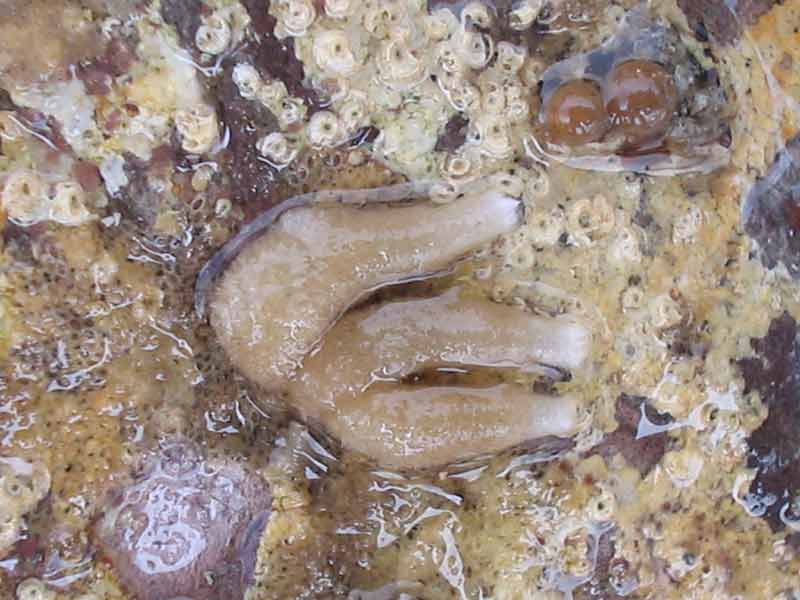 Researched by
Judith Oakley
Refereed by
Admin
Authority
(Fabricius, 1780)
Other common names
Thistle sponge, Little vase sponge, Crowned vase sponge
Synonyms
Scypha ciliata (Fabricius, 1780)
Summary
Description
Sycon ciliatum is tubular or vase shaped and creamish yellow to greyish white in colour. It can be up to 5 cm tall and 7.5 mm wide. The body of the vase has a rough or furry appearance. Occasionally it may be smooth and in this form, it is difficult to distinguish from Grantia compressa. A single large osculum is surrounded by a crown or fringe of stiff spines. The vase may appear to be attached by a slender stalk.
Recorded distribution in Britain and Ireland
Found all around Britain and Ireland.
Global distribution
South to the Mediterranean (Arctic to Gibraltar).
Habitat
Sycon ciliatum is mainly found on the shore under overhangs or attached to rocks and shells on the lower shore. It is common in the shallow sublittoral and present in deeper water to 100 m depth. It also grows on seaweeds e.g. kelp, fucoids or small red algae.
Identifying features
Tubular, single or in clusters up to 5 cm tall and 7.5 mm wide.
Grey, off-white or brown in colour.
Usually finely papillate and hairy.
One large terminal osculum fringed with a crown of spicules.
Several individuals are usually found growing close to each other.
Additional information
Sycon ciliatum was also known as Scypha ciliata. Sycon ciliatum is an annual species. Reproduction takes place between July and August (van Soest et al., 2000).
Bibliography
Gibson, R., Hextall, B. & Rogers, A., 2001. Photographic guide to the sea and seashore life of Britain and north-west Europe. Oxford: Oxford University Press.

Hooper, J.N.A. & Van Soest, R.W.M., 2002. Systema Porifera: A guide to the classification of sponges. Volume 1 & 2. New York: Kluwer Academic/ Plenum Publishers.

Howson, C.M. & Picton, B.E. ed., 1999. The species directory of the marine fauna and flora of the British Isles and surrounding seas. CD-ROM Edition. Ulster Museum and The Marine Conservation Society, Belfast and Ross-on-Wye., Belfast: Ulster Museum. [Ulster Museum publication no. 280.]

JNCC (Joint Nature Conservation Committee), 1999. Marine Environment Resource Mapping And Information Database (MERMAID): Marine Nature Conservation Review Survey Database. [on-line] http://www.jncc.gov.uk/mermaid

MarLIN (Marine Life Information Network), 2005. SEArchable BEnthic Data (SEABED) Map [on-line]. Data Access Sub-programme, Marine Life Information Network for Britian and Ireland http://www.marlin.ac.uk,

Moss, D., & Ackers, G. (eds.), 1982. The UCS Sponge Guide. Produced by R. Earll. Ross-on-Wye: The Underwater Conservation Society.

Picton, B.E. & Costello, M.J., 1998. BioMar biotope viewer: a guide to marine habitats, fauna and flora of Britain and Ireland. [CD-ROM] Environmental Sciences Unit, Trinity College, Dublin.

Van Soest, R.W.M., Picton, B. & Morrow, C., 2000. Sponges of the North East Atlantic. [CD-ROM] Windows version 1.0. Amsterdam: Biodiversity Center of ETI, Multimedia Interactive Software. [World Biodiversity Database CD-ROM Series.]
Datasets
Citation
This review can be cited as:
Oakley, J.A. 2008. Sycon ciliatum Purse sponge. In Tyler-Walters H. and Hiscock K. Marine Life Information Network: Biology and Sensitivity Key Information Reviews, [on-line]. Plymouth: Marine Biological Association of the United Kingdom. [cited 22-09-2023]. Available from: https://www.marlin.ac.uk/species/detail/2151
---
Last Updated: 24/04/2008