Bearded mussel (Modiolus barbatus)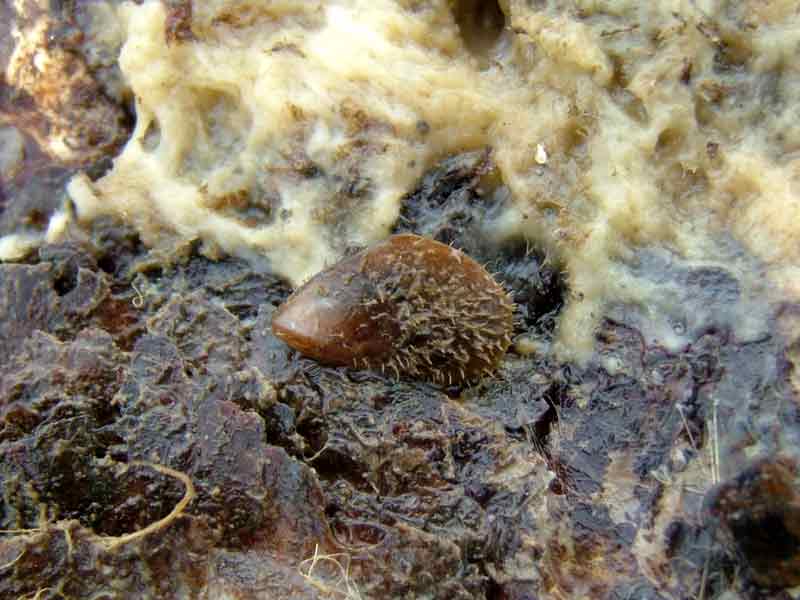 Researched by
Caroline Farrell
Refereed by
Admin
Authority
(Linnaeus, 1758)
Other common names
-
Synonyms
-
Summary
Description
Modiolus barbatus can grow up to 6 cm long, although individuals are usually smaller. The shell is an elongate oval shape with the hinge line at a steep angle to the prominent, rounded umbones. The beaks are not quite at the anterior end of the shell. The outer surface of the shell is yellowish-white, light yellow or reddish-brown in colour. Over the posterior half of the shell the periostracum bears long, flat bristles, each with a distinctly serrated edge. The inner surface of the shell is shiny and pale blue in colour.
Recorded distribution in Britain and Ireland
Mainly recorded on the south and west coasts of Britain and Ireland but also found at sites east of the Shetland Islands, in the North Sea, on the north-east coast of England, the east coast of Ireland and in the Irish Sea.
Habitat
This species is found among rocks and stones on the lower shore, extending into the sublittoral to depths of around 100 m.
Identifying features
Elongate oval or rhomboidal shaped shell.
Umbones subterminal, above a curved anterior margin.
Hinge line acute to umbones and without teeth.
Umbonal ridges very prominent, rounded and almost parallel with the ventral margin.
Periostracum yellowish-white, yellow or reddish-brown and developed into serrated spines on the posterior part of the shell.
Inner surface of shell shiny, blueish-white, tinged red or light purple.
Additional information
Modiolus barbatus is also known as the bearded horse mussel.
Bibliography
Allen, J.A. 1962. The fauna of the Clyde Sea area. Mollusca. Millport: Scottish Marine Biological Association.

Bruce, J.R., Colman, J.S. & Jones, N.S., 1963. Marine fauna of the Isle of Man. Liverpool: Liverpool University Press.

Crothers, J.H. (ed.), 1966. Dale Fort Marine Fauna. London: Field Studies Council.

Fish, J.D. & Fish, S., 1996. A student's guide to the seashore. Cambridge: Cambridge University Press.

Foster-Smith, J. (ed.), 2000. The marine fauna and flora of the Cullercoats District. Marine species records for the North East Coast of England. Sunderland: Penshaw Press, for the Dove Marine Laboratory, University of Newcastle upon Tyne.

Hayward, P., Nelson-Smith, T. & Shields, C. 1996. Collins pocket guide. Sea shore of Britain and northern Europe. London: HarperCollins.

Hayward, P.J. & Ryland, J.S. (ed.) 1995b. Handbook of the marine fauna of North-West Europe. Oxford: Oxford University Press.

Howson, C.M. & Picton, B.E., 1997. The species directory of the marine fauna and flora of the British Isles and surrounding seas. Belfast: Ulster Museum. [Ulster Museum publication, no. 276.]

JNCC (Joint Nature Conservation Committee), 1999. Marine Environment Resource Mapping And Information Database (MERMAID): Marine Nature Conservation Review Survey Database. [on-line] http://www.jncc.gov.uk/mermaid

MBA (Marine Biological Association), 1957. Plymouth Marine Fauna. Plymouth: Marine Biological Association of the United Kingdom.

Picton, B.E. & Costello, M.J., 1998. BioMar biotope viewer: a guide to marine habitats, fauna and flora of Britain and Ireland. [CD-ROM] Environmental Sciences Unit, Trinity College, Dublin.

Tebble, N., 1976. British Bivalve Seashells. A Handbook for Identification, 2nd ed. Edinburgh: British Museum (Natural History), Her Majesty's Stationary Office.
Datasets
Citation
This review can be cited as:
Farrell, C. 2006. Modiolus barbatus Bearded mussel. In Tyler-Walters H. and Hiscock K. Marine Life Information Network: Biology and Sensitivity Key Information Reviews, [on-line]. Plymouth: Marine Biological Association of the United Kingdom. [cited 09-12-2023]. Available from: https://www.marlin.ac.uk/species/detail/2158
---
Last Updated: 26/01/2006