A fanworm (Acromegalomma vesiculosum)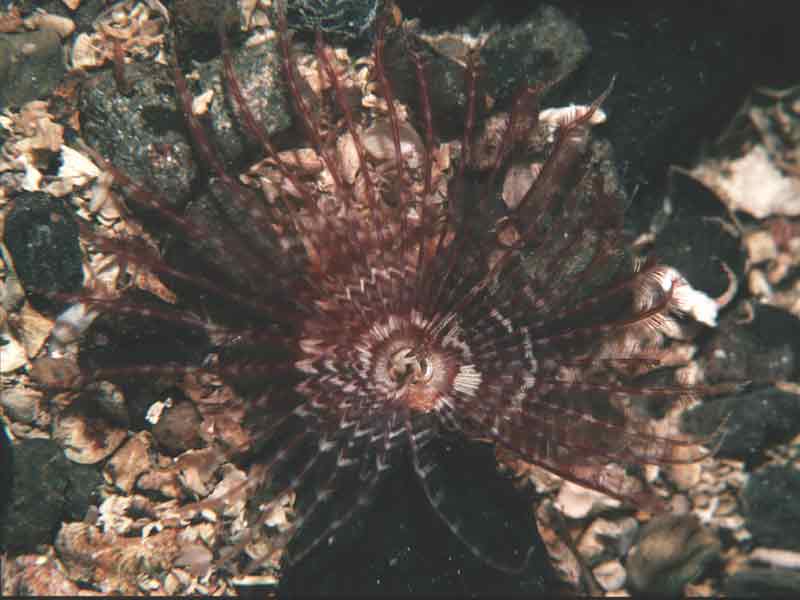 Researched by
Ana Ruiz
Refereed by
Admin
Authority
(Montagu, 1813)
Other common names
-
Synonyms
Branchiomma vesiculosum (Montagu, 1815)
Summary
Description
Acromegalomma vesiculosum is a polychaete worm that reaches up to 12 cm in length. It has relatively few (about 50) tentacles, each with a large eyespot at the free end. It creates a long and tough tube, which is mostly encrusted untidily with large shell fragments and small stones. The tube protudes no more than 2-3 cm from coarse sand or muddy gravel at low water and below. The body and crown vary in colour from yellowish to a reddish-purple brown and is usually spotted.
Recorded distribution in Britain and Ireland
Recorded from several locations off the west coasts of Scotland, south-west England, Wales and Ireland.
Habitat
Found in mud with stones and sand; lower shore and sublittoral in sheltered bays; sometimes amongst seagrasses.
Identifying features
Tubeworm up to 12 cm in length,
Short abdominal tori.
Abdomen is longer than thorax.
Short transverse rows of abdominal chaetae.
Distinct collar is fused to mid-dorsal groove.
Up to 30 spines either side; each with a compound, bulbous, blackish-brown eye.
Additional information
No text entered
Bibliography
Hayward, P., Nelson-Smith, T. & Shields, C. 1996. Collins pocket guide. Sea shore of Britain and northern Europe. London: HarperCollins.

Hayward, P.J. & Ryland, J.S. (ed.) 1995b. Handbook of the marine fauna of North-West Europe. Oxford: Oxford University Press.

Howson, C.M. & Picton, B.E., 1997. The species directory of the marine fauna and flora of the British Isles and surrounding seas. Belfast: Ulster Museum. [Ulster Museum publication, no. 276.]
Datasets
NBN (National Biodiversity Network) Atlas. Available from: https://www.nbnatlas.org.

OBIS (Ocean Biodiversity Information System), 2023. Global map of species distribution using gridded data. Available from: Ocean Biogeographic Information System. www.iobis.org. Accessed: 2023-12-11
Citation
This review can be cited as:
Ruiz, A. 2007. Acromegalomma vesiculosum A fanworm. In Tyler-Walters H. and Hiscock K. Marine Life Information Network: Biology and Sensitivity Key Information Reviews, [on-line]. Plymouth: Marine Biological Association of the United Kingdom. [cited 11-12-2023]. Available from: https://www.marlin.ac.uk/species/detail/2167
---
Last Updated: 04/09/2007