Solenette (Buglossidium luteum)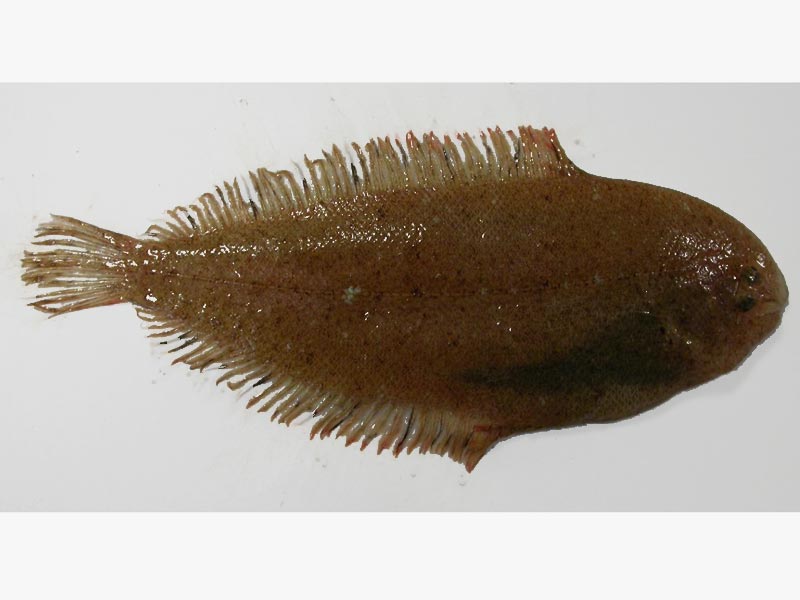 Researched by
Ana Ruiz
Refereed by
Admin
Authority
(Risso, 1810)
Other common names
-
Synonyms
-
Summary
Description
A flatfish with a characteristic head shape. Below the rounded snout on the lower edge of the head is a small semi-circular mouth, which gives the fish a permanently sad expression. Both eyes are on the right side of the body. The dorsal fin starts in front of the eyes, runs the whole length of the body and is joined to tail fin. The anal (ventral) fin is shorter, starting further back but also joined to the tail fin. The pectoral fins are very small. Solenettes can vary their colour to suit the background. The general colour is a light sandy brown with darker spots. The solenette reaches up to 13 cm in length.
Recorded distribution in Britain and Ireland
Widespread and common species, occurring all round Britain and Ireland.
Habitat
Found on sandy and muddy bottoms. The solenette lives at depths of 5-40 m but is occasionally found in much deeper water.
Identifying features
Low-slung, semi-circular mouth.
Long dorsal and anal fins joined to tail fin.
Filaments around the head.
Dorsal and anal fins striped.
Additional information
Spawning takes place in spring and summer in specific areas at depths of 40-60 m. It feeds on small, bottom-living animals, especially small crustaceans and worms but also molluscs and fish.
Bibliography
Dipper, F., 2001. British sea fishes (2nd edn). Teddington: Underwater World Publications Ltd.

FishBase, 2000. FishBase. A global information system on fishes. [On-line] http://www.fishbase.org, 2001-05-03

Howson, C.M. & Picton, B.E., 1997. The species directory of the marine fauna and flora of the British Isles and surrounding seas. Belfast: Ulster Museum. [Ulster Museum publication, no. 276.]
Datasets
Citation
This review can be cited as:
Ruiz, A. 2007. Buglossidium luteum Solenette. In Tyler-Walters H. and Hiscock K. Marine Life Information Network: Biology and Sensitivity Key Information Reviews, [on-line]. Plymouth: Marine Biological Association of the United Kingdom. [cited 21-09-2023]. Available from: https://www.marlin.ac.uk/species/detail/2173
---
Last Updated: 31/01/2007