Two-spotted clingfish (Diplecogaster bimaculata bimaculata)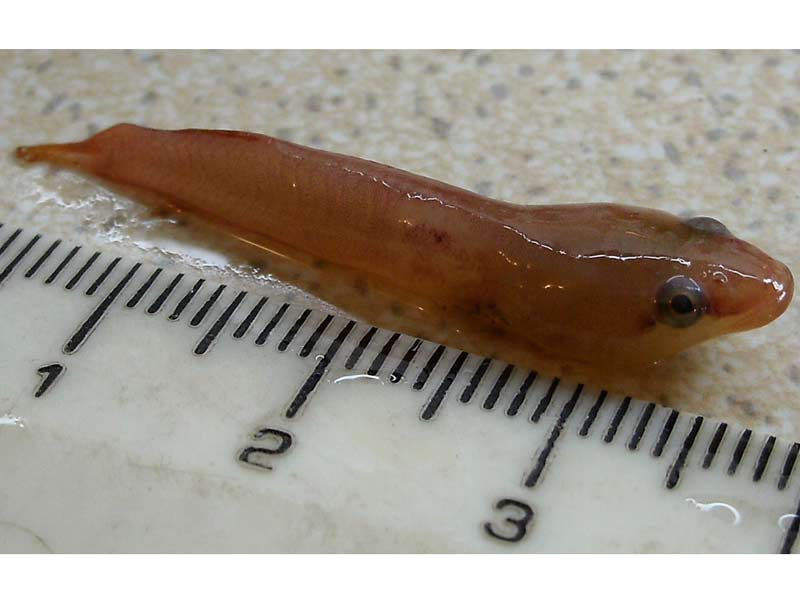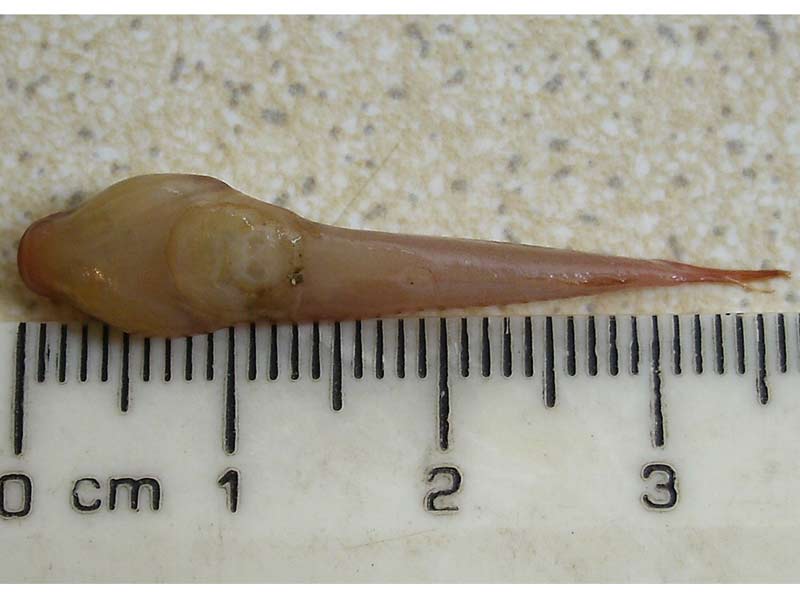 Researched by
Ana Ruiz
Refereed by
Admin
Authority
(Bonnaterre, 1788)
Other common names
-
Synonyms
Diplecogaster bimaculata
Summary
Description
The two-spotted cling fish is a small fish, reaching a maximum of 6 cm in length. They cling on rocks by means of a powerful sucker formed from the pelvic fins. Their colour is variable and brilliant. The body is often red with numerous spots of blue, violet, brown and yellow extending under the belly. Males have a purple spot circled with yellow behind pectoral fin. The head is relatively small, and more or less triangular in shape. There is a single dorsal and anal fin, both set far back near the tail.
Recorded distribution in Britain and Ireland
The two-spotted cling fish is not very common but may be widely distributed around the coasts of Britain and Ireland.
Habitat
It is found mainly in rocky areas but is also common in seagrass beds and bivalve banks, where there are plenty of empty mollusc shells to provide shelter. The two-spotted cling fish is found from the lower shore down to 55 m.
Identifying features
Sucker on underside.
One short dorsal and anal fin.
Yellow-rimmed purple spot behind pectoral fin (only males).
Small, conical, rather curved teeth in patches in the front of the jaws (no large canine teeth).
Additional information
The two-spotted cling fish can be confused with the small-headed cling fish Apletodon microcephalus. They can be told apart by looking at the teeth. The two-spotted cling fish lays its eggs in spring and summer on the underside of a shell or under stones and these are guarded by the parents. It feeds mainly on benthic organisms.
Bibliography
Dipper, F., 2001. British sea fishes (2nd edn). Teddington: Underwater World Publications Ltd.

Gibson, R.N. & Ezzi, I.A., 1987. Feeding relationships of a demersal fish assemblage on the west coast of Scotland Journal of fish Biology, 31, 55-69.

Howson, C.M. & Picton, B.E., 1997. The species directory of the marine fauna and flora of the British Isles and surrounding seas. Belfast: Ulster Museum. [Ulster Museum publication, no. 276.]

Wheeler, A., 1969. The fishes of the British Isles and north-west Europe. London: Macmillan.
Datasets
NBN (National Biodiversity Network) Atlas. Available from: https://www.nbnatlas.org.

OBIS (Ocean Biodiversity Information System), 2023. Global map of species distribution using gridded data. Available from: Ocean Biogeographic Information System. www.iobis.org. Accessed: 2023-11-29
Citation
This review can be cited as:
Ruiz, A. 2007. Diplecogaster bimaculata bimaculata Two-spotted clingfish. In Tyler-Walters H. and Hiscock K. Marine Life Information Network: Biology and Sensitivity Key Information Reviews, [on-line]. Plymouth: Marine Biological Association of the United Kingdom. [cited 29-11-2023]. Available from: https://www.marlin.ac.uk/species/detail/2177
---
Last Updated: 12/09/2007