Pink shrimp (Pandalus montagui)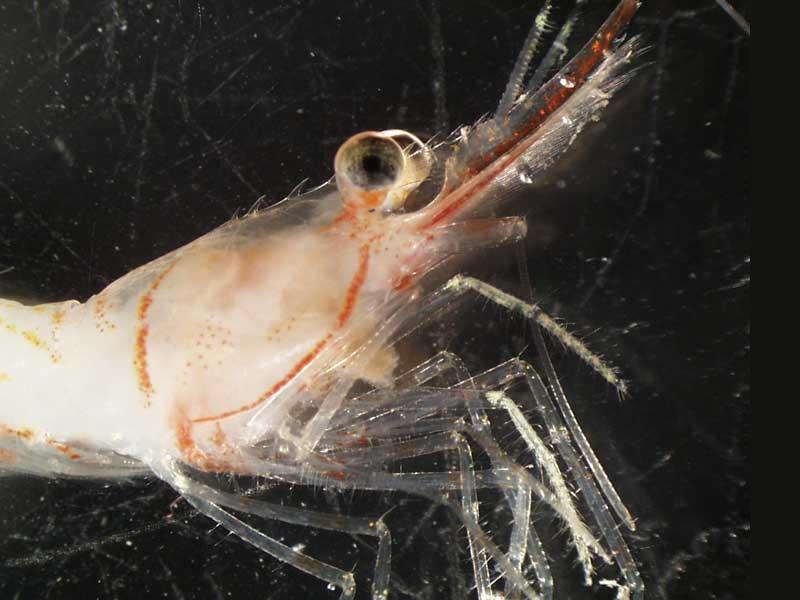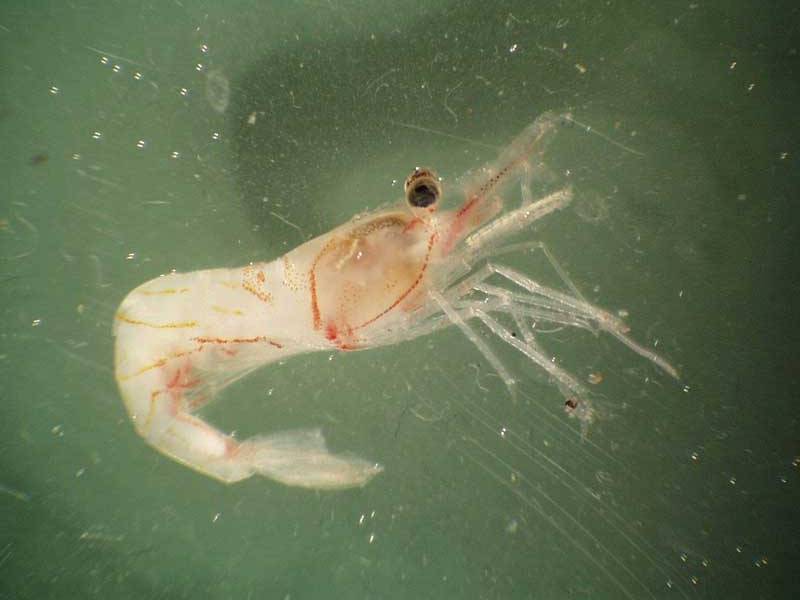 Researched by
Ana Ruiz
Refereed by
Admin
Authority
Leach, 1814 [in Leach, 1813-1814]
Other common names
-
Synonyms
-
Summary
Description
Pandalus montagui is a semi-transparent, pink colour shrimp. Generally 40-50 mm in length although may be much longer. Rostrum long, curves markedly upwards, tip divided in two.
Recorded distribution in Britain and Ireland
Recorded around the coasts of Britain and East and South coast of Ireland.
Habitat
It extends to depths of 100 m or more, but it is occasionally found in rock pools on the lower shore. Offshore migration takes place in most areas in October/November, followed by a migration into shallow water.
Identifying features
10-12 teeth on basal half of dorsal edge of rostrum.
Carapace with spine just beneath the eye.
Antennae 1 divided in two.
Antennae 2 longer than body and marked with light and dark band.
Additional information
Individuals mature and breed in the first year of life. In the North Sea eggs are laid from November to February and hatch in April/May. Pandalus montagui feeds mainly on hydroids, small crustaceans and polychaetes.
Bibliography
Fish, J.D. & Fish, S., 1996. A student's guide to the seashore. Cambridge: Cambridge University Press.

Howson, C.M. & Picton, B.E., 1997. The species directory of the marine fauna and flora of the British Isles and surrounding seas. Belfast: Ulster Museum. [Ulster Museum publication, no. 276.]

Smaldon, G., Holthuis, L.B. & Fransen, C.H.J.M., 1993. Coastal Shrimps and Prawns (Revised edn). Shrewsbury: Field Studies Council.
Datasets
Citation
This review can be cited as:
Ruiz, A. 2008. Pandalus montagui Pink shrimp. In Tyler-Walters H. and Hiscock K. Marine Life Information Network: Biology and Sensitivity Key Information Reviews, [on-line]. Plymouth: Marine Biological Association of the United Kingdom. [cited 11-12-2023]. Available from: https://www.marlin.ac.uk/species/detail/2181
---
Last Updated: 17/04/2008