Leach's spider crab (Inachus phalangium)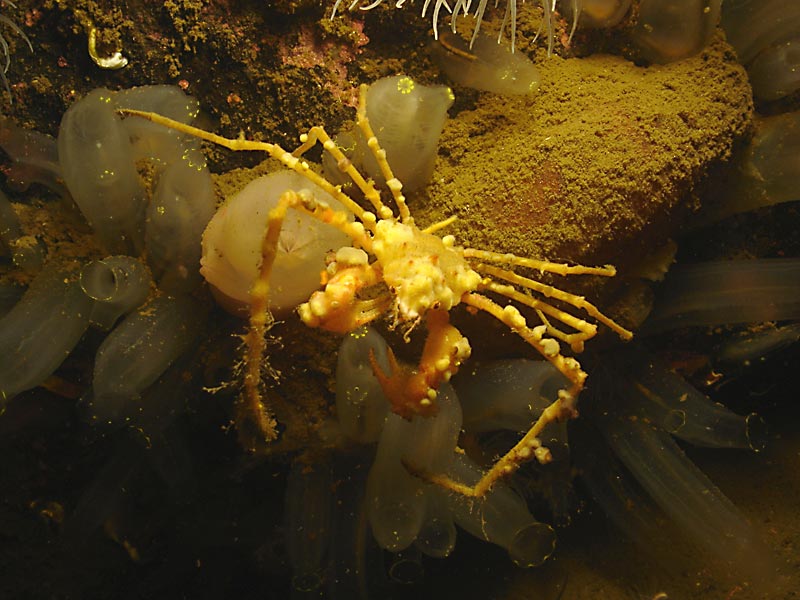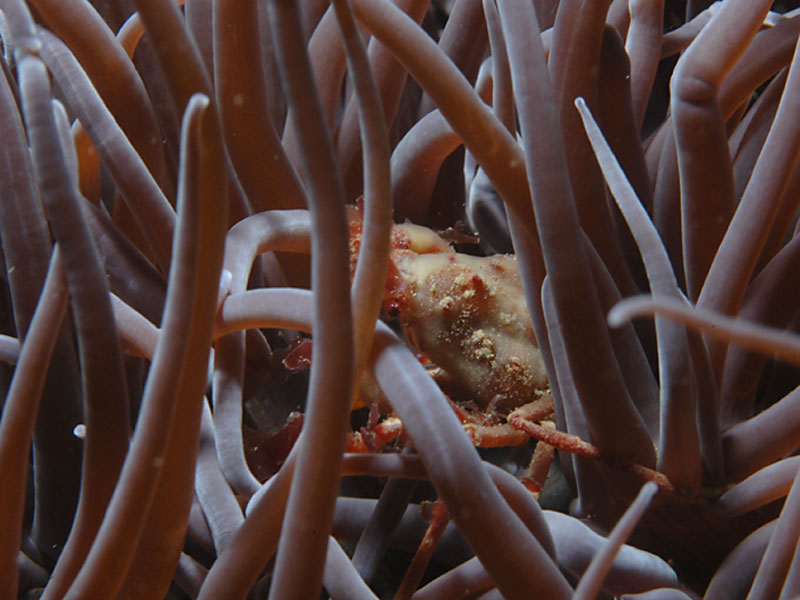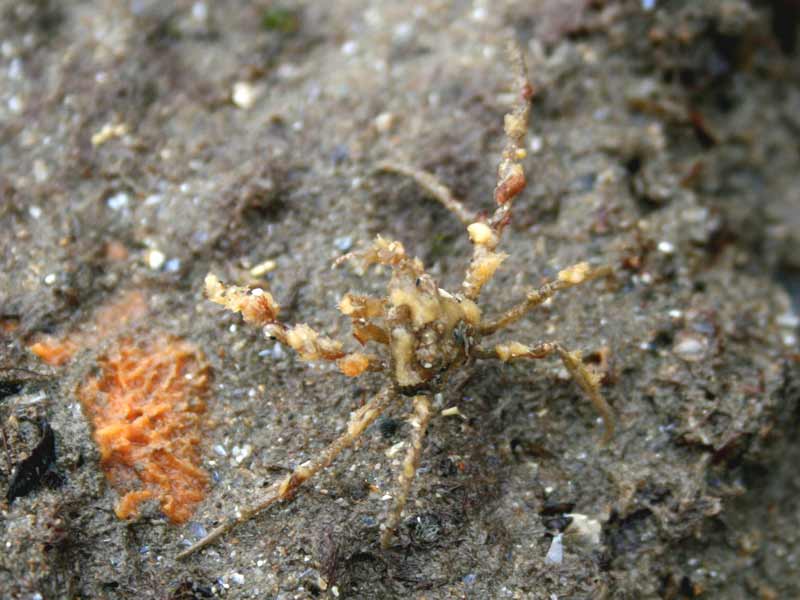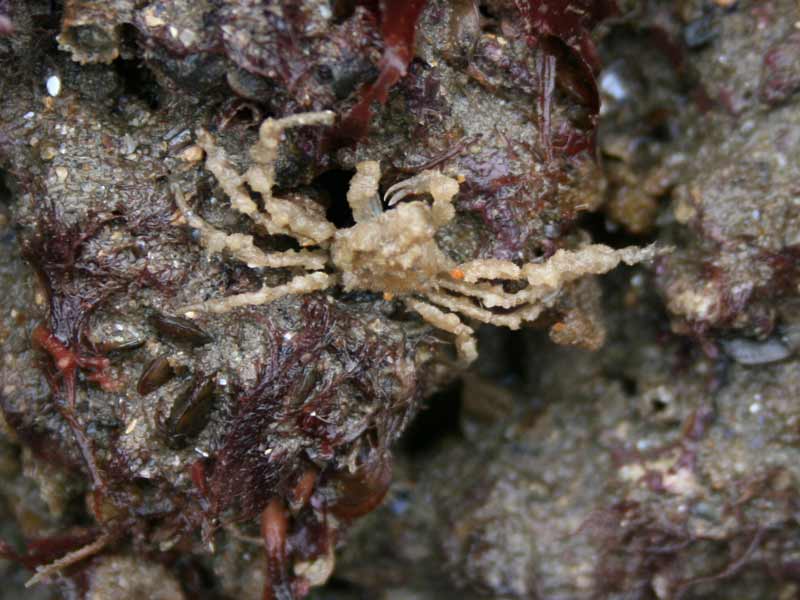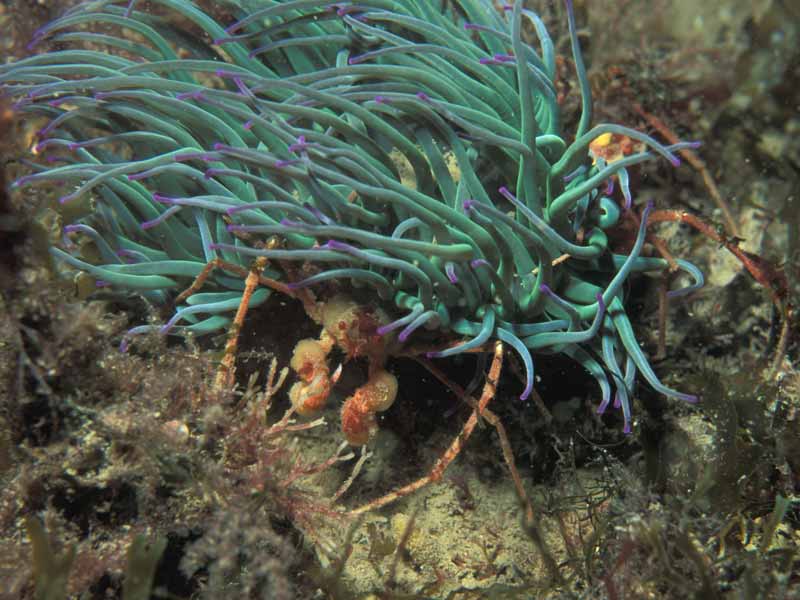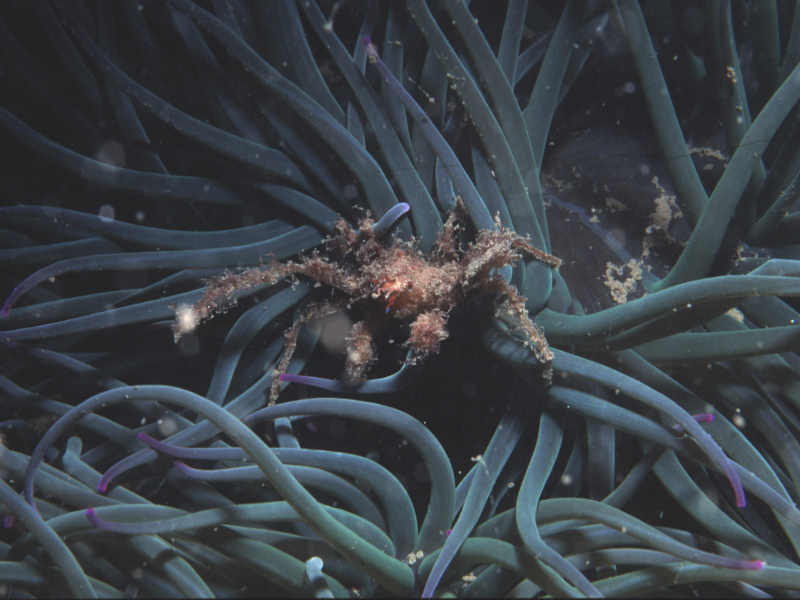 Researched by
Sonia Rowley
Refereed by
Admin
Authority
(Fabricius, 1775)
Other common names
-
Synonyms
Inachus dorynchus (Fabricius, 1775)
Summary
Description
Inachus phalangium is a small spider crab with a triangular carapace up to 2 cm long and 1.7 cm across its base. It has a narrow V-shaped rostrum with an extremely narrow slit separating the rostral horns. The carapace bears three tubercles in a triangle formation on its upper surface, with the largest at the rear. It has a brownish-red carapace with slightly lighter limbs. The upper surface of the carapace and limbs are coverd in hook-like hairs. This species has very long, slender legs and sturdy claws, usually held folded under the body. These claws are particularly large in male individuals. The propodus is short and inflated, with the second limbs being thicker and longer than the others.
Recorded distribution in Britain and Ireland
This species has been recorded on all coasts of Britain and Ireland.
Habitat
Inachus phalangium
can be found on mixed coarse substrata and frequently at the base of
Anemonia viridis
(see additional information). It is a sublittoral species usually found between 5-11 m but can also be present down to depths of over 50 m.
Identifying features
Triangular carapace up to 2 cm long and 1.7 cm across base.
Bownish-red carapace with lighter legs.
Long slender legs and sturdy chelae.
Slender V-shaped rostrum with a narrow slit separating the rostral horns.
The carapace bears three tubercules in a triangle formation.
Additional information
Inachus phalangium
is often found in association with
Anemonia viridis
. This species is egg bearing throughout the year, producing planktivorous larvae. The carapace and limbs of this species may be concealed by encrusting epifauna, primarily sponge and algae often, renduring it difficult to see.
Inachus phalangium may be confused with either Inachus dorsettensis or Inachus leptochirus. In Inachus dorsettensis, the tubercules on the carapace are more prominent, arranged with four tubercules at the front with a fifth behind them. However these features are often concealed by epiphyte growth. Therefore the U-shapped rostrum without the slit is a more reliable distinctive feature from Inachus phalangium. Inachus leptochirus has an identicle tubercule arrangement on the carapace but differs from Inachus phalangium in its widely separated rostral horns.
Bibliography
Bruce, J.R., Colman, J.S. & Jones, N.S., 1963. Marine fauna of the Isle of Man. Liverpool: Liverpool University Press.

Costello, M.J., Bouchet, P., Boxshall, G., Emblow, C. & Vanden Berghe, E., 2004. European Register of Marine Species [On-line]. http://www.marbef.org/data/erms.php,

Crothers, J. & Crothers, M., 1988. A key to the crabs and crab-like animals of British inshore waters. Somerset, England: Field Studies Council. [AIDGAP guide, no. 155.]

Crothers, J.H. (ed.), 1966. Dale Fort Marine Fauna. London: Field Studies Council.

Dipper, R., & Powell. A., 1984. Field guide to the water life of Britain. London: Reader's Digest Association Limited.

Hayward, P., Nelson-Smith, T. & Shields, C. 1996. Collins pocket guide. Sea shore of Britain and northern Europe. London: HarperCollins.

Hayward, P.J. & Ryland, J.S. (ed.) 1995b. Handbook of the marine fauna of North-West Europe. Oxford: Oxford University Press.

Howson, C.M. & Picton, B.E., 1997. The species directory of the marine fauna and flora of the British Isles and surrounding seas. Belfast: Ulster Museum. [Ulster Museum publication, no. 276.]

Ingle, R.W., 1983. Shallow-water Crabs. Cambridge: Cambridge University Press.[Synopses of the British Fauna No. 25].

MBA (Marine Biological Association), 1957. Plymouth Marine Fauna. Plymouth: Marine Biological Association of the United Kingdom.

Naylor, P., 2003. Great British Marine Animals. Plymouth: Sound Diving Publications.
Datasets
Citation
This review can be cited as:
Rowley, S.J. 2008. Inachus phalangium Leach's spider crab. In Tyler-Walters H. and Hiscock K. Marine Life Information Network: Biology and Sensitivity Key Information Reviews, [on-line]. Plymouth: Marine Biological Association of the United Kingdom. [cited 04-10-2023]. Available from: https://www.marlin.ac.uk/species/detail/2198
---
Last Updated: 08/05/2008