Razorbill (Alca torda)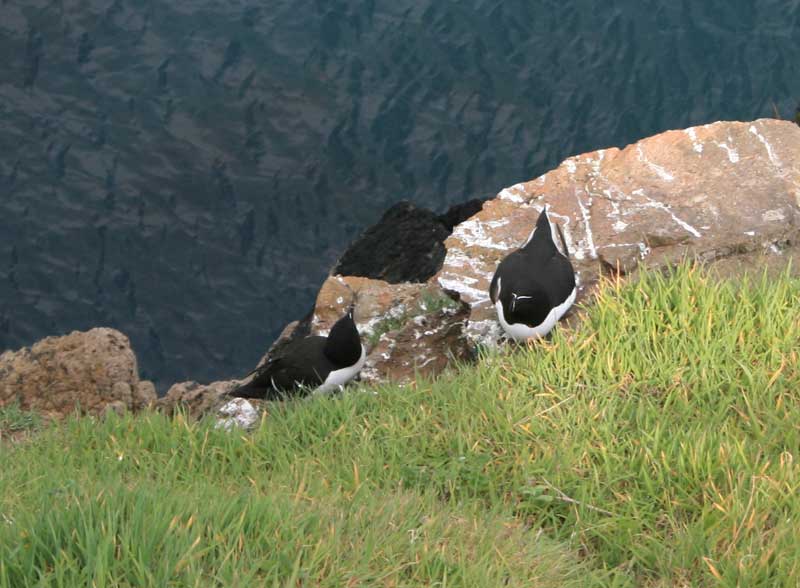 Researched by
Natalie Sweet
Refereed by
Admin
Authority
Linnaeus, 1758
Other common names
-
Synonyms
-
Summary
Description
Alca torda is a rather large, heavily built auk reaching lengths of up to 43 cm with a wingspan of 69 cm. The head and upperparts are black, the underparts are white with the demarcation between the two well defined. The bill is heavy, deep and blunt tipped with diagnostic white stripes across the tip. In winter the throat and sides of the face are white. The tail is long and pointed.
Recorded distribution in Britain and Ireland
During breeding season razorbills are found on all British and Irish coasts except for east and southeast England.
Habitat
The razorbill inhabits both coastal and oceanic waters of the North Atlantic. Like all auks, this is a marine species only coming ashore to breed. They nest on cliffs and among boulders, often in large colonies with other seabird species such as guillemots and kittiwakes. Outside of the breeding season razorbills disperse widely at sea, south to the Bay of Biscay and the Mediterranean Sea.
Identifying features
Up to 43 cm in length with a wingspan of 69 cm.
Black head (only entirely black in breeding season) and upperparts, white below.
Heavy, deep, blunt tipped bill with white stripe across the tip.
Additional information
The diet consists chiefly of fish including herring, sprat, cod and sandeels but may also include crustaceans and polychaetes. Please note that distribution maps are compiled using records for both breeding and wintering populations. For more specific distribution and abundance records please refer to maps compiled by The British Trust for Ornithology, available at
http://www.bto.org/birdatlas/previous/index.htm
Citation
This review can be cited as:
Sweet, N. A. 2008. Alca torda Razorbill. In Tyler-Walters H. and Hiscock K. Marine Life Information Network: Biology and Sensitivity Key Information Reviews, [on-line]. Plymouth: Marine Biological Association of the United Kingdom. [cited 11-12-2023]. Available from: https://www.marlin.ac.uk/species/detail/2205
---
Last Updated: 24/09/2008