Boston facelina (Facelina bostoniensis)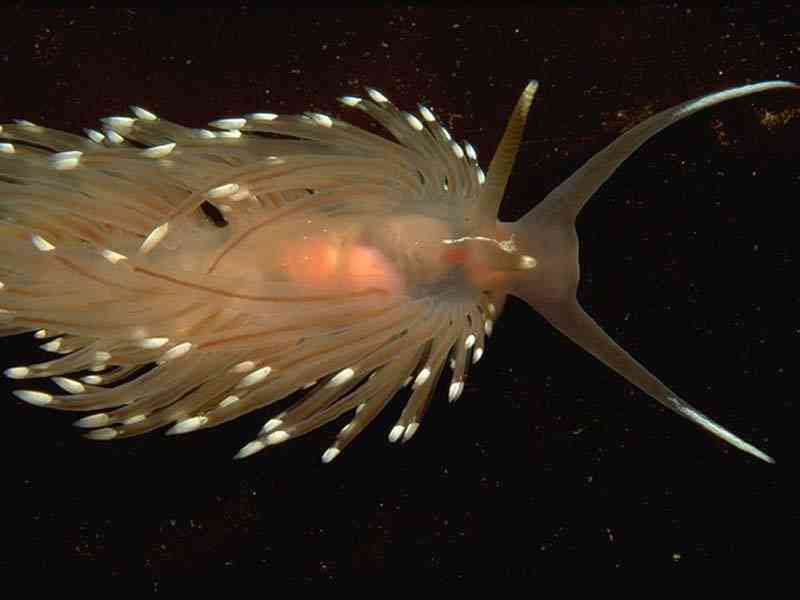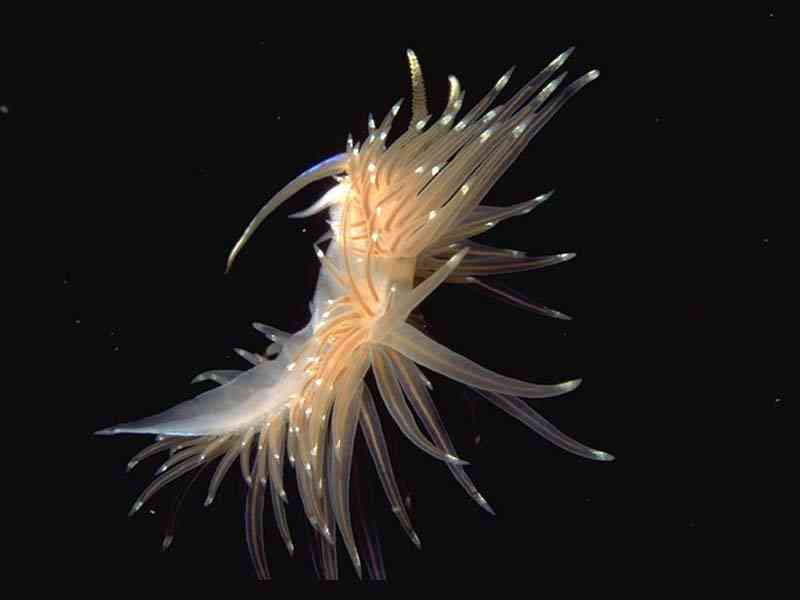 Researched by
Andrew Hosie
Refereed by
Admin
Authority
(Couthouy, 1838)
Other common names
Drummond's facelina
Synonyms
Facelina auriculata var. curta , Facelina curta Alder & Hancock 1843, Facelina drummondi Alder & Hancock 1848, Facelina gigas Costa 1866
Summary
Description
Up to 5.5 cm long with a translucent white body that is tinged rose-pink, Facelina bostoniensis is the largest facelinid nudibranch in British waters. The area surrounding the mouth is typically red and the red oesophagus is visible externally behind the rhinophores. The rhinophores bear up to 30 conspicuous lamellae and are shorter than the oral tentacles, which can be half the body length. The dorsal cerata are arranged in up to 8 clusters.
Recorded distribution in Britain and Ireland
Found all around the British Isles, but less common around the southeast coast of England.
Global distribution
Found on both sides of the North Atlantic Ocean. In Europe from southern Norway to the Iberian Peninsula and the Mediterranean.
Habitat
Found sublittorally on species of the hydroid Tubularia, or intertidally on species of the hydroid Clava
Identifying features
Body translucent white, with red oral area and oesophagus.
Oral tentacles longer than rhinophores, up to 1/2 length of body.
Cerata arranged in up to 8 clusters.
Cerata up to 1/3 to 1/2 body length.
Additional information
The taxonomic history of Facelina bostoniensis is complicated, and was only relatively recently recognised as being conspecific with Facelina auriculata var. curta. Facelina bostoniensis has a broader body, longer cerata, which can be 1/3 to 1/2 of the body length and lacks a blue irridescent sheen distinguishing it from Facelina auriculata
Citation
This review can be cited as:
Hosie, A.M. 2008. Facelina bostoniensis Boston facelina. In Tyler-Walters H. and Hiscock K. Marine Life Information Network: Biology and Sensitivity Key Information Reviews, [on-line]. Plymouth: Marine Biological Association of the United Kingdom. [cited 11-12-2023]. Available from: https://www.marlin.ac.uk/species/detail/2206
---
Last Updated: 04/12/2008