A sea slater (Lekanesphaera rugicauda)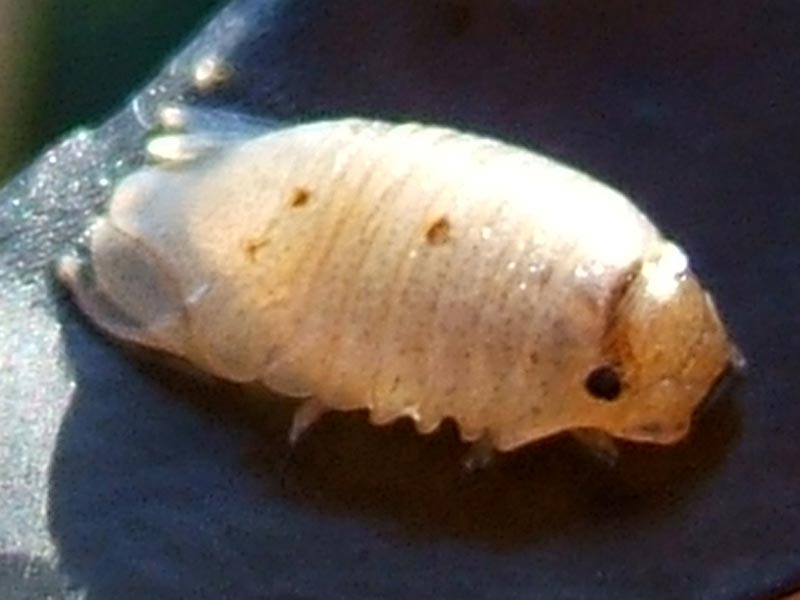 Researched by
Andrew Hosie
Refereed by
Admin
Authority
(Leach, 1814)
Other common names
-
Synonyms
Sphaeroma rugicauda Leach 1815
Summary
Description
This broadly oval species reaches a length of around 1 cm. The colour patterning is variable but usually grey with a medial, longitudinal stripe of yellow, orange or pinkish red extending the length of the body. The pleotelson is covered in small tubercles, giving it a granulated appearance and may extend beyond the tips of the uropods. The outer edge of the uropod exopod is almost smooth.
Recorded distribution in Britain and Ireland
Common in brackish waters around the UK but few records in Ireland.
Global distribution
Found from the Baltic south to the Bay of Biscay and a single record from Morocco.
Habitat
Lekanesphaera rugicauda is found in the upper intertidal of brackish waters. Often in salt marsh pools where it can be found burrowing or under rocks and wood.
Identifying features
Body broadly oval, grey typically with medial longitudinal stripe of yellow, orange or pinkish red.
Dorsal surface of pleotelson granulated, extending beyond tips of uropods in adult males.
Outer rami of uropod exopod almost smooth.
Additional information
There are two other species which may also be found in brackish waters in the UK and Ireland, Lekanesphaera levii and Lekanesphaera hookeri. These may be distinguished by having a smooth pleotelson and having two rows of distinct tubercles respectively, in contrast to the granulated pleotelson of Lekanesphaera rugicauda. The related species Sphaeroma serratum is not found in brackish habitats and can be distinguished by the distinctly serrate uropod exopod and a smooth pleotelson.
Citation
This review can be cited as:
Hosie, A.M. 2009. Lekanesphaera rugicauda A sea slater. In Tyler-Walters H. and Hiscock K. Marine Life Information Network: Biology and Sensitivity Key Information Reviews, [on-line]. Plymouth: Marine Biological Association of the United Kingdom. [cited 29-11-2023]. Available from: https://www.marlin.ac.uk/species/detail/2211
---
Last Updated: 07/01/2009