European shag (Phalacrocorax aristotelis)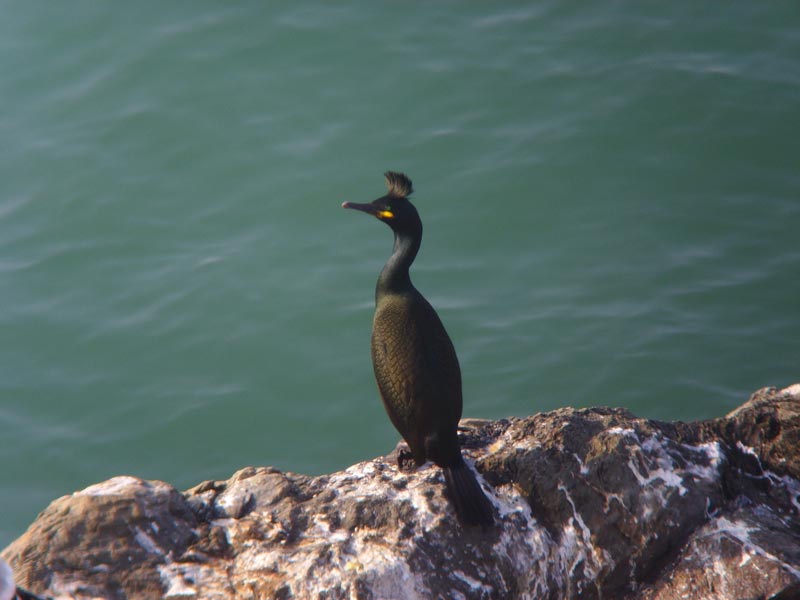 Researched by
Natalie Sweet
Refereed by
Admin
Authority
(Linnaeus, 1761)
Other common names
-
Synonyms
-
Summary
Description
Phalacrocorax aristotelis is a medium sized member of the cormorant family, with a body length of up to about 78 cm and a wingspan up to 1.1 m. The body is elongated with a long neck and tail. The adult is all black, including legs and feet, with a conspicuous yellow gape, the bare patch of skin at the corner of the mouth. The strong, straight bill is yellowish in non-breeding season and black during courtship. During breeding season the plumage aquires a green gloss and a large tuft of elongated feathers forms a conspicuous crest in the centre of the crown. Juveniles are a dark brown above and pale brown below with a white chin. The European shag is similar in appearance to the cormorant (Phalacrocorax carbo) but smaller and more slight with a thinner bill.
Recorded distribution in Britain and Ireland
Widely distributed around the coasts of Britain and Ireland.
Habitat
Phalacrocorax aristotelis breeds in loose colonies on rocky coasts and islands, and builds nests in crevices, under boulders or in caves.
Identifying features
Elongated body with long slim neck.
Entirely black plumage with green glossy sheen (adults).
Limited yellow gape.
Conspicuous crest in centre of crown during breeding season.
Additional information
The shag feeds mostly on fish for which it dives with a disitinctive leap. Please note that distribution maps are compiled using records for both breeding and wintering populations. For more specific distribution and abundance records please refer to maps compiled by The British Trust for Ornithology, available at
http://www.bto.org/birdatlas/previous/index.htm
Citation
This review can be cited as:
Sweet, N. A. 2008. Phalacrocorax aristotelis European shag. In Tyler-Walters H. and Hiscock K. Marine Life Information Network: Biology and Sensitivity Key Information Reviews, [on-line]. Plymouth: Marine Biological Association of the United Kingdom. [cited 09-12-2023]. Available from: https://www.marlin.ac.uk/species/detail/2215
---
Last Updated: 24/09/2008