Black-legged kittiwake (Rissa tridactyla)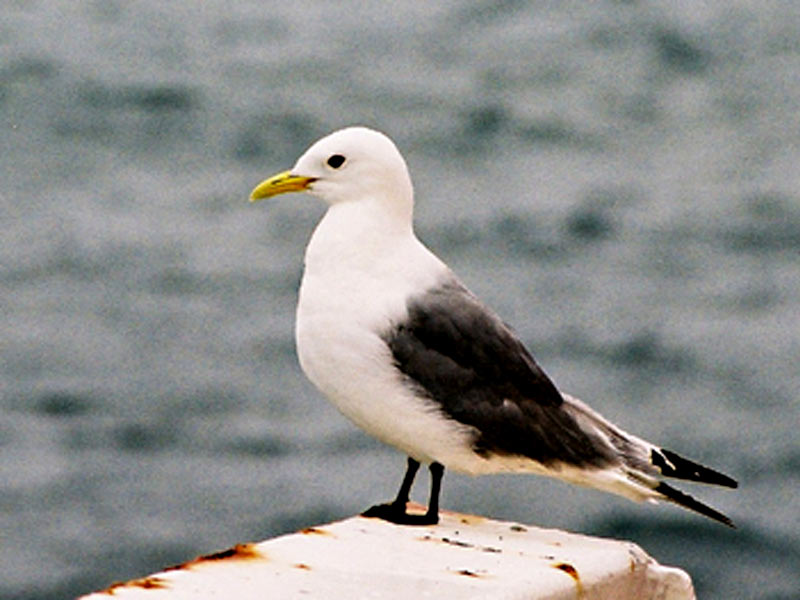 Researched by
Natalie Sweet
Refereed by
Admin
Authority
(Linnaeus, 1758)
Other common names
-
Synonyms
-
Summary
Description
Rissa tridactyla is a medium sized gull reaching lengths of up to 42 cm, with a wing span of up to 1.05 m. Adults have grey upperparts which fade to white before a wholly black wing tip without mirrors (white patches). In summer the head and neck are white and in winter a dusky black ear spot and grey collar on the hindneck are evident. Underparts and tail are white. The bill is yellow and the legs are dark brown or black. In juveniles the tip of the tail is black and a conspicuous dark 'M' shape is clearly visible across the upper wings, along with a black collar on the hindneck.
Recorded distribution in Britain and Ireland
All around Britain and Ireland, with the largest colonies found along North Sea coasts in Orkney, Shetland, northwest Scotland and northern England.
Habitat
The black-legged kittiwake is an entirely marine gull that breeds colonially on rocky coasts but remains oceanic outside of breeding season. Breeding colonies may vary in size from a few pairs to tens of thousands but the location of these breeding sites tends to be traditional over many years. Sheer rocky cliffs are favoured but occasionally man made structures are also used.
Identifying features
Grey upperparts fade to white before a wholly black wing tip.
White head in summer, with dusky ear spot and grey collar on hindneck in winter.
Yellow bill.
Dark brown or black legs.
In juveniles a conspicuous dark 'M' shaped pattern is evident across the upper wings and back.
Additional information
The Kittiwake takes food by diving, either plunge-diving from flight or from the surface of the water. The diet consists chiefly of small fish such as sandeels, sprat, young herring, molluscs and amphipods but may also include offal and discards from fishing boats. Please note that distribution maps are compiled using records for both breeding and wintering populations. For more specific distribution and abundance records please refer to maps compiled by The British Trust for Ornithology, available at
http://www.bto.org/birdatlas/previous/index.htm
Citation
This review can be cited as:
Sweet, N. A. 2008. Rissa tridactyla Black-legged kittiwake. In Tyler-Walters H. and Hiscock K. Marine Life Information Network: Biology and Sensitivity Key Information Reviews, [on-line]. Plymouth: Marine Biological Association of the United Kingdom. [cited 04-10-2023]. Available from: https://www.marlin.ac.uk/species/detail/2218
---
Last Updated: 23/09/2008