Velvet goose barnacle (Scalpellum scalpellum)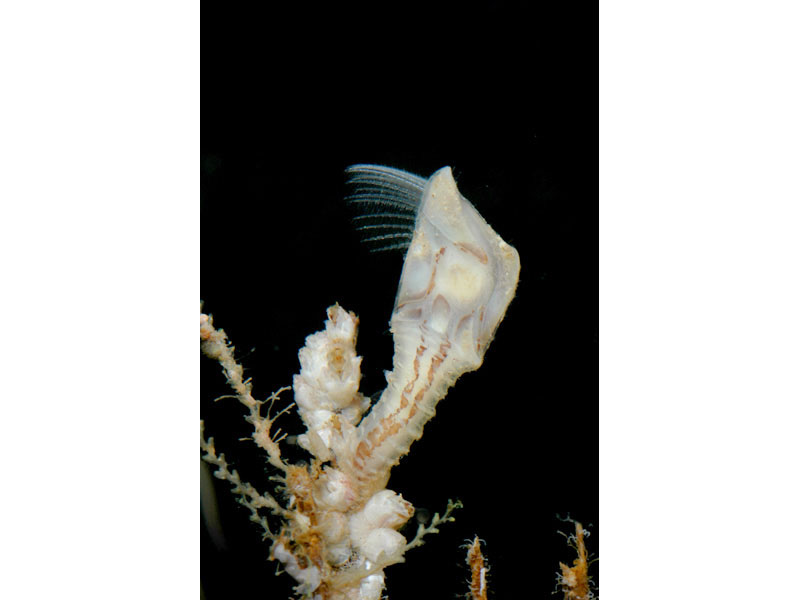 Researched by
Andrew Hosie
Refereed by
Admin
Authority
(Linnaeus, 1767)
Other common names
-
Synonyms
-
Summary
Description
Pedunculate, goose or goose-neck barnacles have a flexible, muscular stalk, known as the peduncle, which supports the main body known as the capitulum. Scalpellum scalpellum is typically whitish grey and grows up to 3 cm in height. The stalk is armoured with embedded calcareous scales. The capitulum is comprised of 13 distinct plates and a rudimentary rostrum, but is often covered by an epidermis with small articulated spines which can obscure these details. Scalpellum scalpellum is an androdioecious species, that is that there are hermaphrodites and males present. For Scalpellum scalpellum the typical individual is hermaphroditic and the dwarf complemental males can be found attached to the inside of the capitulum.
Recorded distribution in Britain and Ireland
A few records off the Northeast coast of Britain but predominantly recorded off the South and West coasts of Britain and Ireland.
Global distribution
Found from tropical West Africa and the Azores to Norway.
Habitat
Scalpellum scalpellum attaches to hard substrates, including rocks, hydroids, bryozoans and gorgonians, ranging from the subtidal to around 400 m.
Identifying features
Stalk with numerous transverse rows of calcareous scales.
Apex of capitulum pointed.
Capitulum with 14 plates (rostrum rudimentary).
Capitulum longer than stalk.
Carina with distinct angle near midpoint.
Additional information
This is the only shallow water scalpellid barnacle in British waters. However, there are many similar species in deep waters with which Scalpellum scalpellum could be easily confused. Distinguishing scalpellid barnacles can be difficult and often requires dissection and the examination of the soft tissues.
Citation
This review can be cited as:
Hosie, A.M. 2008. Scalpellum scalpellum Velvet goose barnacle. In Tyler-Walters H. and Hiscock K. Marine Life Information Network: Biology and Sensitivity Key Information Reviews, [on-line]. Plymouth: Marine Biological Association of the United Kingdom. [cited 22-09-2023]. Available from: https://www.marlin.ac.uk/species/detail/2235
---
Last Updated: 09/10/2008