A bryozoan (Smittina landsborovii)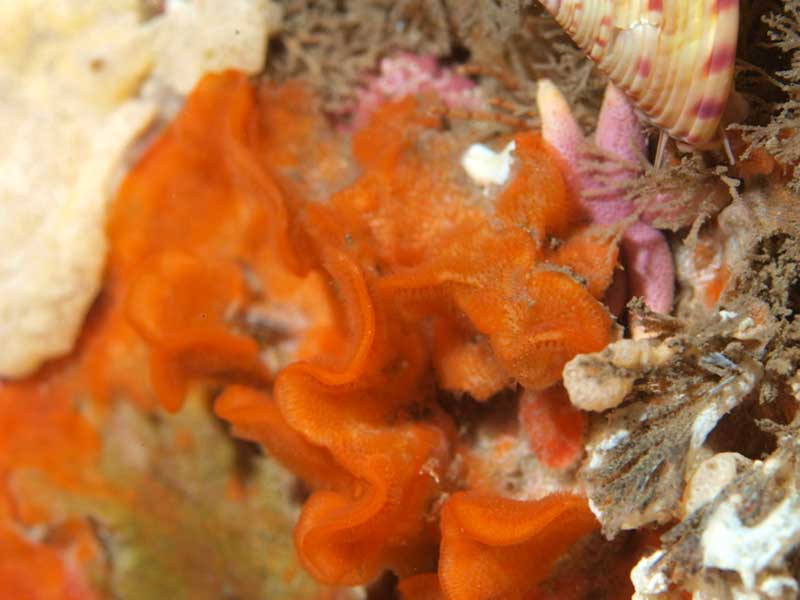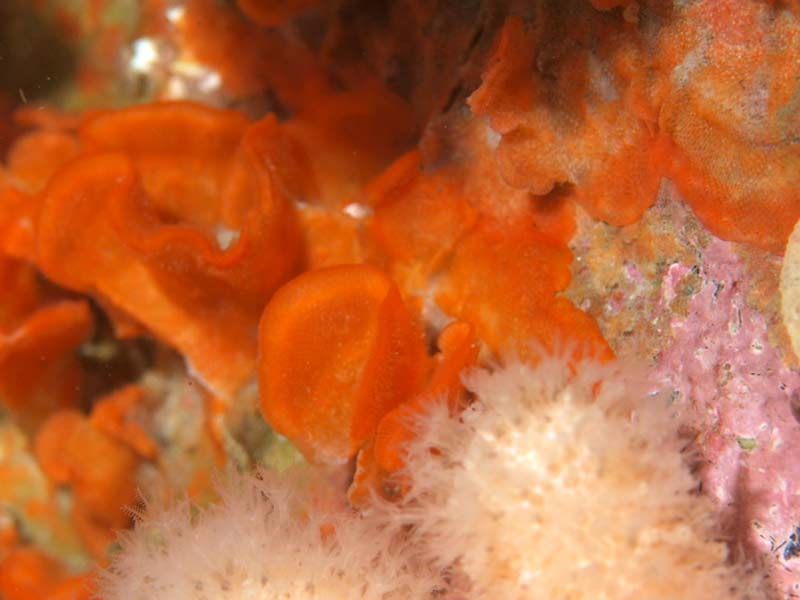 Researched by
Jaret Bilewitch
Refereed by
This information is not refereed
Authority
(Johnston, 1847)
Other common names
-
Synonyms
Lepralia landsborovii
Summary
Description
Bryozoan colonies with an encrusting base that produces erect lobes, becoming foliaceous when large. Colonies are red with a silvery or shiny sheen. Individual zooids are flat and hexagonal or ovate in shape, reaching 1 mm in length. The body wall is densely perforated across its surface (punctate) and zooids are separated by raised septa. The orifice is round and lacks an operculum. It is surrounded by a peristome with raised lateral lobes, which may enclose an avicularium with a rounded, downward-facing mandible. Ovicells, often present in September, are orange or red and globular with a convex puncture. They are attached to the upper margin of the peristome.
Recorded distribution in Britain and Ireland
Recorded from the east coast England from Northumberland, along the English Channel, the northern Irish Sea and the west coasts of England, Wales and Ireland.
Global distribution
Recorded from western Norway, the British Isles, south into the Mediterranean but confusion over its identity means that records outside the north East Atlantic may be incorrect (Hayward & Ryland, 1999).
Habitat
Smittina landsborovii encrusts shells, stones, algae, hydroids and rocks over a broad depth range, from sublittoral zones to the benthos of offshore waters.
Identifying features
Reddish colonies with a silvery sheen.
Encrusting base with convoluted upright lobes giving an erect and foliaceous appearance.
Zooids 1 mm by 0.5 mm, hexagonal or ovate, flat.
Body wall densely perforated across its surface.
Zooids separated by raised septa.
Operculum absent
Circular orifice with denticle inside lower margin.
Peristome with raised lateral lobes surrounding orifice and erect notched proximal lip.
Peristome notch encloses spatulate avicularium with rounded, downward-pointing mandible, sometimes absent.
Ovicells reddish-orange, globular, with a convex puncture and attached to peristome.
Additional information
This species may be confused with
Pentapora fascialis
, which forms larger colonies.
Bibliography
Hayward, P.J. & Ryland, J.S. 1999. Cheilostomatous Bryozoa. Part II Hippothooidea - Celleporoidea. London: Academic Press.[Synopses of the British Fauna, no. 14. (2nd edition)]
Datasets
NBN (National Biodiversity Network) Atlas. Available from: https://www.nbnatlas.org.

OBIS (Ocean Biodiversity Information System), 2023. Global map of species distribution using gridded data. Available from: Ocean Biogeographic Information System. www.iobis.org. Accessed: 2023-09-21
Citation
This review can be cited as:
Bilewitch, J. 2009. Smittina landsborovii A bryozoan. In Tyler-Walters H. and Hiscock K. Marine Life Information Network: Biology and Sensitivity Key Information Reviews, [on-line]. Plymouth: Marine Biological Association of the United Kingdom. [cited 21-09-2023]. Available from: https://www.marlin.ac.uk/species/detail/2238
---
Last Updated: 11/11/2009