Purple anemone (Halcampoides purpureus)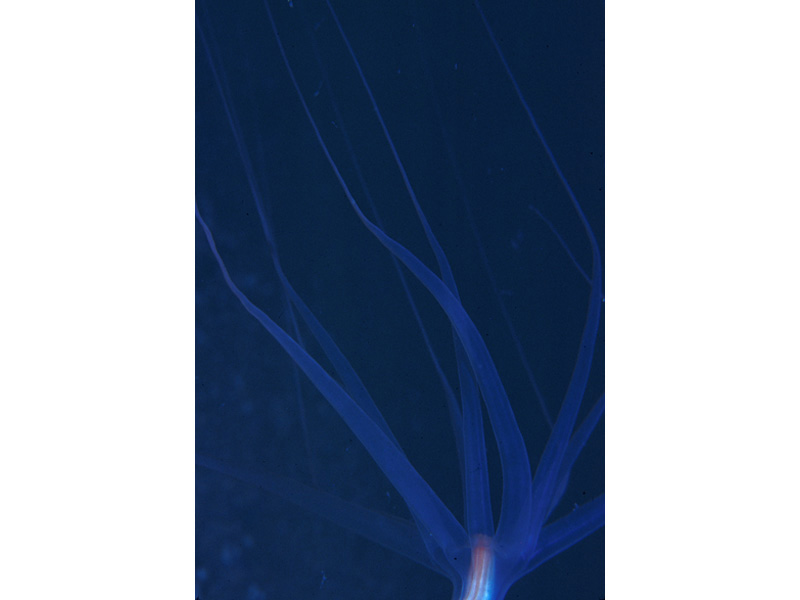 Researched by
Emily Wilson
Refereed by
Admin
Authority
(Studer, 1879)
Other common names
-
Synonyms
Halcampoides elongatus
Summary
Description
A burrowing anemone with an elongated column, dirty white or flesh-coloured sometimes suffused with vivid green. The tentacles are very long, even in contraction, tapering to fine points. They are translucent grey-brown in colour often shading to reddish-brown and each one having a more or less extensive white spot near its base.
Recorded distribution in Britain and Ireland
Recorded at sites on the coast of Lundy, south-west Wales, north-west Scotland and west Ireland.
Habitat
Burrows in mud, sand or gravel, always offshore, occurring down to at least 1000 m but 10-25 m around Britain and Ireland.
Identifying features
Column elongated, not divided into distinct regions, its aboral end rounded and provided with cinclides.
Periderm absent.
Disc small, with a slight hypostome.
Length of column when not buried 10 cm, becoming much longer when buried; full expanse of tentacles up to 10 cm.
Additional information
The taxonomy of the Halcampoides purpurea complex is still confused (Howson & Picton, 1997).
Bibliography
Datasets
NBN (National Biodiversity Network) Atlas. Available from: https://www.nbnatlas.org.

OBIS (Ocean Biodiversity Information System), 2023. Global map of species distribution using gridded data. Available from: Ocean Biogeographic Information System. www.iobis.org. Accessed: 2023-11-29
Citation
This review can be cited as:
Wilson, E. 1999. Halcampoides purpureus Purple anemone. In Tyler-Walters H. and Hiscock K. Marine Life Information Network: Biology and Sensitivity Key Information Reviews, [on-line]. Plymouth: Marine Biological Association of the United Kingdom. [cited 29-11-2023]. Available from: https://www.marlin.ac.uk/species/detail/2274
---
Last Updated: 07/09/1999