Smooth tubeworm (Protula tubularia)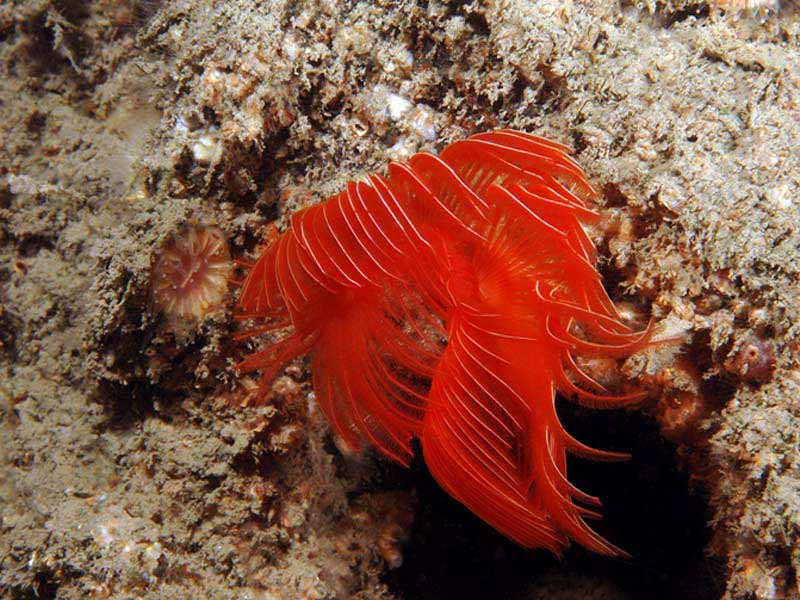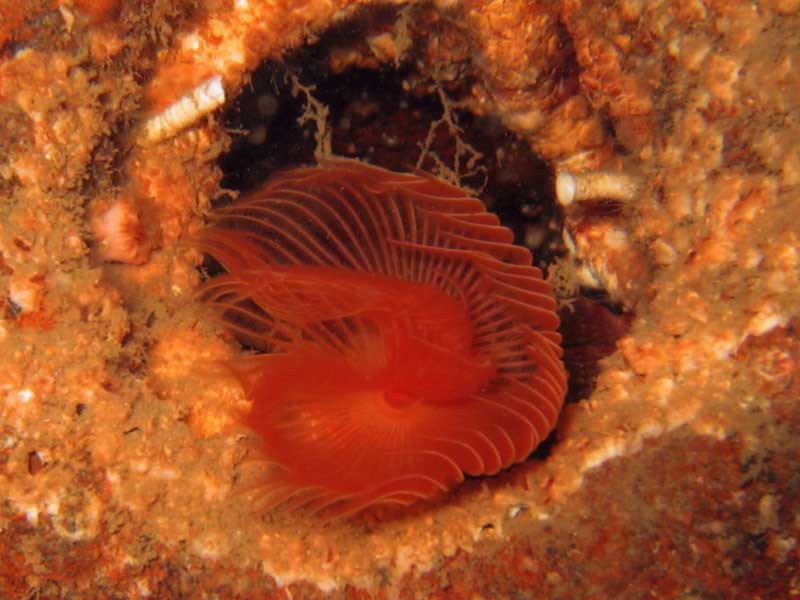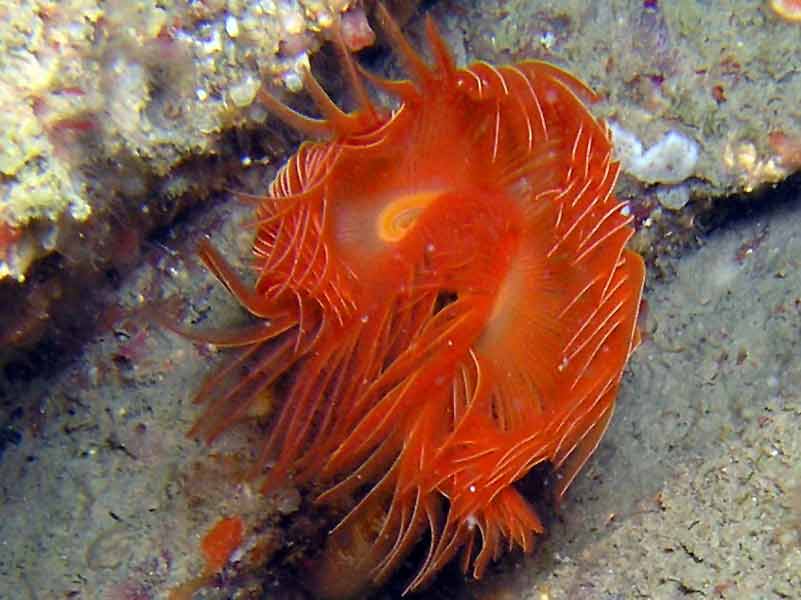 Researched by
Saskiya Richards
Refereed by
Admin
Authority
(Montagu, 1803)
Other common names
-
Synonyms
-
Summary
Description
Protula tubularia forms a white, calcareous tube lacking distinct growth rings in which it lives. It has a small, elongated, segmented body that tapers towards the posterior and grows to 0.3-0.5 cm in length. The body is divided into a head, a short, green, anterior region of eight segments and a much longer reddish-orange, posterior region of up to 90-120 segments. The head is reduced and has two gill lobes each bearing 20-45 white or pinkish, slightly spiralled tentacles that are pinnate in two rows and marked with paired red blotches and numerous eyespots. The head is surrounded by a collar that bears finely toothed chaetae and extends dorsally to a distinctive, large, lobed membrane either side of the thorax. Chaetae are present on all segments except the first. Chaetae in the thoracic region are pale golden, long and slender and display narrow wings. Those in the posterior region are longer but lack narrow wings.
Protula tubularia lack the distinctive stalked operculum that is characteristic of Serpula vermicularis.
Recorded distribution in Britain and Ireland
Protula tubularia is widespread across the southern and western coasts of Britain and Ireland.
Global distribution
Protula tubularia is widespread throughout northwest Europe.
Habitat
Protula tubularia forms white, calcareous tubes on hard substratum such as stones and rocks in the lower shore and sublittoral zones to depths of 100 m.
Identifying features
Short white calcareous tube.
Small, elongate body tapering narrowly towards the posterior up to 0.3 - 0.5 cm in length.
Body is divided into an 8-segmented thorax and a much longer posterior region of 90-120 segments.
Thorax is green in colour whereas the posterior region is reddish-orange.
Head bears two sets of 20-45 white, pinkish or red slightly spiralled, pinnate tentacles that are marked with paired red blotches.
Large, distinctive, lobed membrane either side of thorax.
Thoracic chaetae are pale golden yellow colour with narrow-wings that are lacking in the longer chaetae of the posterior region.
Additional information
Protula tubularia is often solitary and reproduces throughout June, August and September.
Bibliography
Bruce, J.R., Colman, J.S. & Jones, N.S., 1963. Marine fauna of the Isle of Man. Liverpool: Liverpool University Press.

Campbell, A.C., 1982. The Hamlyn guide to the flora and fauna of the Mediterranean Sea. London: Hamlyn.

Costello, M.J., Bouchet, P., Boxshall, G., Emblow, C. & Vanden Berghe, E., 2004. European Register of Marine Species [On-line]. http://www.marbef.org/data/erms.php,

Crothers, J.H. (ed.), 1966. Dale Fort Marine Fauna. London: Field Studies Council.

Fish, J.D. & Fish, S., 1996. A student's guide to the seashore. Cambridge: Cambridge University Press.

Hayward, P.J. & Ryland, J.S. (ed.) 1995b. Handbook of the marine fauna of North-West Europe. Oxford: Oxford University Press.

Howson, C.M. & Picton, B.E., 1997. The species directory of the marine fauna and flora of the British Isles and surrounding seas. Belfast: Ulster Museum. [Ulster Museum publication, no. 276.]

MBA (Marine Biological Association), 1957. Plymouth Marine Fauna. Plymouth: Marine Biological Association of the United Kingdom.

McIntosh, W.C., 1922-1923. A monograph of the British marine annelids. Vol 4. Part I: Hermellidae - Sabellidae. Part II: Sabellidae - Serpulidae.

Picton, B.E. & Costello, M.J., 1998. BioMar biotope viewer: a guide to marine habitats, fauna and flora of Britain and Ireland. [CD-ROM] Environmental Sciences Unit, Trinity College, Dublin.
Datasets
NBN (National Biodiversity Network) Atlas. Available from: https://www.nbnatlas.org.

OBIS (Ocean Biodiversity Information System), 2023. Global map of species distribution using gridded data. Available from: Ocean Biogeographic Information System. www.iobis.org. Accessed: 2023-09-27
Citation
This review can be cited as:
Richards, S. 2008. Protula tubularia Smooth tubeworm. In Tyler-Walters H. and Hiscock K. Marine Life Information Network: Biology and Sensitivity Key Information Reviews, [on-line]. Plymouth: Marine Biological Association of the United Kingdom. [cited 27-09-2023]. Available from: https://www.marlin.ac.uk/species/detail/23
---
Last Updated: 17/04/2008