Blonde ray (Raja brachyura)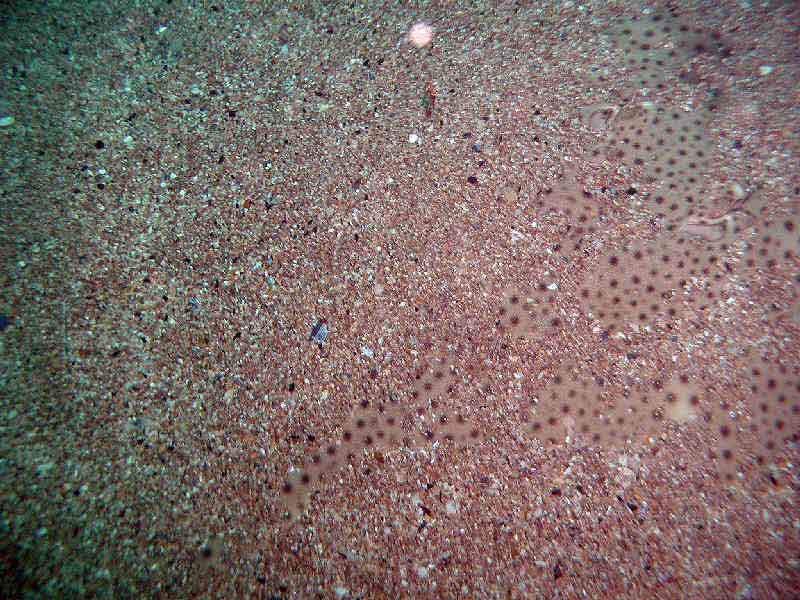 Researched by
Eliza Gibson-Hall
Refereed by
This information is not refereed
Authority
Lafont, 1871
Other common names
-
Synonyms
Raja blanda
Summary
Description
The blonde ray is a large bodied, dark and light spotted ray. The upper body is ochre to pale grey to brown in colour and the underside is pale white. The upper body surface is prickly with a pattern of many small, dark, spots. Unlike the spotted ray, these spots appear right to the edge of the body disc. Larger, paler, spots are also scattered symmetrically on the upper body. In juveniles, the upper body disc surface is smooth. Maximum length is 120 cm but the average is 40-100 cm. The tail is the same length as the main body disc and tapers out gradually with separated dorsal fins at the rear. The snout is short and angled bluntly. The mouth includes 60-90 rows of teeth.
Recorded distribution in Britain and Ireland
Recorded from the west to the north coast of Scotland to the southeast, south, and southwest coast of England. Scattered records around the Welsh coast and in patches around the Irish coastline.
Global distribution
Recorded in the temperate waters of Europe, from the Shetland Isles to Morocco and into the Mediterranean in the eastern Atlantic.
Habitat
The blonde ray occurs on soft substrata such as sandy ground including sand banks from inshore waters to 100 m offshore. This bottom dwelling species is found at depths of 150 m in the North East Atlantic and 10-300 m in the Mediterranean. It uses shallower, coastal, waters for nursing grounds.
Identifying features
Small dark spots to the edge of the body disc
Large pale spots scattered around body disc
40-120 cm in length
Tail same length as the body
Additional information
Blonde rays are currently fished for human consumption. It has been confused with Raja montagui and Raja polystigma in the Mediterranean Sea. Juveniles feed on smaller crustaceans while larger adults feed on larger organisms such as dragonets and sand eels. Maturity in males and females is 80-90 cm in length.
Bibliography
Shark Trust, 2010. An Illustrated Compendium of Sharks, Skates, Rays and Chimaera. Chapter 1: The British Isles and Northeast Atlantic. Part 2: [Citation 06-07-2018]. Available from https://www.sharktrust.org/fact-files

Whitehead, P.J.P., Bauchot, M.-L., Hureau, J.-C., Nielson, J. & Tortonese, E. 1986. Fishes of the North-eastern Atlantic and the Mediterranean. Vol. I, II & III. Paris: United Nations Educational, Scientific and Cultural Organisation (UNESCO).

Ebert, D.A. & Stehmann, M.F.W., 2013. Sharks, batoids, and chimaeras of the North Atlantic FAO Species Catalogue for Fishery Purposes, 978-92-5-107466-4, 523 pp.
Datasets
NBN (National Biodiversity Network) Atlas. Available from: https://www.nbnatlas.org.

OBIS (Ocean Biodiversity Information System), 2023. Global map of species distribution using gridded data. Available from: Ocean Biogeographic Information System. www.iobis.org. Accessed: 2023-09-30
Citation
This review can be cited as:
Gibson-Hall, E., 2018. Raja brachyura Blonde ray. In Tyler-Walters H. and Hiscock K. Marine Life Information Network: Biology and Sensitivity Key Information Reviews, [on-line]. Plymouth: Marine Biological Association of the United Kingdom. [cited 30-09-2023]. Available from: https://www.marlin.ac.uk/species/detail/2320
---
Last Updated: 06/07/2018