Sea fern weed (Halopteris filicina)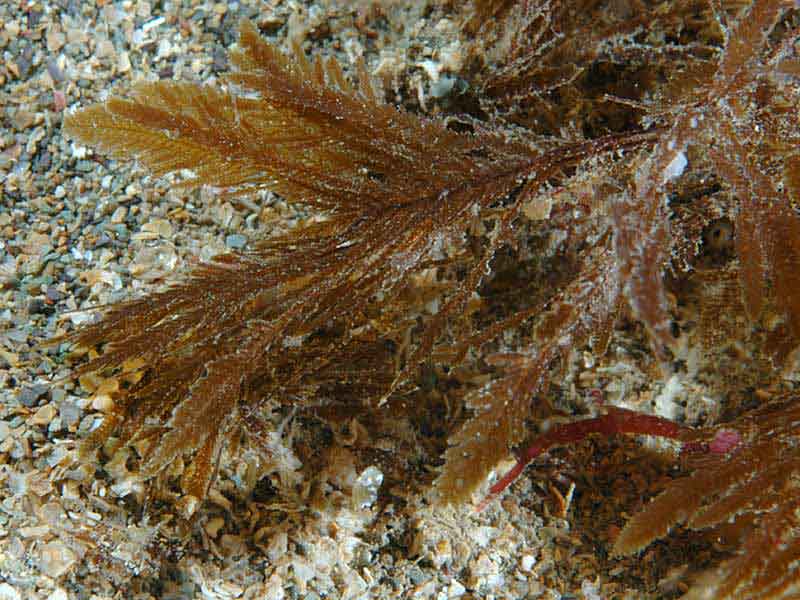 Researched by
Saskiya Richards
Refereed by
Admin
Authority
(Grateloup) Kützing, 1843
Other common names
-
Synonyms
-
Summary
Description
Halopteris filicina is a greenish-brown, fern-like seaweed that grows up to 10 cm in height. A number of individual stems, that are elongate and pointed towards the tip, grow from a holdfast that has a root-like appearance. Each stem bears alternately-placed side branches that, in turn, each bear short, pinnate branchlets. The density of these branches increases towards the upper part of the stem. Reproductive sporangia are ovoid in shape and positioned singularly at the axis of branchlets on short stalks.
Recorded distribution in Britain and Ireland
Halopteris filicina is widely distributed on southern and western coasts of Britain and Ireland.
Global distribution
Halopteris filicina is usually found in the Mediterranean and warm seas of the northern hemisphere.
Habitat
Halopteris filicina inhabits the lower shore and shallow water growing attached to rock, shells and large seaweeds.
Identifying features
Greenish-brown fern-like seaweed.
Up to 10 cm in height.
Individual stems bear alternate pinnate branches.
Holdfast root-like in appearance.
Ovoid-shaped sporangia on short stalks in branch axis.
Additional information
Halopteris filicina is similar to Halopteris scoparia but is less bushy in appearance.
Bibliography
Benson-Evans, K., & Antoine, R. 1993. A check list of the freshwater, brackish and marine algae of South Wales, U.K. Cowbridge: D.Brown and Sons Limited.

Campbell, A.C., 1982. The Hamlyn guide to the flora and fauna of the Mediterranean Sea. London: Hamlyn.

Costello, M.J., Bouchet, P., Boxshall, G., Emblow, C. & Vanden Berghe, E., 2004. European Register of Marine Species [On-line]. http://www.marbef.org/data/erms.php,

Dickinson, C.I., 1963. British seaweeds. London & Frome: Butler & Tanner Ltd.

Fritsch, F.E., 1945. Structure and reproduction of the algae. Volume II. Phaeophyceae, Rhodophyceae and Myxophyceae. Cambridge: University Press.

Hayward, P., Nelson-Smith, T. & Shields, C. 1996. Collins pocket guide. Sea shore of Britain and northern Europe. London: HarperCollins.

Howson, C.M. & Picton, B.E., 1997. The species directory of the marine fauna and flora of the British Isles and surrounding seas. Belfast: Ulster Museum. [Ulster Museum publication, no. 276.]

Picton, B.E. & Costello, M.J., 1998. BioMar biotope viewer: a guide to marine habitats, fauna and flora of Britain and Ireland. [CD-ROM] Environmental Sciences Unit, Trinity College, Dublin.
Datasets
Citation
This review can be cited as:
Richards, S. 2007. Halopteris filicina Sea fern weed. In Tyler-Walters H. and Hiscock K. Marine Life Information Network: Biology and Sensitivity Key Information Reviews, [on-line]. Plymouth: Marine Biological Association of the United Kingdom. [cited 11-12-2023]. Available from: https://www.marlin.ac.uk/species/detail/28
---
Last Updated: 12/09/2007