Lobate fig sponge (Oscarella lobularis)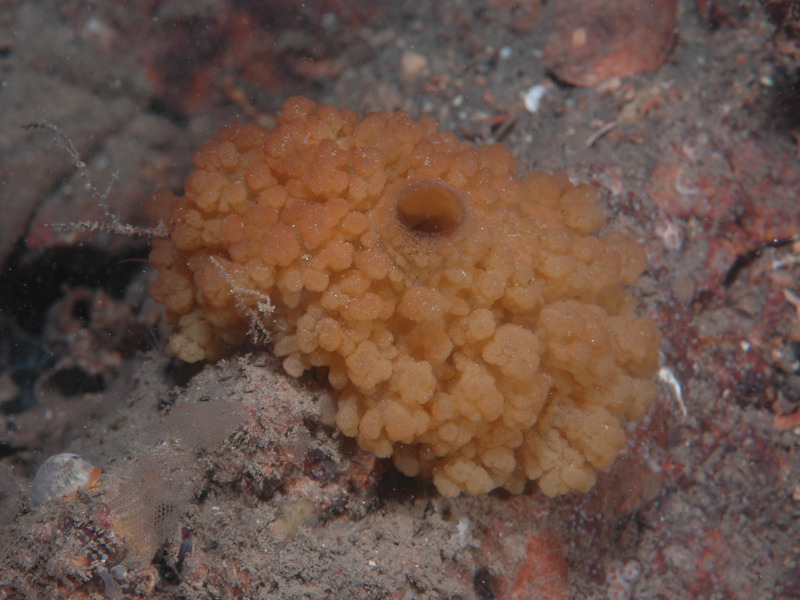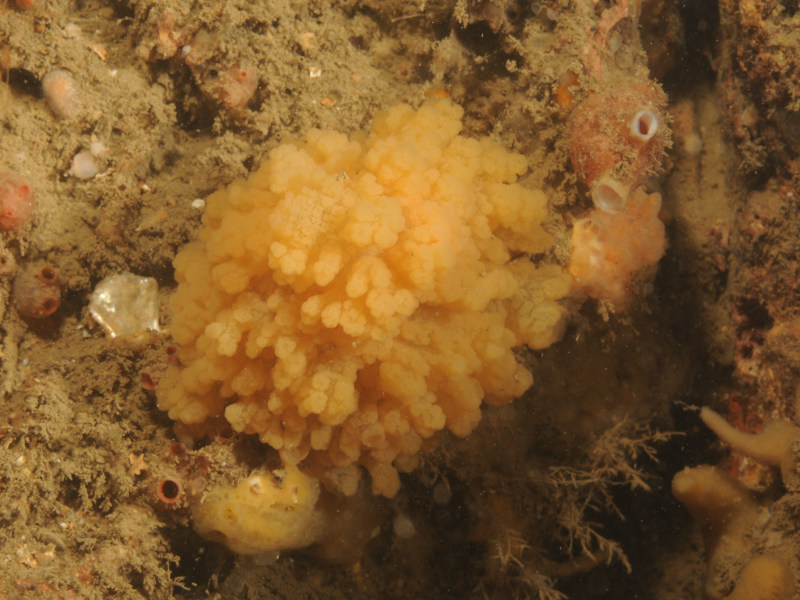 Researched by
Saskiya Richards
Refereed by
Admin
Authority
(Schmidt, 1862)
Other common names
-
Synonyms
Halisarca lobularis (Schmidt, 1862), Octavella galangaui (Schmidt, 1862)
Summary
Description
Oscarella lobularis is a thick, encrusting sponge that grows up to 10-30 cm in width and 3 cm in height. It forms fleshy colonies consisting of lobed, round nodules that are up to 1 cm in width and 1 cm in height. The upper surface of each nodule bears a circular oscula (exhalant pore) that is 0.5 - 1 cm in diameter and leads to a large, basal cavity, while the sides bear scattered ostia (inhalant pores). The skeleton lacks both spicules and spongin fibre. The sponge has a firm but soft, gelatinous texture and the surface is smooth with a velvety feel. The colour of the sponge is more intense on the nodules and is normally yellow to brown but may be occasionally red, green, violet or blue, marked with cream at the base.
Recorded distribution in Britain and Ireland
Oscarella lobularis has a widespread distribution around the coasts of Britain and Ireland.
Global distribution
Oscarella lobularis is distributed north-west Europe and the mediterranean.
Habitat
Oscarella lobularis is common on rocky shores in the intertidal and shallow sublittoral zone. It forms encrusting colonies on stones, rocks and large algae.
Identifying features
Thick, fleshy, encrusting sponge.
Up to 30 cm in width and 3 cm in height.
Colony formed of round, lobed nodules up to 1 cm in height and width.
Coloured yellow or brown with cream base though may be red, green, violet or blue.
Additional information
Oscarella lobularis is a filter-feeder. It grows by increasing its size from the outer edge of the colony. It reproduces by releasing short-lived ciliated larvae that, once settled, metamorphose into the adult form. The colour of this sponge may vary from a deep red when fully illuminated to a brown-greenish yellow in dark light. Oscarella lobularis could be mistaken for Oscarella tuberculata, although the latter does not occur in British and Irish waters.
Bibliography
Bruce, J.R., Colman, J.S. & Jones, N.S., 1963. Marine fauna of the Isle of Man. Liverpool: Liverpool University Press.

Campbell, A.C., 1982. The Hamlyn guide to the flora and fauna of the Mediterranean Sea. London: Hamlyn.

Costello, M.J., Bouchet, P., Boxshall, G., Emblow, C. & Vanden Berghe, E., 2004. European Register of Marine Species [On-line]. http://www.marbef.org/data/erms.php,

Crothers, J. A., 1997. A key to the major groups of British marine invertebrates. Field Studies, 9, 1-177.

Crothers, J.H. (ed.), 1966. Dale Fort Marine Fauna. London: Field Studies Council.

Foster-Smith, J. (ed.), 2000. The marine fauna and flora of the Cullercoats District. Marine species records for the North East Coast of England. Sunderland: Penshaw Press, for the Dove Marine Laboratory, University of Newcastle upon Tyne.

Hayward, P., Nelson-Smith, T. & Shields, C. 1996. Collins pocket guide. Sea shore of Britain and northern Europe. London: HarperCollins.

Hayward, P.J. & Ryland, J.S. (ed.) 1995b. Handbook of the marine fauna of North-West Europe. Oxford: Oxford University Press.

Hooper, J.N.A. & Van Soest, R.W.M., 2002. Systema Porifera: A guide to the classification of sponges. Volume 1 & 2. New York: Kluwer Academic/ Plenum Publishers.

Howson, C.M. & Picton, B.E., 1997. The species directory of the marine fauna and flora of the British Isles and surrounding seas. Belfast: Ulster Museum. [Ulster Museum publication, no. 276.]

MBA (Marine Biological Association), 1957. Plymouth Marine Fauna. Plymouth: Marine Biological Association of the United Kingdom.

Moss, D.L., 1992. A summary of the Porifera collected during "Expedition Azores 1989". Arquipelago, 10, 45-53.

Orton, J.H., 1924. An experimental effect of light on the sponge, Oscarella. Nature, 113, 924-925.

Picton, B.E. & Costello, M.J., 1998. BioMar biotope viewer: a guide to marine habitats, fauna and flora of Britain and Ireland. [CD-ROM] Environmental Sciences Unit, Trinity College, Dublin.
Datasets
Citation
This review can be cited as:
Richards, S. 2008. Oscarella lobularis Lobate fig sponge. In Tyler-Walters H. and Hiscock K. Marine Life Information Network: Biology and Sensitivity Key Information Reviews, [on-line]. Plymouth: Marine Biological Association of the United Kingdom. [cited 27-09-2023]. Available from: https://www.marlin.ac.uk/species/detail/33
---
Last Updated: 03/07/2008