A pea urchin (Echinocyamus pusillus)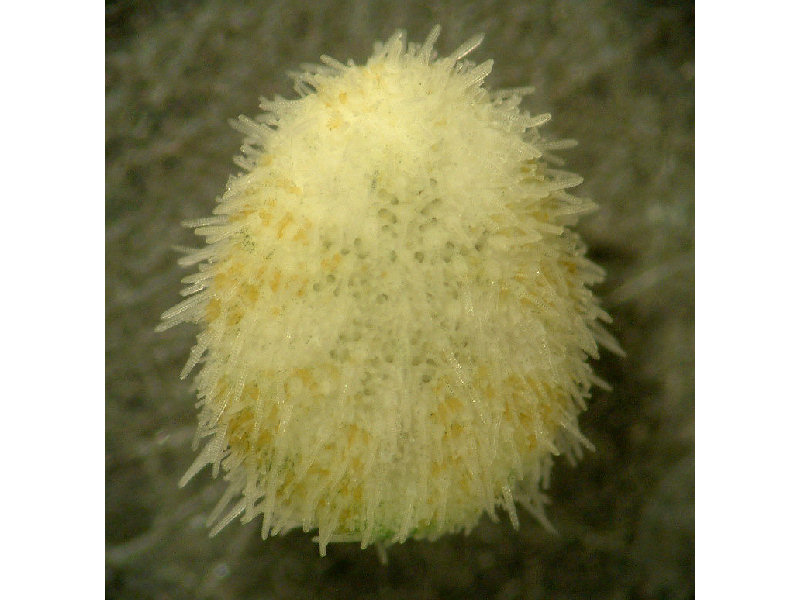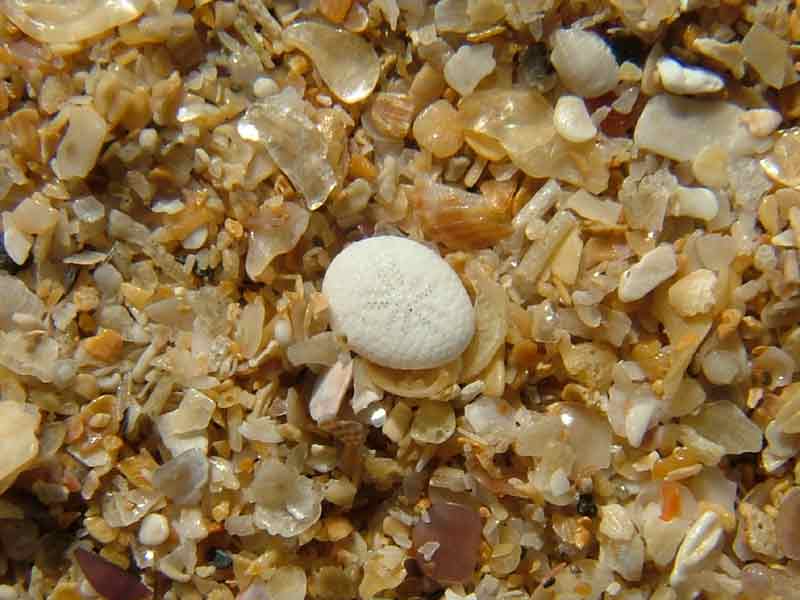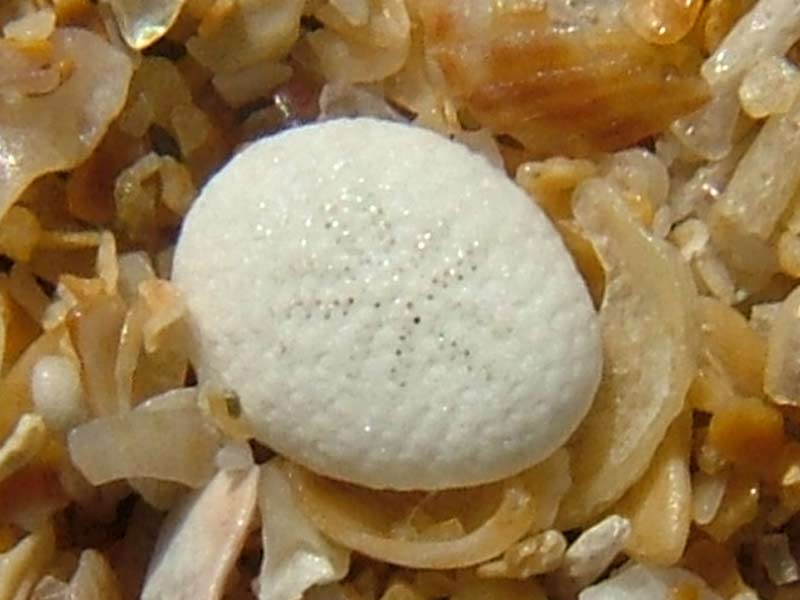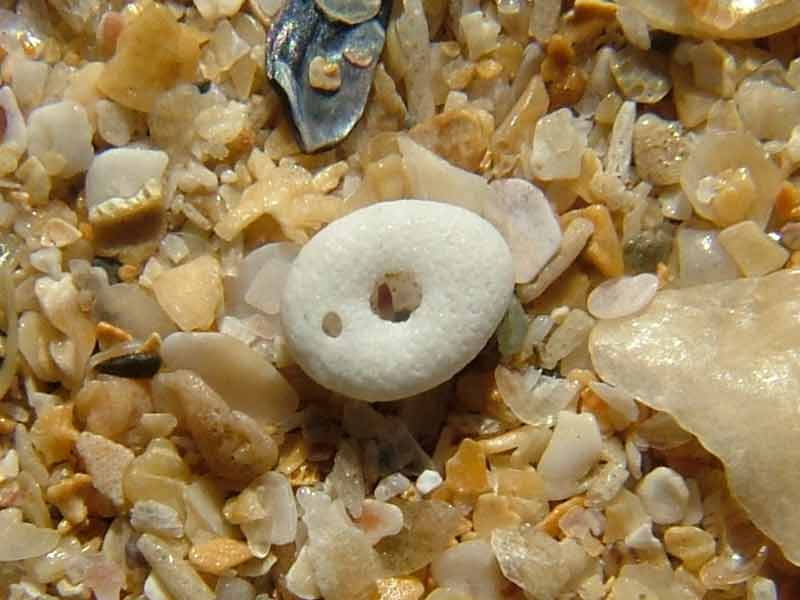 Researched by
Rebecca Lumbis
Refereed by
Admin
Authority
(O.F. Müller, 1776)
Other common names
-
Synonyms
-
Summary
Description
The pea urchin reaches 1 cm in diamter and is normally whitish brown or yellow but will turn green when damaged or preserved. Unlike many other urchin species the mouth and anus are on the underside and the ambulacral area and tube feet are confined to the upper surface in a petal shaped pattern. The flattened oval body is covered in short spines.
Recorded distribution in Britain and Ireland
Found off all British and Irish coasts.
Habitat
Found buried in coarse sand or gravel from extreme low water to 1250 m. Echinocyamus pusillus feeds on detritus, foraminferans and algae.
Identifying features
Body oval, flattened with short spines.
Anus on underside, behind the mouth.
Ambulacral plates on upperside.
Each ambulcral plate with six to nine pairs of tube feet.
Aristotle's lantern with well developed teeth.
Additional information
No text entered
Bibliography
Bruce, J.R., Colman, J.S. & Jones, N.S., 1963. Marine fauna of the Isle of Man. Liverpool: Liverpool University Press.

Gage, J., 1972. A preliminary survey of the benthic macrofauna and sediments in Lochs Etive and Creran, sea-lochs along the west coast of Scotland. Journal of the Marine Biological Association of the United Kingdom, 52, 237-276.

Ghiold, J 1982. Observations on the clypeasteroid Echinocyamus pusillus (O. F. Müller). Journal of Experimental Marine Biology and Ecology, 61(1), 57-74.

Hayward, P.J. & Ryland, J.S. (ed.) 1995b. Handbook of the marine fauna of North-West Europe. Oxford: Oxford University Press.

Howson, C.M. & Picton, B.E., 1997. The species directory of the marine fauna and flora of the British Isles and surrounding seas. Belfast: Ulster Museum. [Ulster Museum publication, no. 276.]

Mortensen, T.H., 1927. Handbook of the echinoderms of the British Isles. London: Humphrey Milford, Oxford University Press.

Nichols, D., 1969. Echinoderms (4th ed.). London: Hutchinson & Co.

Picton, B.E., 1993. A field guide to the shallow-water echinoderms of the British Isles. London: Immel Publishing Ltd.

Southward, E.C. & Campbell, A.C., 2006. Echinoderms. The Linnean Society of London. Avon: The Bath Press. [Synopses of the British Fauna No. 56.]

WoRMS 2007. The World Register of Marine Species (WoRMS). http://www.marinespecies.org, 2008-10-31
Datasets
Citation
This review can be cited as:
Lumbis, R. 2008. Echinocyamus pusillus A pea urchin. In Tyler-Walters H. and Hiscock K. Marine Life Information Network: Biology and Sensitivity Key Information Reviews, [on-line]. Plymouth: Marine Biological Association of the United Kingdom. [cited 22-09-2023]. Available from: https://www.marlin.ac.uk/species/detail/47
---
Last Updated: 26/03/2008