Striped red mullet (Mullus surmuletus)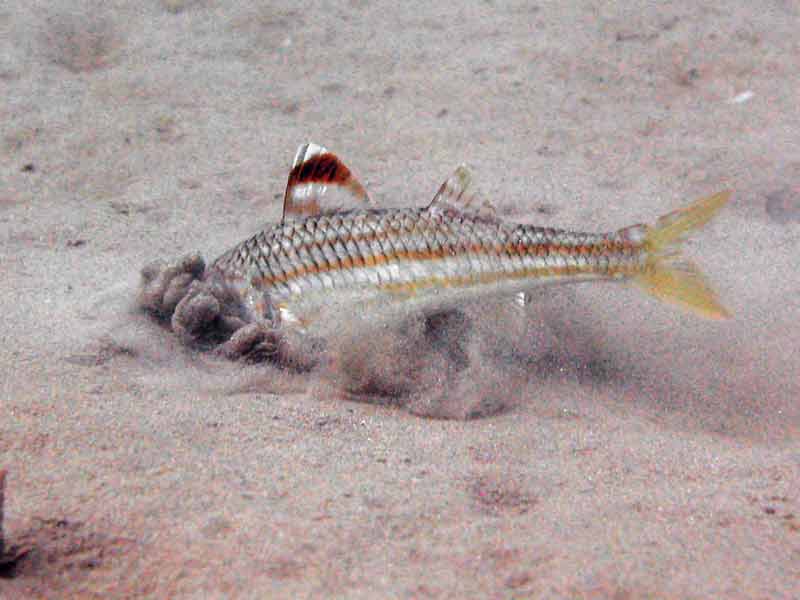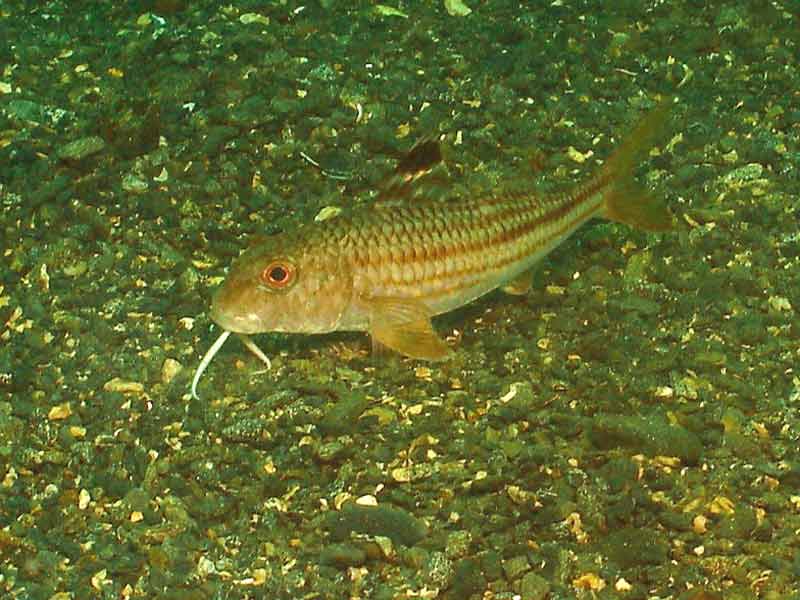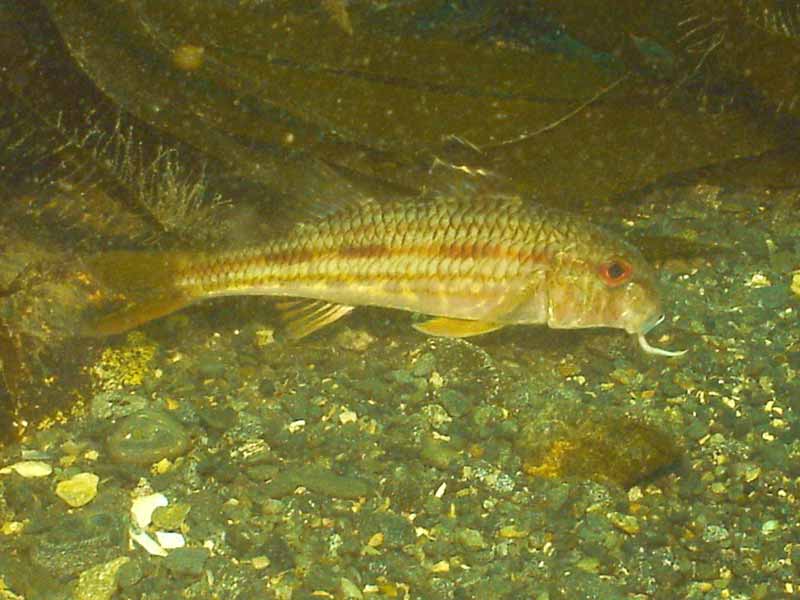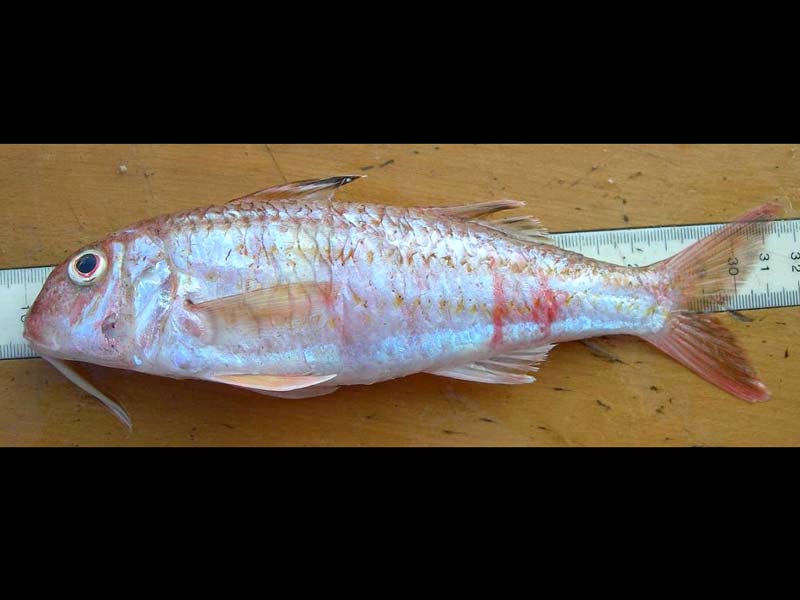 Researched by
Morvan Barnes
Refereed by
Admin
Authority
Linnaeus, 1758
Other common names
-
Synonyms
-
Summary
Description
The striped red mullet, Mullus surmuletus, is a member of the goatfish family, members of which are easily recognised by the pair of long chin barbels under the jaw. It has a moderately elongate body up to 40 cm in length. It has two well-separated dorsal fins and a forked tail. The first dorsal fin has dark markings. The body of Mullus surmuletus has longitudinal red and brown stripes.
Recorded distribution in Britain and Ireland
Its distribution is predominantly southern orientated, and it is most often found of the south and south-west coasts of the British Isles and southern Ireland but migrates through the English Channel into the North Sea.
Habitat
The red mullet is a demersal species. It is found at depths of 3-90 m on sandy or muddy bottoms but also at times on rocky ground.
Identifying features
Pair of chin barbels, longer than the pectoral fin.
Up to 40 cm in length.
Two distinct dorsal fins.
First dorsal fin has dark markings.
Longitudinal red and brown stripes run the length of the body.
Head is less steep than red mullet Mullus barbatus.
Additional information
No text entered
Bibliography
Froese, R. & Pauly, D., 2007. Fishbase. A global information system on fishes. [On-line] http://www.fishbase.org, 2008-02-18

Howson, C.M. & Picton, B.E., 1997. The species directory of the marine fauna and flora of the British Isles and surrounding seas. Belfast: Ulster Museum. [Ulster Museum publication, no. 276.]

Muus, B.J. & Nielsen, J.G. 1999. Sea Fish. Scandinavian Fishing Year Book. Hedehusene: Denmark

Quero, J-C., Hureau, J-C., Karrer, C., Post, A. & Saldanha, L. (eds.), 1990. Check-list of the fishes of the eastern tropical Atlantic (CLOFETA) JNICT, Lisbon; SEI, Paris; and UNESCO, Paris.

Wheeler, A., 1978. Key to the fishes of northern Europe. Frederick Warne, London.

Whitehead, P.J.P., Bauchot, M.-L., Hureau, J.-C., Nielson, J. & Tortonese, E. 1986. Fishes of the North-eastern Atlantic and the Mediterranean. Vol. I, II & III. Paris: United Nations Educational, Scientific and Cultural Organisation (UNESCO).
Datasets
Citation
This review can be cited as:
Barnes, M.K.S. 2008. Mullus surmuletus Striped red mullet. In Tyler-Walters H. and Hiscock K. Marine Life Information Network: Biology and Sensitivity Key Information Reviews, [on-line]. Plymouth: Marine Biological Association of the United Kingdom. [cited 27-09-2023]. Available from: https://www.marlin.ac.uk/species/detail/81
---
Last Updated: 02/09/2008