Sprat (Sprattus sprattus)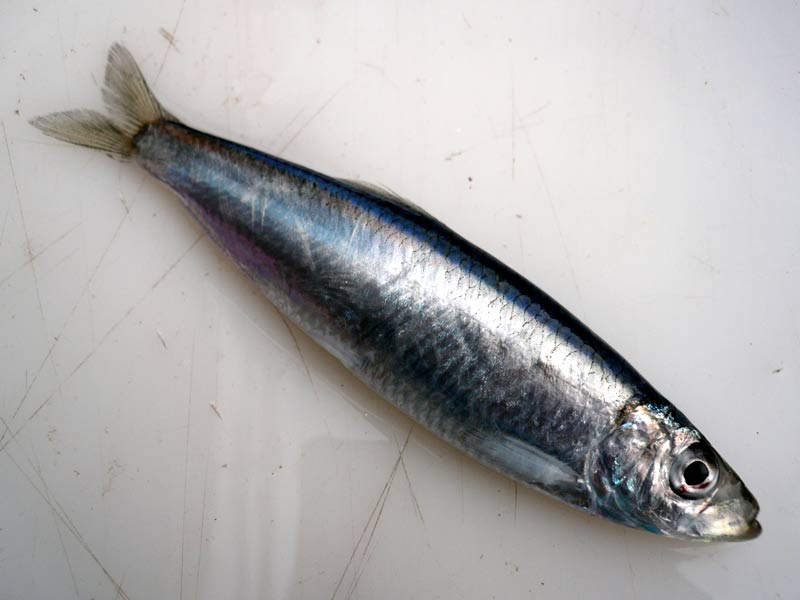 Researched by
Morvan Barnes
Refereed by
Admin
Authority
(Linnaeus, 1758)
Other common names
-
Synonyms
-
Summary
Description
Sprattus sprattus grows up to 16 cm in length. It is shiny silver to grey in colour. It has a very forked tail and small and angular anal and dorsal fins. The dorsal fin is directly above the pelvic fin. The head is small and the lower jaw is upturned and projects slightly.
Recorded distribution in Britain and Ireland
Found all around the coasts of Britain and Ireland but few records exist for the western coasts of Ireland and Scotland.
Habitat
Sprat is a pelagic schooling fish usually found in inshore waters, sometimes entering estuaries to salinity values as low as 4. It can also be found down to a depth of up to 150 m.
Identifying features
Lower jaw projects slightly.
Bony radiating grooves on the gill cover are absent.
Teeth rarely present on vomer.
Strong keel of scutes on underside.
Six pelvic finrays (occasionally 7).
Insertion of fin under or before the dorsal fin origin, last two anal finrays not enlarged.
Dark spots on flanks absent.
Additional information
Sprat may be confused with juvenile herring. The relative positions of dorsal and pelvic fins, the grey rather than blue coloration on the dorsal side and the sharply toothed ventral keel are, however, clear distinguishing features.
Bibliography
Froese, R. & Pauly, D., 2007. Fishbase. A global information system on fishes. [On-line] http://www.fishbase.org, 2008-02-18

Howson, C.M. & Picton, B.E., 1997. The species directory of the marine fauna and flora of the British Isles and surrounding seas. Belfast: Ulster Museum. [Ulster Museum publication, no. 276.]

Knijn, R.J., Boon, T.W., Heesen, H.J.L & Hislop, J.R.G., 1993. Atlas of North Sea Fishes. ICES cooperative research reports. ICES 194., Copenhagen

Whitehead, P.J.P. 1985. Clupeoid Fishes of the World: An Annotated and Illustrated Catalogue of the Herrings, Sardines, Pilchards, Sprats, Shads, Anchovies and Wolf-herring; Part 1 - Chirocentridae, Clupeidae and Pristigasteridae. FAO, 125. Rome, Italy.

Whitehead, P.J.P., Bauchot, M.-L., Hureau, J.-C., Nielson, J. & Tortonese, E. 1986. Fishes of the North-eastern Atlantic and the Mediterranean. Vol. I, II & III. Paris: United Nations Educational, Scientific and Cultural Organisation (UNESCO).
Datasets
Citation
This review can be cited as:
Barnes, M.K.S. 2008. Sprattus sprattus Sprat. In Tyler-Walters H. and Hiscock K. Marine Life Information Network: Biology and Sensitivity Key Information Reviews, [on-line]. Plymouth: Marine Biological Association of the United Kingdom. [cited 27-09-2023]. Available from: https://www.marlin.ac.uk/species/detail/82
---
Last Updated: 07/04/2008