By-the-wind-sailor (Velella velella)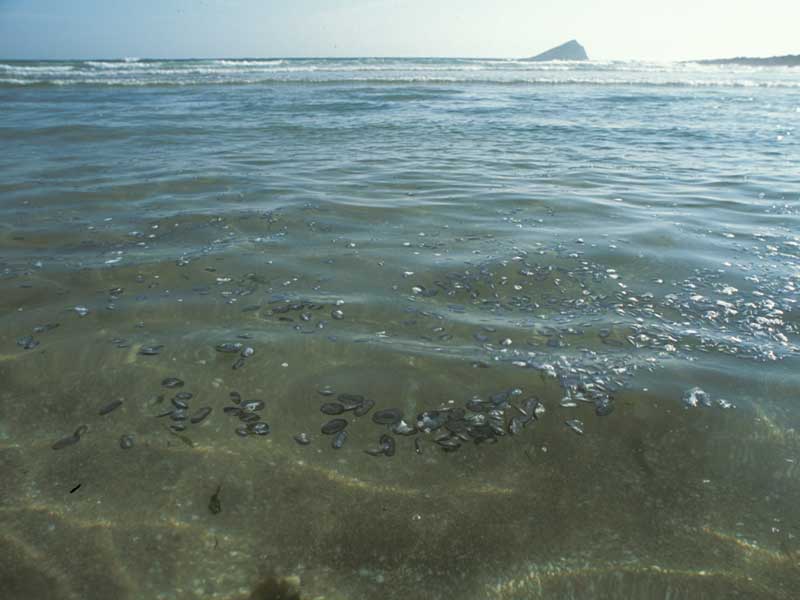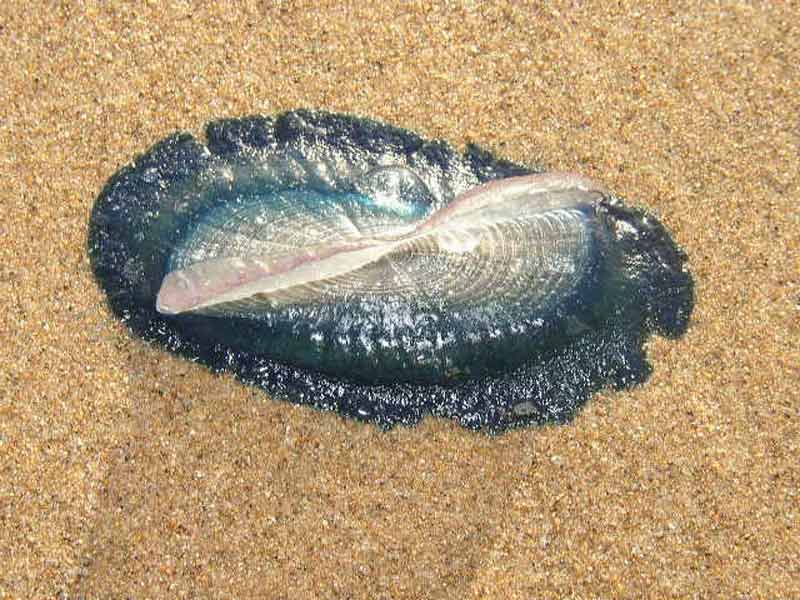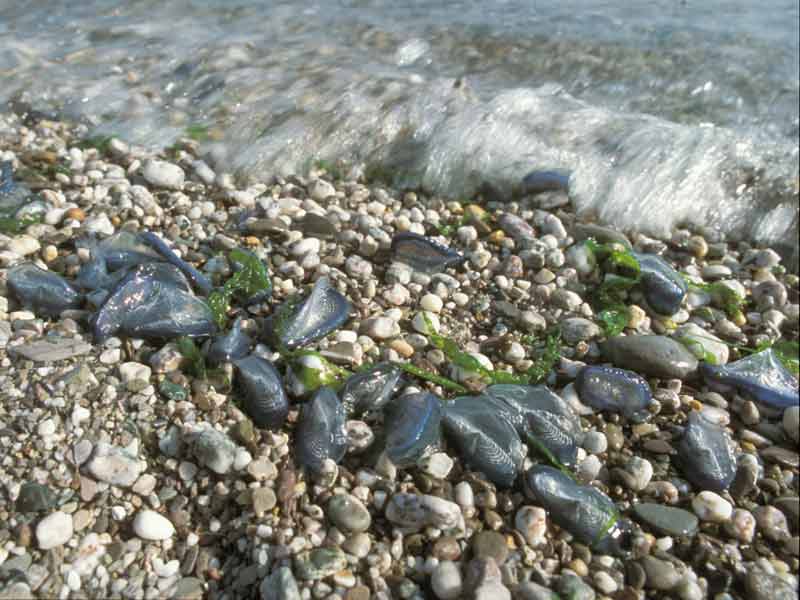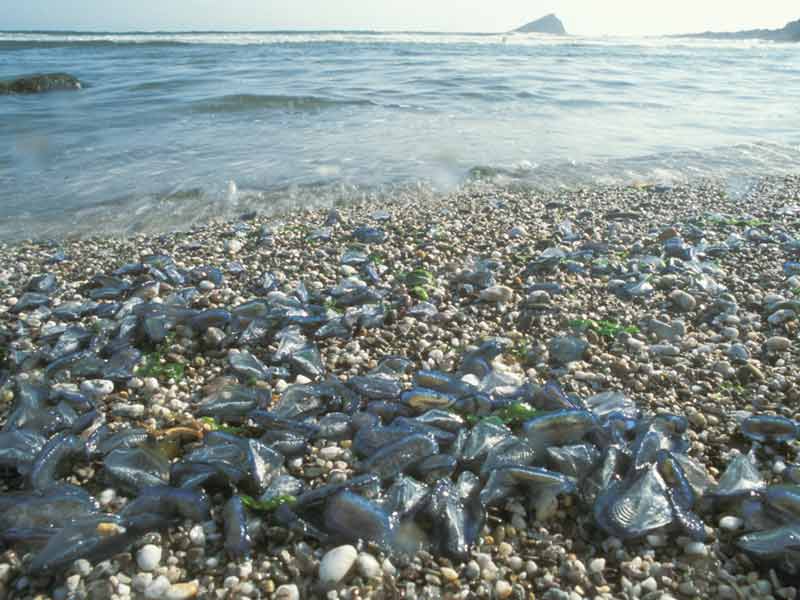 Researched by
Olwen Ager
Refereed by
Admin
Authority
(Linnaeus, 1758)
Other common names
-
Synonyms
Velella spirans
Summary
Description
Velella velella
is a pelagic colonial hydroid. The float, which is an oval disc, is deep blue in colour and can be up to 10 cm in length. Short tentacles hang down into the water from the float. A thin semicircular fin is set diagonally along the float acting as a sail. This sail gives the animal both its scientific (i.e. from
velum
, a sail) and its common name, 'by-the-wind-sailor'. The direction of the sail along the float determines which way
Velella velella
will travel. If the sail runs north-west to south-east along the float it will drift left of the wind direction, if the sail runs south-west to north-east it will drift right of the wind direction.
Velella velella
feeds on pelagic organisms, including young fish, caught by stinging cells on its tentacles. The sea slug
Fiona pinnata
, sunfish
Mola mola
and violet snail
Janthina janthina
prey upon
Velella velella
.
Recorded distribution in Britain and Ireland
Velella velella is an ocean dwelling species that is occasionally seen in the open sea and washed up around British and Irish coasts (see additional information below).
Habitat
Velella velella is a pelagic species but is occasionally seen washed up around Britain and Ireland.
Identifying features
Deep blue oval float up to 10 cm in length.
Semicircular sail set diagonally along float.
Short tentacles hanging down from float
Left sailing and right sailing forms.
Additional information
Velella velella is commonly found on the surface of the warmer waters of the World's oceans (Kirkpatrick & Pugh, 1984). McGrath (1985; 1992) reported large numbers of Velella velella washed up around the west coast of Ireland each year between 1976-1984, and again in 1992. In 1981 strandings were reported along the north Cornish coast, in north Devon, Lundy, Weston-Super-Mare and south-west Wales (Turk, 1982b). The Cornish Wildlife Trust Strandings Index (2002) has reports of two main stranding events per year in the winter, December-February, and late summer early autumn, August-September.

In 2002 there were numerous reports of washed up Velella velella. John White reported Velella velella washed up on a Sussex beach at Bognor rocks and Robert Harvey reported the species as far north as Kilmory Bay in the Sound of Jura (BMLSS, 2002a). Mike Bates reported Velella velella being washed up on the south of the Isle of Man, the last confirmed record previous to this was in 1954 (BMLSS, 2002a). At Millport, on the Isle of Cumbrae, Philip Smith reported small numbers of Velella velella washed ashore (BMLSS, 2002a), the first record from the Isle of Cumbrae despite there being a marine station there for over a hundred years (Smith, pers comm.). Edwards (1959) reported living specimens of Velella velella at Croy Sands, Turnberry Bay but no specimens were found on the Isle of Cumbrae despite a search.
Bibliography
BMLSS (British Marine Life Study Society), 2002. Jellyfish page [On-line] http://ourworld.compuserve.com/homepages/BMLSS/Moonjell.htm, 2002-07-02

Cornwall Wildlife Trust, 2002. Strandings Index: Hydrozoa [On-line] http://www.wildlifetrust.org.uk/cornwall/strand/hydrozoa.html, 2002-07-02

Edwards, C., 1959. Occurrence of the chondrophore Velella velella (L.) on western Scottish coasts. The Glasgow Naturalist, 28, 78-81.

Fish, J.D. & Fish, S., 1996. A student's guide to the seashore. Cambridge: Cambridge University Press.

Hayward, P., Nelson-Smith, T. & Shields, C. 1996. Collins pocket guide. Sea shore of Britain and northern Europe. London: HarperCollins.

Hayward, P.J. & Ryland, J.S. (ed.) 1995b. Handbook of the marine fauna of North-West Europe. Oxford: Oxford University Press.

Howson, C.M. & Picton, B.E., 1997. The species directory of the marine fauna and flora of the British Isles and surrounding seas. Belfast: Ulster Museum. [Ulster Museum publication, no. 276.]

Kirkpatrick, P.A., & Pugh, P.R., 1984. Siphonophores and Velellids London: Academic Press. [Synopses of the British Fauna No. 29.]

McGrath, D., 1985. The by-the-wind sailor Velella velella (L) (Coelenterata: Hydrozoa) in Irish waters 1976-1984. The Irish Naturalists Journal, 21, 479-484.

McGrath, D., 1994. Extraordinary occurrences of the by-the-wind sailor Velella velella (L) (Cnidaria) in Irish waters in 1992 The Irish Naturalists Journal, 24, 383-388.

Picton, B. E. & Morrow, C.C., 1994. A Field Guide to the Nudibranchs of the British Isles. London: Immel Publishing Ltd.

Turk, S.M., 1982b. Influx of warm-water oceanic drift animals into Bristol and English Channels summer 1981. Journal of the Marine Biological Association of the United Kingdom, 62 , 487-489.
Datasets
Citation
This review can be cited as:
Ager, O.E.D. 2008. Velella velella By-the-wind-sailor. In Tyler-Walters H. and Hiscock K. Marine Life Information Network: Biology and Sensitivity Key Information Reviews, [on-line]. Plymouth: Marine Biological Association of the United Kingdom. [cited 04-10-2023]. Available from: https://www.marlin.ac.uk/species/detail/1802
---
Last Updated: 17/04/2008