Sea lemon (Doris pseudoargus)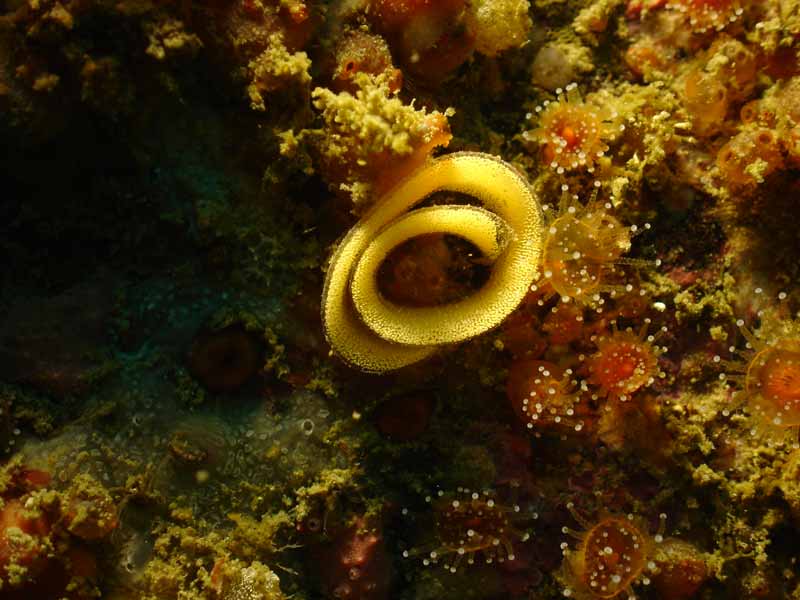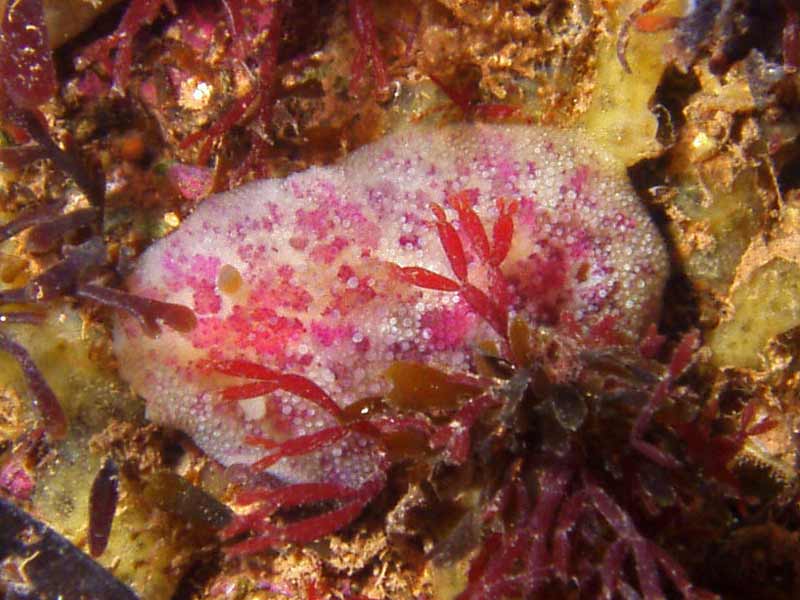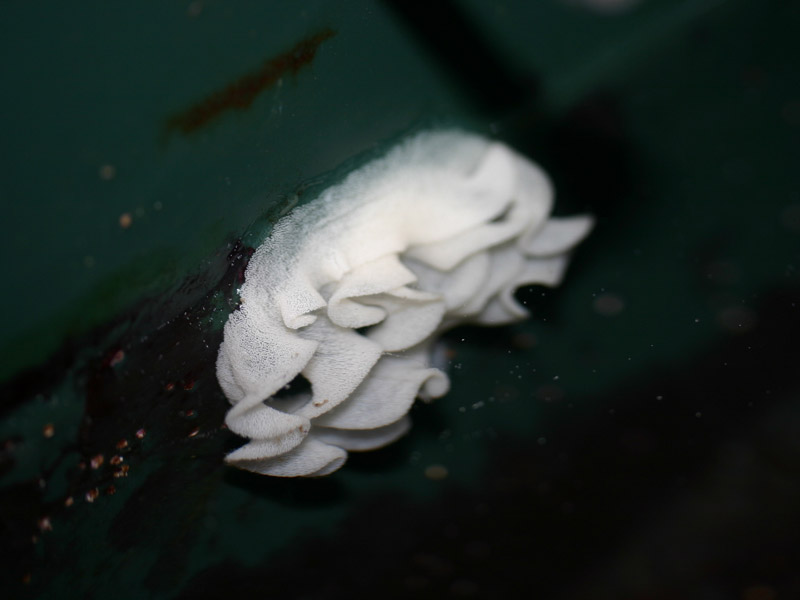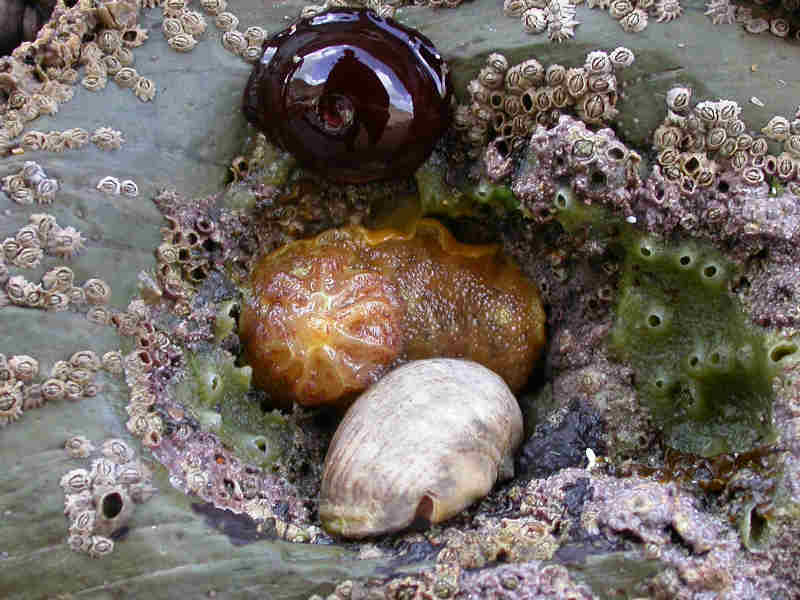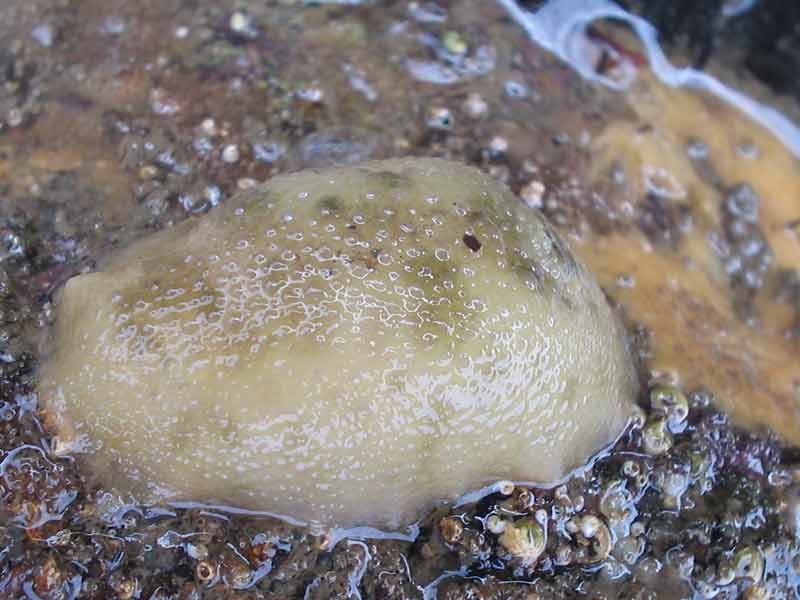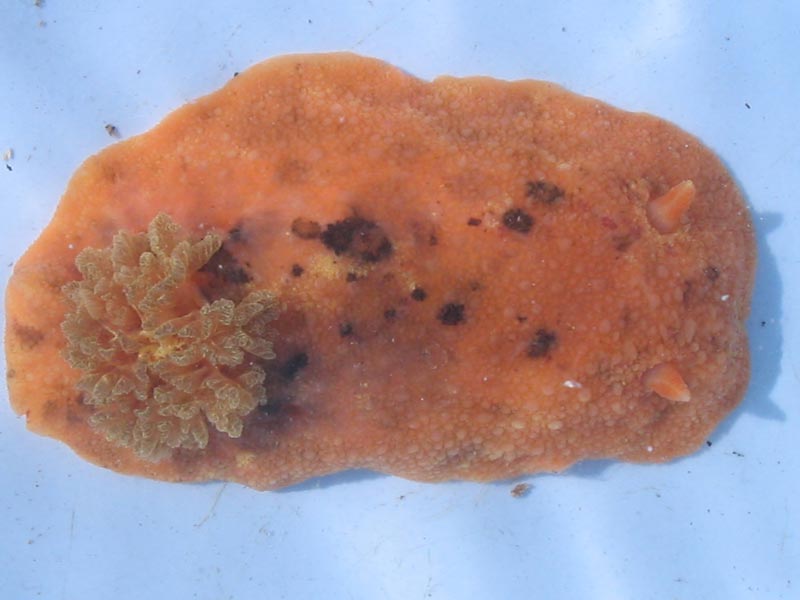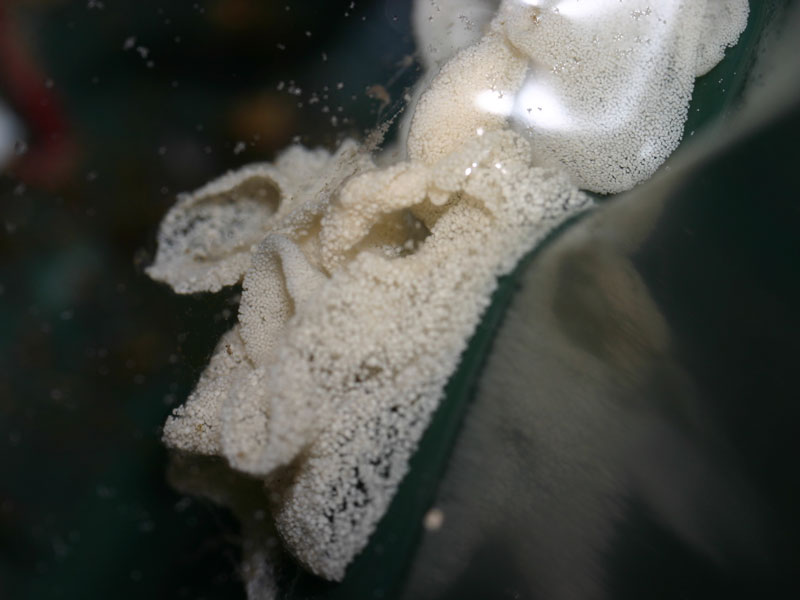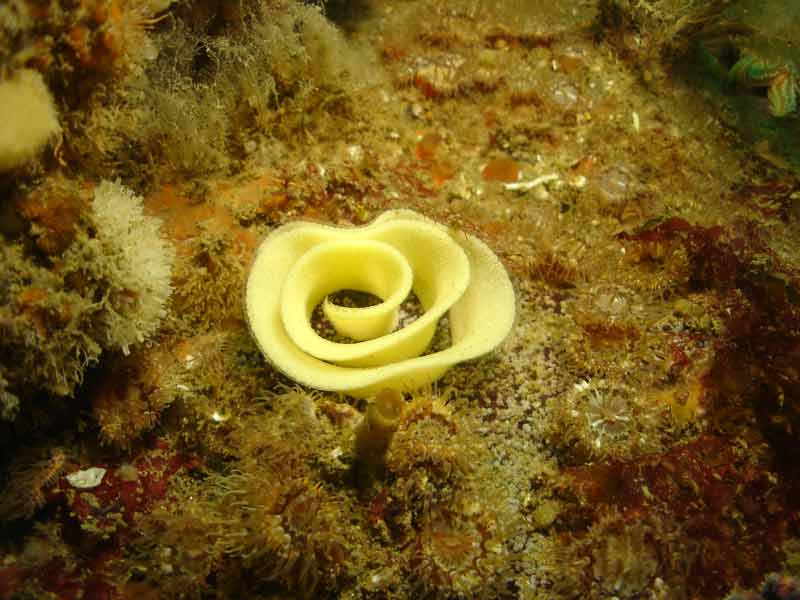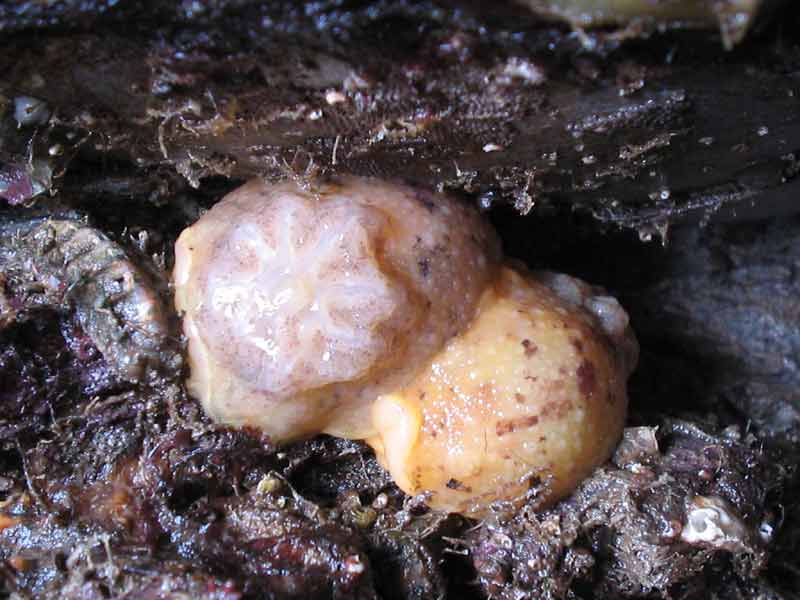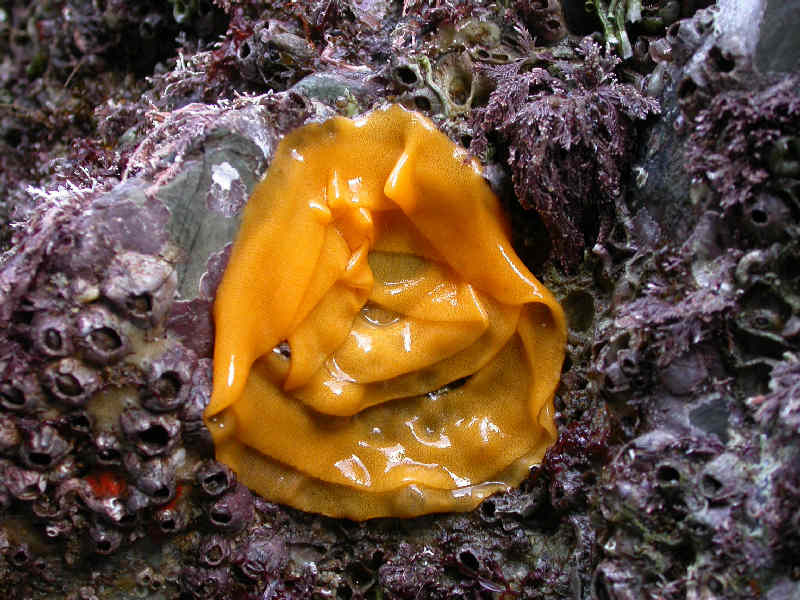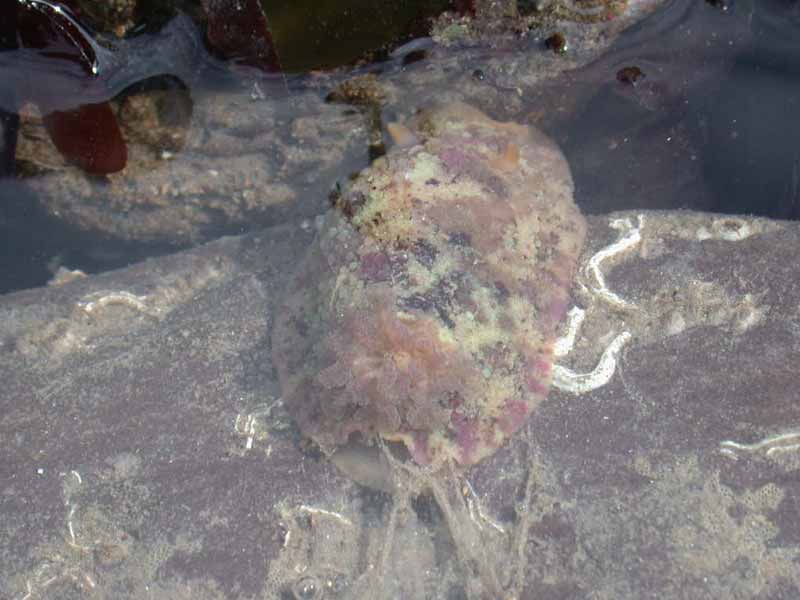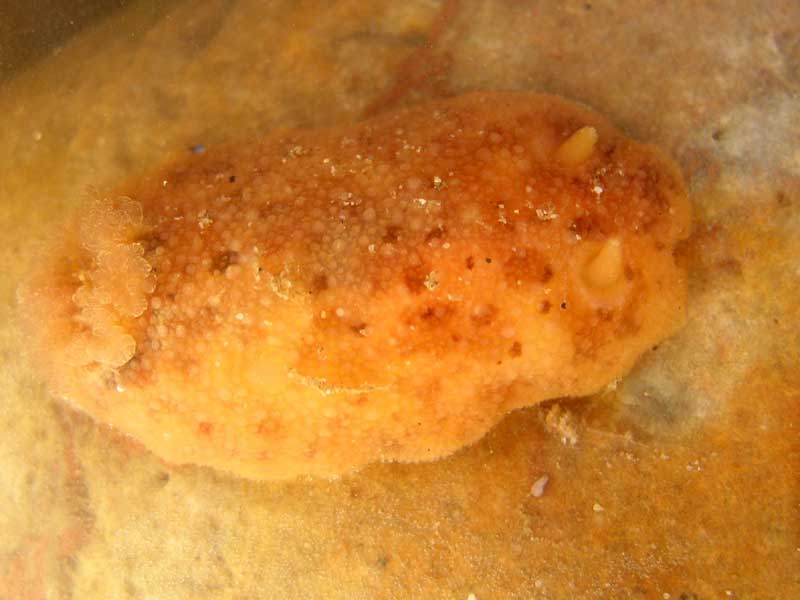 Researched by
Olwen Ager
Refereed by
Admin
Authority
Rapp, 1827
Other common names
-
Synonyms
Archidoris pseudoargus
Summary
Description
A large sea slug up to 12 cm long. The top side of the slug is covered in small wart like bumps (tubercles). It has a ring of eight or nine upright feathery gills close to the posterior end, which are quickly retracted when a disturbance is sensed. The colouration of the sea slug is blotchy and variable and can be yellow, green, brown or pink. There is another variety (var. flammea) that is bright red all over.
Recorded distribution in Britain and Ireland
Found all around the British Isles.
Habitat
Found on the lower shore underneath large boulders and offshore into the sublittoral to about 300 m.
Identifying features
Oval body up to 12 cm long.
Mottled in colour, usually yellow but can be green, brown or pink.
Top side covered in small wart like bumps.
Ring of 8-9 feathery upright (tripinnate) gills near posterior end.
Additional information
The sea slug
Geitodoris planata
can be distinguished from
Doris psuedoargus
as it has star-shaped spots on its back (dorsum) and brown specks on the underside of the mantle. The sea lemon feeds mainly on sponges, especially the breadcrumb sponge (
Halichondria panicea
). Once used as fish bait in Shetland (Thompson & Brown, 1976).
Bibliography
Hayward, P., Nelson-Smith, T. & Shields, C. 1996. Collins pocket guide. Sea shore of Britain and northern Europe. London: HarperCollins.

Hayward, P.J. & Ryland, J.S. (ed.) 1995b. Handbook of the marine fauna of North-West Europe. Oxford: Oxford University Press.

Hayward, P.J. & Ryland, J.S. 1990. The marine fauna of the British Isles and north-west Europe. Oxford: Oxford University Press.

Howson, C.M. & Picton, B.E., 1997. The species directory of the marine fauna and flora of the British Isles and surrounding seas. Belfast: Ulster Museum. [Ulster Museum publication, no. 276.]

Picton, B. E. & Morrow, C.C., 1994. A Field Guide to the Nudibranchs of the British Isles. London: Immel Publishing Ltd.

Thompson, T. E. & Brown, G. H., 1976. British Opisthobranch Molluscs. London: Academic Press. [Synopses of the British Fauna, no. 8.]
Datasets
Citation
This review can be cited as:
Ager, O.E.D. 2008. Doris pseudoargus Sea lemon. In Tyler-Walters H. and Hiscock K. Marine Life Information Network: Biology and Sensitivity Key Information Reviews, [on-line]. Plymouth: Marine Biological Association of the United Kingdom. [cited 30-09-2023]. Available from: https://www.marlin.ac.uk/species/detail/1856
---
Last Updated: 29/04/2008