Coral worm (Salmacina dysteri)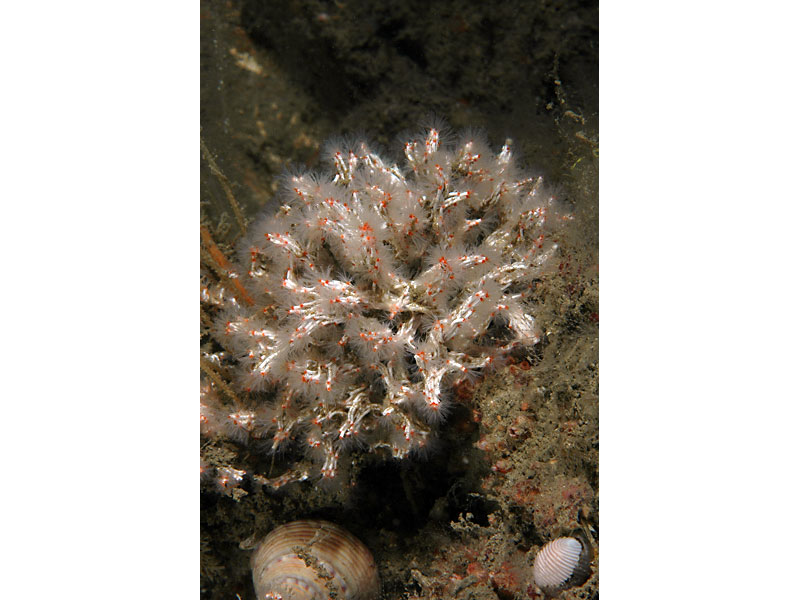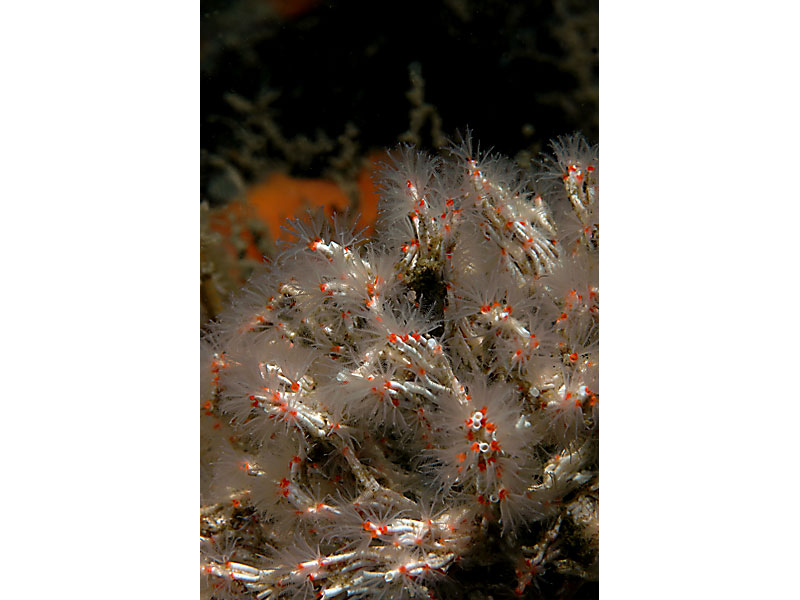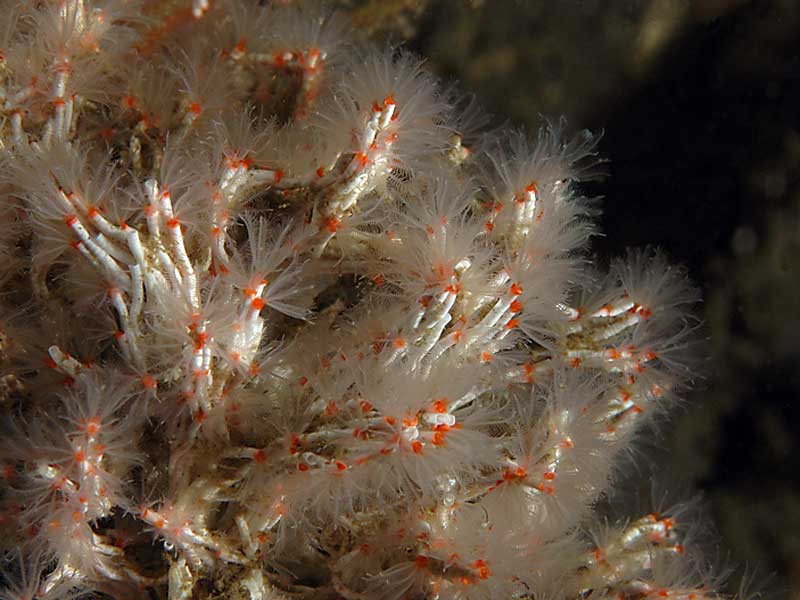 Researched by
Susie Ballerstedt
Refereed by
Admin
Authority
(Huxley, 1855)
Other common names
-
Synonyms
-
Summary
Description
A tubeworm between 4-5 mm long and with ca 30 body segments. The body is pink with a colourless, white or pinkish crown of 8 tentacles. Salmacina dysteri live in delicate, calcareous tubes that are almost translucent white and up to 0.5 mm in diameter. These worms occur in dense aggregations that interweave their tubes in a rope-like mass.
Recorded distribution in Britain and Ireland
Common around the British Isles.
Habitat
Occur on rocks and may be found on the lower shore, but more commonly occur sublittorally in less sheltered areas.
Identifying features
Dense aggregation of interwoven tubes.
Tubes white, almost translucent.
Eight colourless, white or pinkish tentacles on the head.
Body pink and up to 5 mm long.
Additional information
Almost identical to the tubeworm
Filograna implexa
. The two species can be distinguished by the cup-shaped terminals (opercula) to two of the crown tentacles present in
Filograna implexa
, which are absent in
Salmacina dysteri
.
Salmacina dysteri
may form large globular masses which divers have described as "like brain coral".
Bibliography
Bruce, J.R., Colman, J.S. & Jones, N.S., 1963. Marine fauna of the Isle of Man. Liverpool: Liverpool University Press.

Hayward, P., Nelson-Smith, T. & Shields, C. 1996. Collins pocket guide. Sea shore of Britain and northern Europe. London: HarperCollins.

Hayward, P.J. & Ryland, J.S. (ed.) 1995b. Handbook of the marine fauna of North-West Europe. Oxford: Oxford University Press.

Howson, C.M. & Picton, B.E., 1997. The species directory of the marine fauna and flora of the British Isles and surrounding seas. Belfast: Ulster Museum. [Ulster Museum publication, no. 276.]

JNCC (Joint Nature Conservation Committee), 1999. Marine Environment Resource Mapping And Information Database (MERMAID): Marine Nature Conservation Review Survey Database. [on-line] http://www.jncc.gov.uk/mermaid

Picton, B.E. & Costello, M.J., 1998. BioMar biotope viewer: a guide to marine habitats, fauna and flora of Britain and Ireland. [CD-ROM] Environmental Sciences Unit, Trinity College, Dublin.
Datasets
Citation
This review can be cited as:
Ballerstedt, S. 2006. Salmacina dysteri Coral worm. In Tyler-Walters H. and Hiscock K. Marine Life Information Network: Biology and Sensitivity Key Information Reviews, [on-line]. Plymouth: Marine Biological Association of the United Kingdom. [cited 28-11-2023]. Available from: https://www.marlin.ac.uk/species/detail/1874
---
Last Updated: 30/11/2006