Lacy tubeworm (Filograna implexa)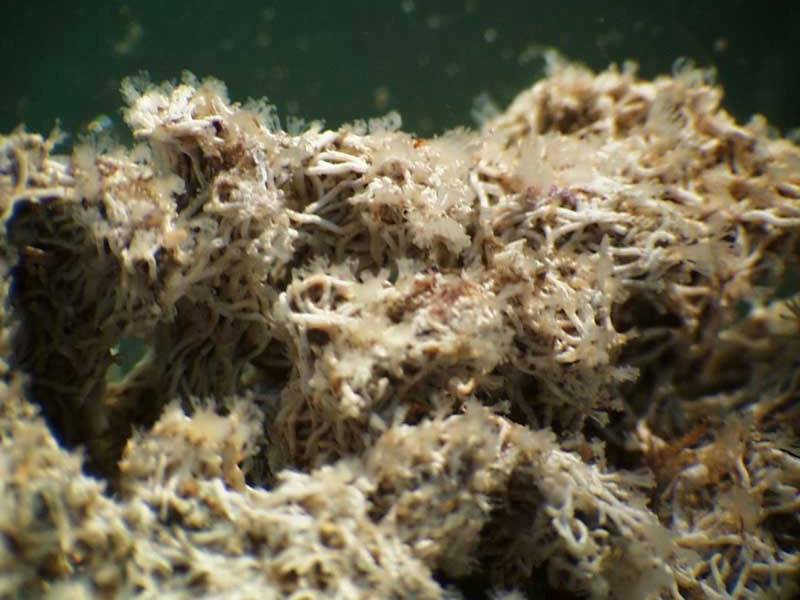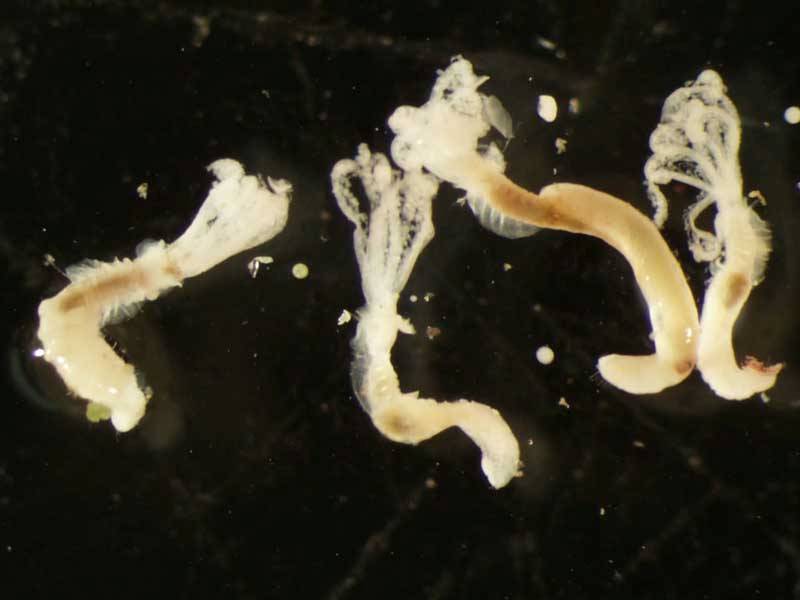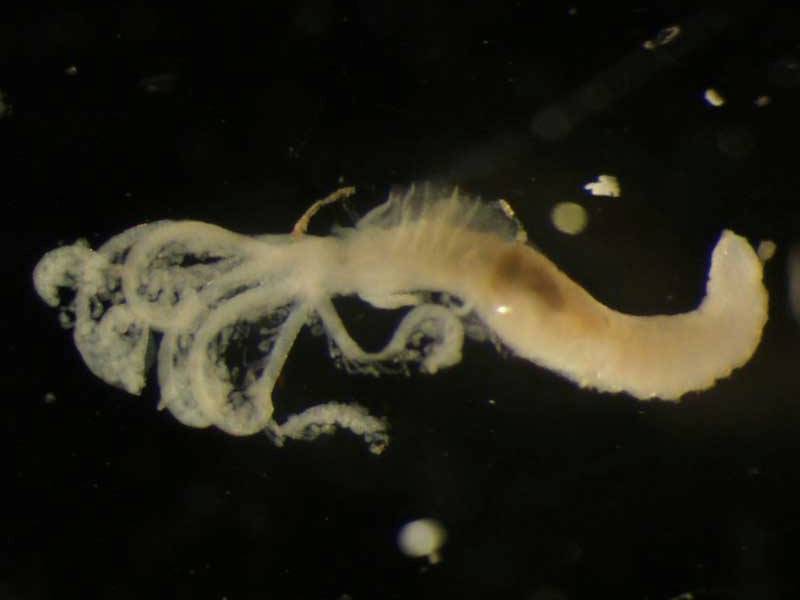 Researched by
Saskiya Richards
Refereed by
Admin
Authority
Berkeley, 1835
Other common names
-
Synonyms
-
Summary
Description
Filograna implexa has a translucent, pinkish-grey body up to 0.4-0.5 cm in length. It forms a thin, translucent white tube marked by thin growth rings from which it extends its tentacles and is normally found in colonies of large numbers. The body has up to 35 chaetae-bearing segments divided into a membrane-covered thoracic region of 6-9 segments and abdominal region. An unsegmented region that does not have chaetae separates the thorax and abdomen. The abdominal chaetae are smaller than the thoracic which develop a sickle-shaped towards the posterior end. Each segment also bears a pair of small, toothed, rasp-shaped plates (uncini) attached to the parapoda that are smaller in the abdominal region than in the thoracic region. The head bears two eyes and has two lobes each bearing four colourless, white or pinkish pinnate tentacles. Two of the eight tentacles, one on each side have a distinctive pale yellow, cup-shaped operculum. The base of the tentacles is surrounded by a toothed collar that has finely serrated chaetae and is notched on the ventral surface.
Recorded distribution in Britain and Ireland
Filograna implexa is locally abundant on the coasts of Ireland and the southwest and west of Britain. It has been recorded less frequently on the northeast coast of Britain.
Global distribution
Filograna implexa is widespread in northwest Europe, the mediterranean, Japan and the Artic.
Habitat
Filograna implexus encrusts bryozoans, corals, Laminaria holdfasts, and a variety of hard substrata including rock crevices, pebbles, stones, shells and sand on the lower shore and in the sublittoral zone.
Identifying features
Network of thin long whitish tubes.
Greyish-pink translucent body up to 0.4-0.5 cm in length and divided into approximately 35 chaetae-bearing segments.
Two yellow cup-shaped opercula on tentacles.
Eight colourless, white or pinkish feather-like tentacles.
Unsegmented chaetae-less region between thorax and abdomen.
Additional information
Filograna implexus is a filter-feeder. Individuals are gonochoristic and reproduce via a pelagic larval stage throughout July, August and September. Filograna implexus also reproduces by asexual budding. This species can be mistaken for Salmacina dysteri which lacks the distinctive cup-shaped operculum.
Bibliography
Bruce, J.R., Colman, J.S. & Jones, N.S., 1963. Marine fauna of the Isle of Man. Liverpool: Liverpool University Press.

Crothers, J.H. (ed.), 1966. Dale Fort Marine Fauna. London: Field Studies Council.

Fish, J.D. & Fish, S., 1996. A student's guide to the seashore. Cambridge: Cambridge University Press.

Foster-Smith, J. (ed.), 2000. The marine fauna and flora of the Cullercoats District. Marine species records for the North East Coast of England. Sunderland: Penshaw Press, for the Dove Marine Laboratory, University of Newcastle upon Tyne.

Gee, J.M., 1963. On the taxonomy and distribution in south Wales of Filograna, Hydroides and Mercierella (Polychaeta, Serpulidae). Annals and Magazine of Natural History. Series 13, 6, 705-715,

Gibson, R., Hextall, B. & Rogers, A., 2001. Photographic guide to the sea and seashore life of Britain and north-west Europe. Oxford: Oxford University Press.

Hayward, P., Nelson-Smith, T. & Shields, C. 1996. Collins pocket guide. Sea shore of Britain and northern Europe. London: HarperCollins.

Hayward, P.J. & Ryland, J.S. (ed.) 1995b. Handbook of the marine fauna of North-West Europe. Oxford: Oxford University Press.

Howson, C.M. & Picton, B.E., 1997. The species directory of the marine fauna and flora of the British Isles and surrounding seas. Belfast: Ulster Museum. [Ulster Museum publication, no. 276.]

Kupriyanova, E.K., & Jirkov, I.A. 1997. Serpulidae (Annelida, Polychaeta) of the Arctic Ocean. Sarsia, 82(3), 203-236.

Laverack, M.S. & Blackler, D.M., 1974. Fauna & Flora of St. Andrews Bay. Scottish Academic Press (Edinburgh & London).

MBA (Marine Biological Association), 1957. Plymouth Marine Fauna. Plymouth: Marine Biological Association of the United Kingdom.

Nelson-Smith, A., & Gee, J.M. 1966. Serpulid tubeworms (Polychaeta Serpulidae) around Dale, Pembrokeshire. Field Studies, 2, 331-357.

Nishi, E., Yamasu, T., & Kikuchi, T. 1996. Reproductive ecology of the colonial serpulid Filograna implexa (Polychaete). Publications from the Amakusa Marine Biological Laboratory, Kyushu University, 12(2), 63-70.

Picton, B.E., & Costello, M.J., 2001. BioMar biotope viewer: a guide to marine habitats and fauna of Britain and Ireland. http://www.itsligo.ie/biomar/echinode/ECHSEP.HTM, 2001-06-01
Datasets
Citation
This review can be cited as:
Richards, S. 2008. Filograna implexa Lacy tubeworm. In Tyler-Walters H. and Hiscock K. Marine Life Information Network: Biology and Sensitivity Key Information Reviews, [on-line]. Plymouth: Marine Biological Association of the United Kingdom. [cited 21-09-2023]. Available from: https://www.marlin.ac.uk/species/detail/20
---
Last Updated: 17/04/2008