Grooved top shell (Jujubinus striatus)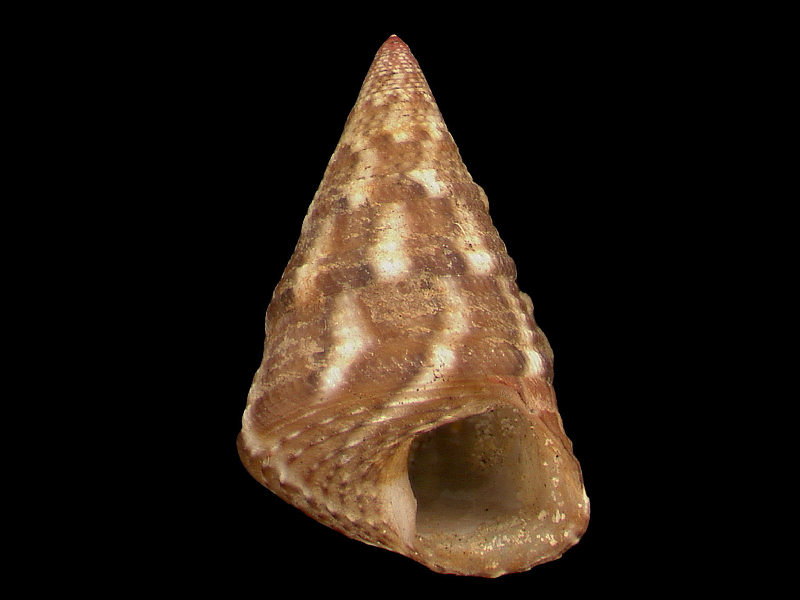 Researched by
Anna Neish
Refereed by
Admin
Authority
(Linnaeus, 1758)
Other common names
-
Synonyms
Cantharidus striatus , Trochus striatus (Linnaeus, 1758)
Summary
Description
A pyramidal top shell, similar in shape to
Calliostoma zizyphinum
but
Jujubinus striatus
is less broad and up to about 10 mm high and 8 mm broad. The shell has 6 whorls with 8-10 smooth concentric ridges between the keels of each whorl. The last whorl and the aperture are both relatively large and can be up to two thirds of the overall height of the shell. The aperture is obliquely oval and often pink. The outer colour of the shell can be extremely variable but is usually coffee or chocolate brown with cream or white areas of different sizes. Other colours include greyish-white, yellowish or greenish and the apical region can be a carmine red. Occasionally, individuals are all red. Broad bands of colour and white may alternate giving a chequered pattern. A small hole found on the underside in the centre of the whorls (umbilicus) is open in young shells and closed in adult shells. The foot has 3 pairs of epipodial tentacles.
Recorded distribution in Britain and Ireland
Locally abundant in the Channel Islands but rare on the British and Irish coasts. There are records from south Devon, the Isle of Man and the Isles of Scilly, but recent records only from Bognor Regis, Falmouth, and Bryher in the Isles of Scilly.
Global distribution
Distributed from the Mediterranean northward to south-west Britain.
Habitat
At low water spring tides down to 300 m. Usually found around plants and seaweed especially Zostera marina, and on stones among Ulva and Codium species.
Identifying features
A pyramidal shaped top shell up to 10 mm high and 8 mm broad.
Shell consists of 6 whorls, the last whorl relatively large.
8-10 smooth concentric ridges between keel and adapical suture on the last whorl and 7-9 ridges on its base.
Relatively large, obliquely oval aperture, usually pink.
Variable shell colour but usually brown and cream which can form alternating bands or a chequered pattern.
Apical region of shell can be a carmine red colour.
Umbilicus closed in adults.
The foot has 3 pairs of epipodial tentacles.
Additional information
Jujubinus striatus is very similar to Jujubinus exasperatus which is one of three other species of Jujubinus recorded in Britain although none is common. Jujubinus striatus has apparently disappeared from many sites where it was formally common as there are no recent records.
Bibliography
Bruce, J.R., Colman, J.S. & Jones, N.S., 1963. Marine fauna of the Isle of Man. Liverpool: Liverpool University Press.

Graham, A., 1988. Molluscs: prosobranchs and pyramellid gastropods (2nd ed.). Leiden: E.J. Brill/Dr W. Backhuys. [Synopses of the British Fauna No. 2]

Hayward, P., Nelson-Smith, T. & Shields, C. 1996. Collins pocket guide. Sea shore of Britain and northern Europe. London: HarperCollins.

Hayward, P.J. & Ryland, J.S. (ed.) 1995b. Handbook of the marine fauna of North-West Europe. Oxford: Oxford University Press.

Howson, C.M. & Picton, B.E., 1997. The species directory of the marine fauna and flora of the British Isles and surrounding seas. Belfast: Ulster Museum. [Ulster Museum publication, no. 276.]

MBA (Marine Biological Association), 1957. Plymouth Marine Fauna. Plymouth: Marine Biological Association of the United Kingdom.

Seaward, D.R., 1990. Distribution of marine molluscs of north west Europe. Peterborough: Nature Conservancy Council.

Turk, S.M. & Seaward, D.R., 1997. The marine fauna and flora of the Isles of Scilly - Mollusca. Journal of Natural History, 31, 55-633.
Datasets
Citation
This review can be cited as:
Neish, A.H. 2005. Jujubinus striatus Grooved top shell. In Tyler-Walters H. and Hiscock K. Marine Life Information Network: Biology and Sensitivity Key Information Reviews, [on-line]. Plymouth: Marine Biological Association of the United Kingdom. [cited 04-10-2023]. Available from: https://www.marlin.ac.uk/species/detail/1910
---
Last Updated: 17/10/2005