Rough doris (Onchidoris muricata)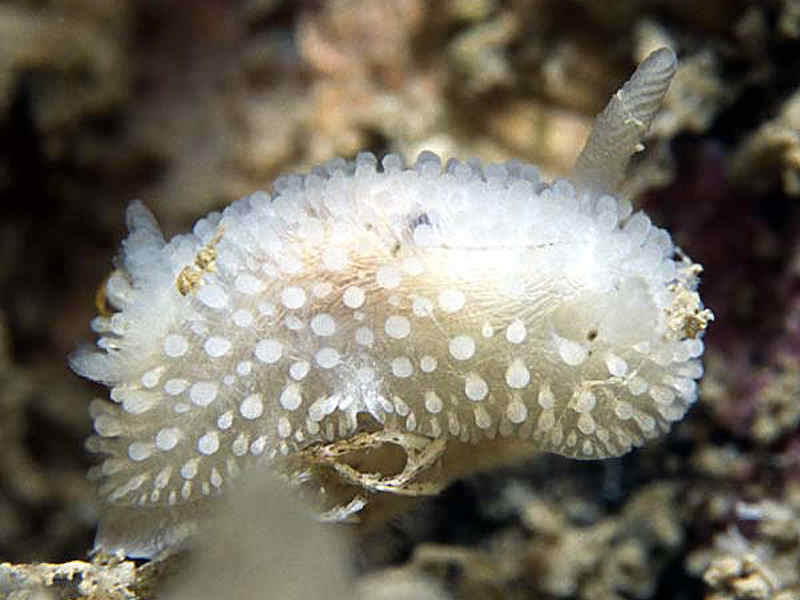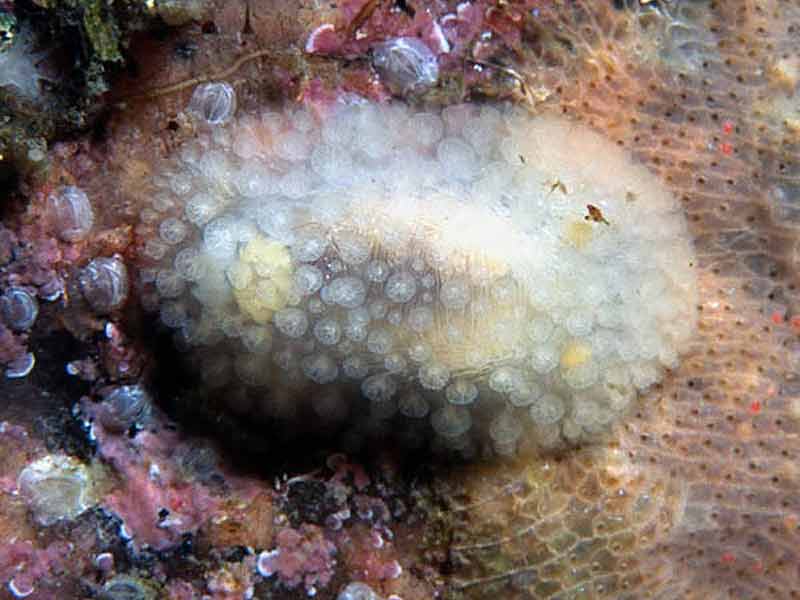 Researched by
Rose Edwards
Refereed by
Admin
Authority
(O. F. Müller, 1776)
Other common names
-
Synonyms
-
Summary
Description
Onchidoris muricata has a maximum length of 1.4 cm and is usually white in colour but pale yellow individuals have been recorded. Also some rare individuals have been recorded with brown speckling on the mantle. Club-shaped stalked projections (tubercles) are visible on its mantle. Up to 11 gills can also be found at the rear of the mantle. The head is extended to form an oral veil, which lacks tentacles. The eggs are spawned in a ribbon, coiled several times.
Recorded distribution in Britain and Ireland
More common on the west coast of the British Isles particularly in the north. Few recordings on the east coast of the British Isles.
Global distribution
This widespread species has been recorded on both sides of the north Atlantic, and in Alaska, British Columbia and Washington in the north Pacific.
Habitat
Onchidoris muricata is found on the lower shore or in sublittoral areas to depths of 15 m.
Identifying features
Grows up to 1.4 cm.
White or pale yellow in colour.
Rounded tubercles with flattened tops.
Additional information
Likely to be confused with Adalaria proxima, however Onchidoris muricata has club-shaped tubercles whereas Adalaria proxima tentacles are pointed. Also Adalaria proxima is a large species, it can grow to 1.7 cm in length.
Bibliography
Hayward, P.J. & Ryland, J.S. (ed.), 1995. The marine fauna of the British Isles and north-west Europe. Volume 2. Molluscs to Chordates. Oxford Science Publications. Oxford: Clarendon Press.

Howson, C.M. & Picton, B.E., 1997. The species directory of the marine fauna and flora of the British Isles and surrounding seas. Belfast: Ulster Museum. [Ulster Museum publication, no. 276.]

JNCC (Joint Nature Conservation Committee), 1999. Marine Environment Resource Mapping And Information Database (MERMAID): Marine Nature Conservation Review Survey Database. [on-line] http://www.jncc.gov.uk/mermaid

Picton, B. E. & Morrow, C.C., 1994. A Field Guide to the Nudibranchs of the British Isles. London: Immel Publishing Ltd.

Picton, B.E. & Morrow, C.C., 2000. Encyclopaedia of Marine Life of Britain and Ireland. http://www.habitas.org.uk/marinelife/index.html, 2003-09-18

Picton, B.E., 2000. Nudibranchs of the British Isles. http://www.pictonb.freeserve.co.uk/nudibranchs/index.html, 2003-09-11

Thompson, T. E. & Brown, G. H., 1976. British Opisthobranch Molluscs. London: Academic Press. [Synopses of the British Fauna, no. 8.]
Datasets
Citation
This review can be cited as:
Edwards, R.V. 2004. Onchidoris muricata Rough doris. In Tyler-Walters H. and Hiscock K. Marine Life Information Network: Biology and Sensitivity Key Information Reviews, [on-line]. Plymouth: Marine Biological Association of the United Kingdom. [cited 11-12-2023]. Available from: https://www.marlin.ac.uk/species/detail/1976
---
Last Updated: 08/04/2004