Yellow false doris (Adalaria proxima)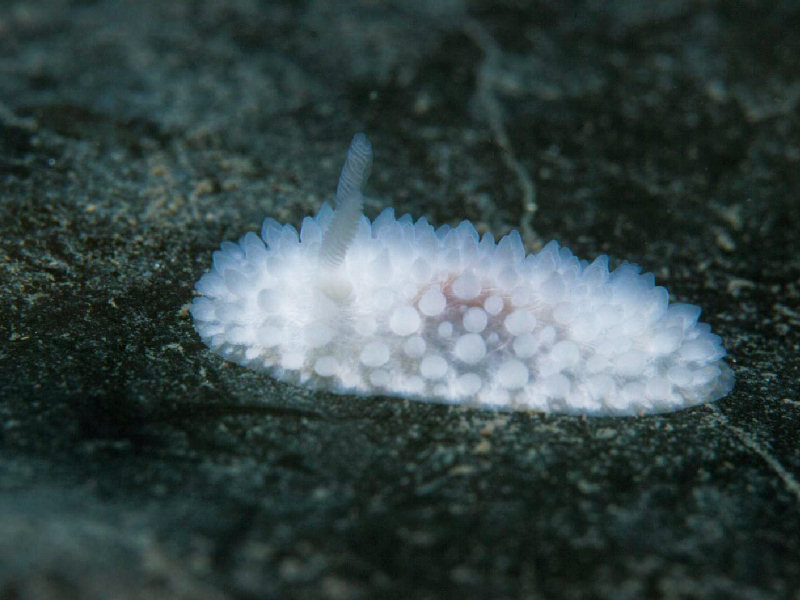 Researched by
Ken Neal
Refereed by
Admin
Authority
(Alder & Hancock, 1854)
Other common names
False doris
Synonyms
-
Summary
Description
Adalaria proxima is a substantial sea slug with a broad yellow body covered in fleshy projections (tubercles). Near the rear end is a circle of feathery gills and near the front end are antenna-like rhinophores that have a ribbed or stacked-plate like appearance (lamellate).
Recorded distribution in Britain and Ireland
A northern species in Britain, with it southern limit in north Wales.
Habitat
Adalaria proxima
feeds on sea mats (bryozoans) that encrust seaweed and is found in the intertidal and shallow sublittoral, mostly on
Electra pilosa
but also on species of
Membranipora
,
Alcyonidium
and
Flustrellidra.
Identifying features
An oval shaped sea slug up to 17 mm long.
Most individuals yellow all over but may be white in northern Britain.
Body is covered in small club shaped tubercles, with pointed tips.
Twelve gills surrounding anal papilla.
Rhinophores lamellate.
Additional information
Adalaria proxima may be confused with Onchidoris muricata but Adalaria proxima has a deeper colour and the rhinophores (tentacles at the front end longer than the tubercles) are more blunt at the tip.
Bibliography
Hayward, P., Nelson-Smith, T. & Shields, C. 1996. Collins pocket guide. Sea shore of Britain and northern Europe. London: HarperCollins.

Howson, C.M. & Picton, B.E., 1997. The species directory of the marine fauna and flora of the British Isles and surrounding seas. Belfast: Ulster Museum. [Ulster Museum publication, no. 276.]

Picton, B. E. & Morrow, C.C., 1994. A Field Guide to the Nudibranchs of the British Isles. London: Immel Publishing Ltd.

Thompson, T. E. & Brown, G. H., 1976. British Opisthobranch Molluscs. London: Academic Press. [Synopses of the British Fauna, no. 8.]
Datasets
Citation
This review can be cited as:
Neal, K.J. 2007. Adalaria proxima Yellow false doris. In Tyler-Walters H. and Hiscock K. Marine Life Information Network: Biology and Sensitivity Key Information Reviews, [on-line]. Plymouth: Marine Biological Association of the United Kingdom. [cited 11-12-2023]. Available from: https://www.marlin.ac.uk/species/detail/2044
---
Last Updated: 04/06/2007