Four-striped polycera (Polycera quadrilineata)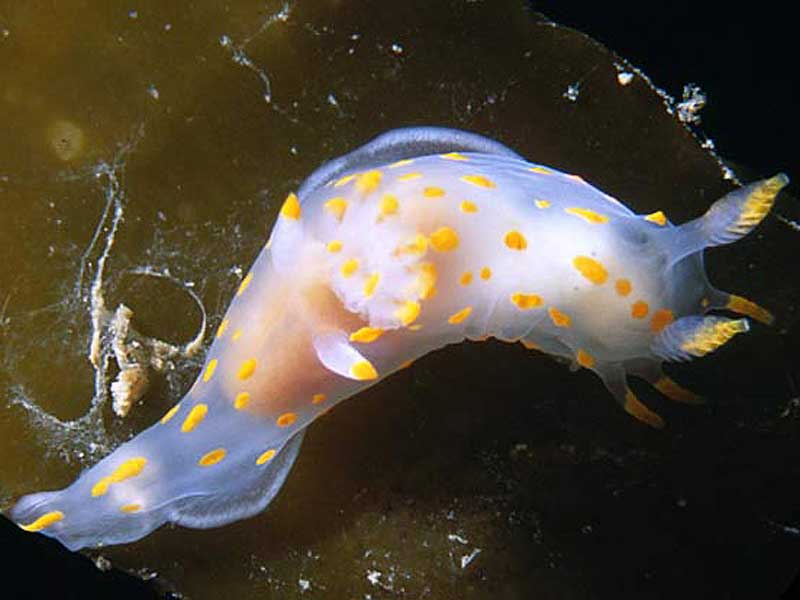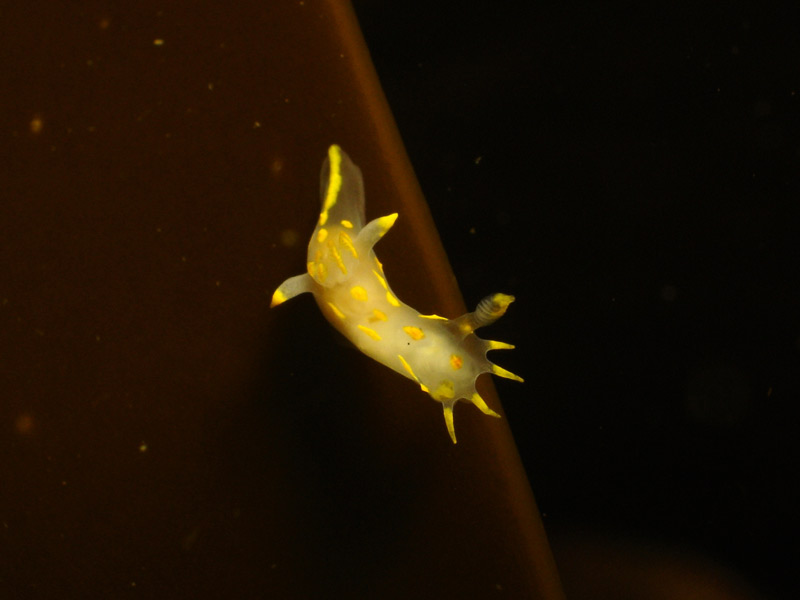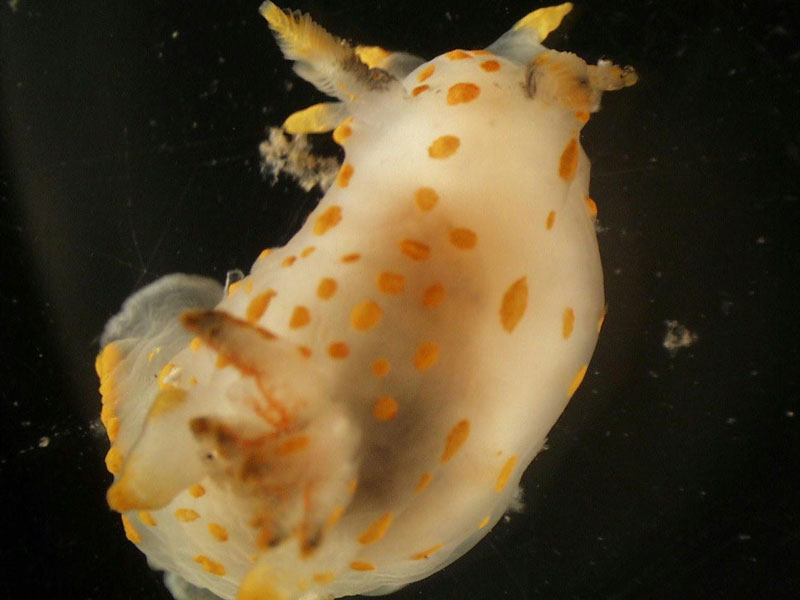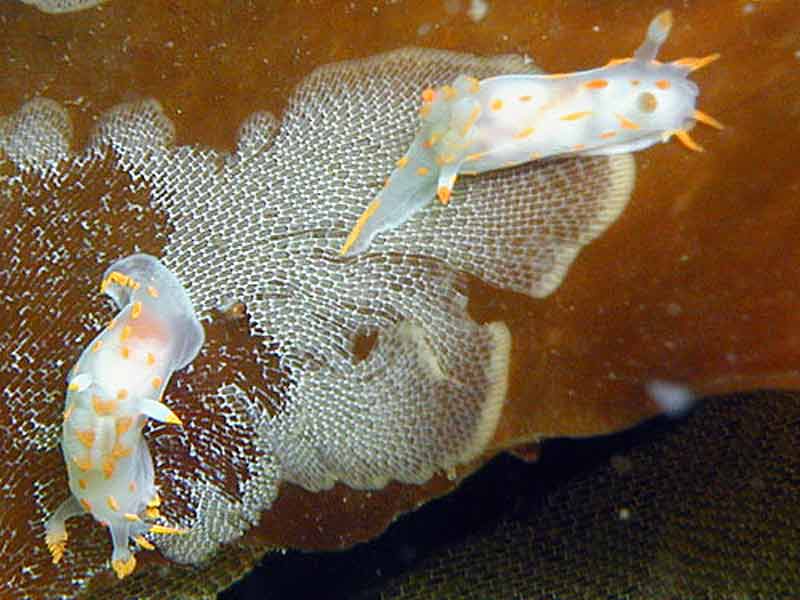 Researched by
Rose Edwards
Refereed by
Admin
Authority
(O. F. Müller, 1776)
Other common names
-
Synonyms
Thecacera capitata (O. F. Müller, 1776)
Summary
Description
Polycera quadrilineata may grow up to 3.9 cm, but the maximum recorded length is 4.5 cm. Its body is translucent white with patches of yellow and orange pigments forming five longitudinal lines. Along the mid-line there is a row of oval blotches, merging towards the rear. Occasionally individuals have black streaks, blotches or fine spots on their backs. The front region of the head extends to form an oral veil. The edge of the foot is usually dotted with colour extended into a veil which is usually edged with yellow-orange colour with spots on the flank. The four frontal processes (frontal veil papillae) are coloured yellow. Two sensory organs (rhinophores) are present on its head, they have thick stalks which end with a yellow cylindrical knob. The eggs are spawned in a short white curved ribbon. This species is often found in large numbers.
Recorded distribution in Britain and Ireland
Common all around the British Isles.
Global distribution
Recorded from America to the Mediterranean.
Habitat
Polycera quadrilineata occurs on encrusting sea mats (Bryozoa) from the intertidal and sublittoral zones to depths of about 60 m.
Identifying features
Grows up to 3.9 cm.
Translucent white with patches of yellow and orange.
Five longitudinal lines of varying shades along the back.
Four processes on the oral veil.
Additional information
Polycera quadrilineata is sometimes confused with Polycera faeroensis. However Polycera faeroensis has 8 or more oral veil processes whereas Polycera quadrilineata has four, and the patches of yellow pigments on the body are absent from Polycera quadrilineata.
Bibliography
Hayward, P.J. & Ryland, J.S. (ed.), 1995. The marine fauna of the British Isles and north-west Europe. Volume 2. Molluscs to Chordates. Oxford Science Publications. Oxford: Clarendon Press.

Howson, C.M. & Picton, B.E., 1997. The species directory of the marine fauna and flora of the British Isles and surrounding seas. Belfast: Ulster Museum. [Ulster Museum publication, no. 276.]

JNCC (Joint Nature Conservation Committee), 1999. Marine Environment Resource Mapping And Information Database (MERMAID): Marine Nature Conservation Review Survey Database. [on-line] http://www.jncc.gov.uk/mermaid

Picton, B. E. & Morrow, C.C., 1994. A Field Guide to the Nudibranchs of the British Isles. London: Immel Publishing Ltd.

Picton, B.E. & Morrow, C.C., 2000. Encyclopaedia of Marine Life of Britain and Ireland. http://www.habitas.org.uk/marinelife/index.html, 2003-09-18

Picton, B.E., 2000. Nudibranchs of the British Isles. http://www.pictonb.freeserve.co.uk/nudibranchs/index.html, 2003-09-11

Thompson, T. E. & Brown, G. H., 1976. British Opisthobranch Molluscs. London: Academic Press. [Synopses of the British Fauna, no. 8.]
Datasets
Citation
This review can be cited as:
Edwards, R.V. 2008. Polycera quadrilineata Four-striped polycera. In Tyler-Walters H. and Hiscock K. Marine Life Information Network: Biology and Sensitivity Key Information Reviews, [on-line]. Plymouth: Marine Biological Association of the United Kingdom. [cited 11-12-2023]. Available from: https://www.marlin.ac.uk/species/detail/1982
---
Last Updated: 17/04/2008