Sea mat (Membranipora membranacea)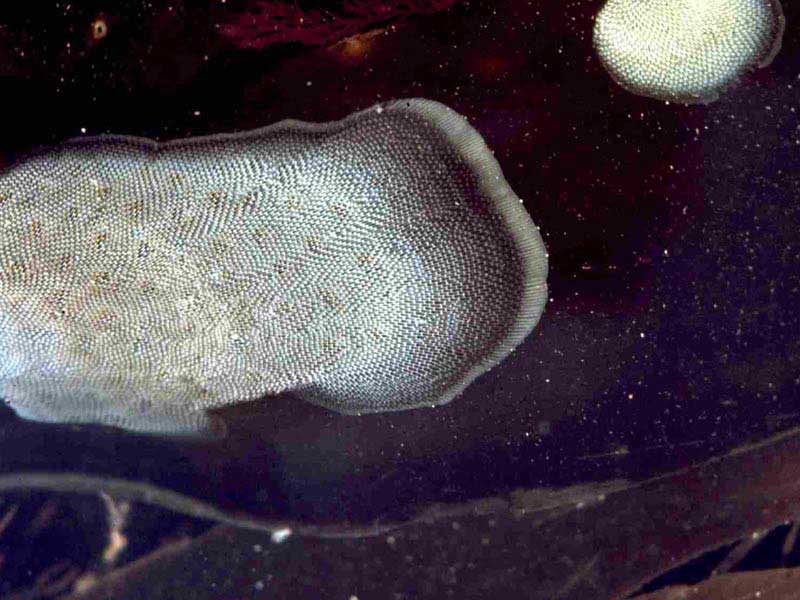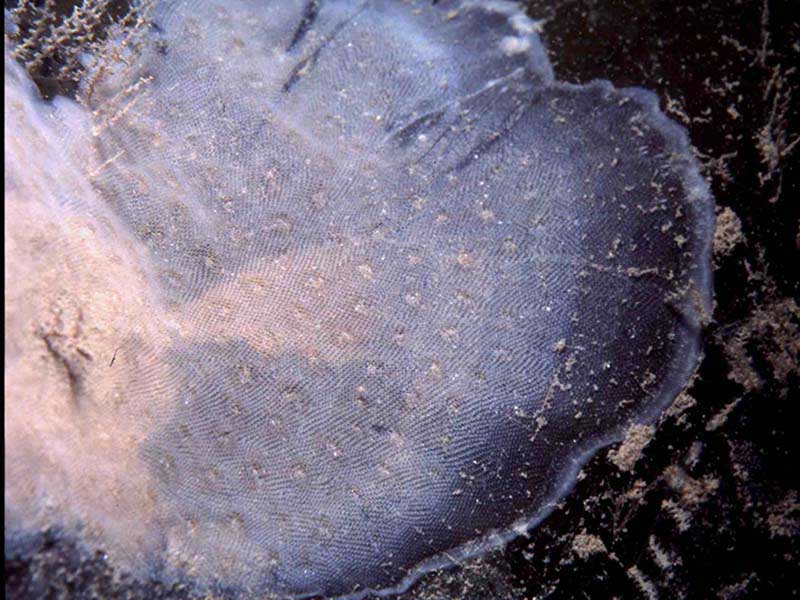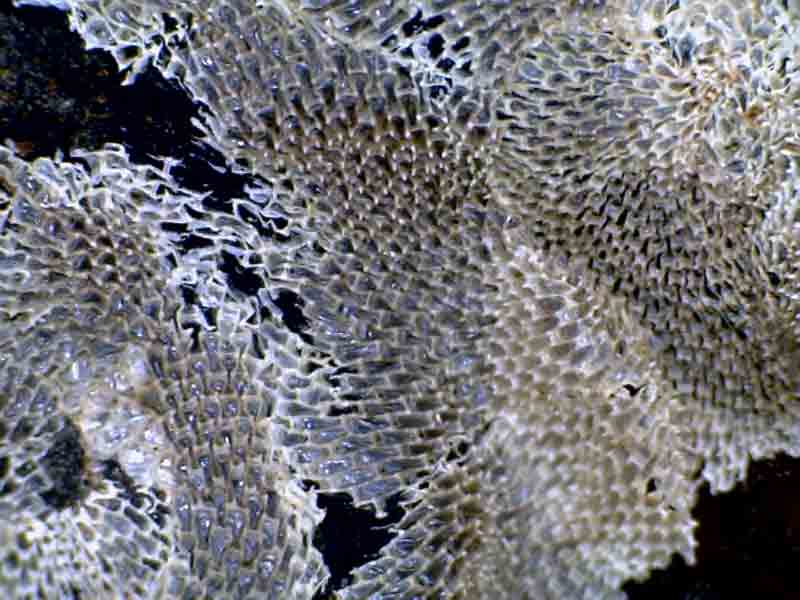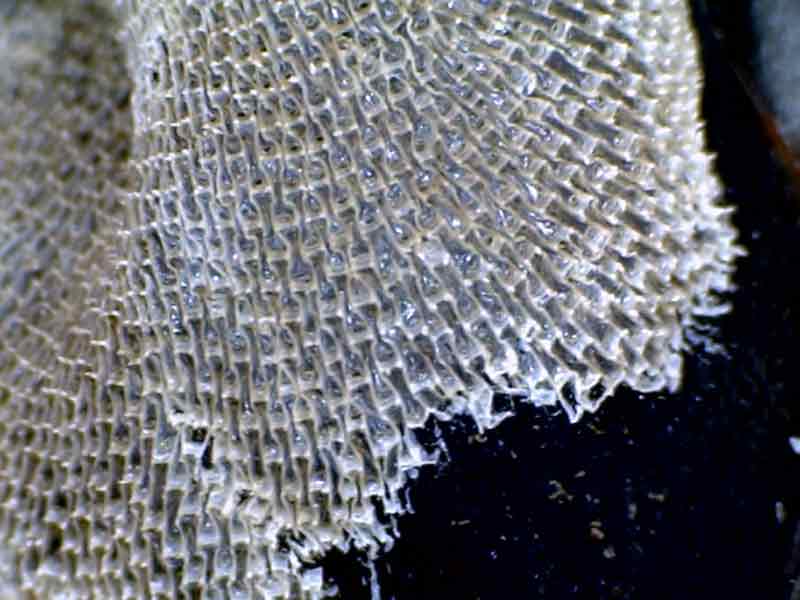 Researched by
Sonia Rowley
Refereed by
Admin
Authority
(Linnaeus, 1767)
Other common names
-
Synonyms
-
Summary
Description
This epiphytic bryozoan forms encrusting lacy mat-like colonies of very small, rectangular autozooids, 0.42 x 0.13 mm, with tubercules or short spines in the corners. Each zooid has lateral calcified walls that contain ventral uncalcified bands providing flexibility. A frontal membrane completely roofs the space between the supporting side walls with a lophophore (feeding tentacles) visible within. Tower zooids may also be present; where the frontal membrane projects upwards in a columnar way.
Recorded distribution in Britain and Ireland
This species is found all around the coasts of Britain and Ireland.
Identifying features
Encrusting colonies of varying size with lacy appearance.
Pale greyish-white in colour.
Autozooids 0.42 x 0.13 mm.
Membrane covering whole frontal surface.
Commonly found on Laminaria digitata and Laminaria hyperborea.
Additional information
Colonies may vary in size. Membranipora membranacea grows quickly (several mm/day) in response to predation from sea slugs and in order to maintain its position on the kelp frond. Prolific growth is favoured by fast flowing water which provides food and oxygen. Egg production occurs once a year in the spring; the larva (cyphonautes) is planktotrophic and is the most abundant and largest coastal larva in Britain between June and August. The larva settles in late summer-early autumn.
Bibliography
Gibson, R., Hextall, B. & Rogers, A., 2001. Photographic guide to the sea and seashore life of Britain and north-west Europe. Oxford: Oxford University Press.

Hayward, P. 1995. Antarctic cheilostomatous bryozoa. Oxford: Oxford University Press.

Hayward, P., Nelson-Smith, T. & Shields, C. 1996. Collins pocket guide. Sea shore of Britain and northern Europe. London: HarperCollins.

Hayward, P.J. & Ryland, J.S. (ed.) 1995b. Handbook of the marine fauna of North-West Europe. Oxford: Oxford University Press.

Hayward, P.J. & Ryland, J.S. 1979. British ascophoran bryozoans. London: Academic Press.

Hayward, P.J. & Ryland, J.S. 1998. Cheilostomatous Bryozoa. Part 1. Aeteoidea - Cribrilinoidea. Shrewsbury: Field Studies Council. [Synopses of the British Fauna, no. 10. (2nd edition)]

Howson, C.M. & Picton, B.E., 1997. The species directory of the marine fauna and flora of the British Isles and surrounding seas. Belfast: Ulster Museum. [Ulster Museum publication, no. 276.]

Ryland, J.S., 1970. Bryozoans. London: Hutchinson University Library.

Stachowitsch, M., 1992. The invertebrates: an illustrated glossary. USA: Wiley-Liss.
Datasets
Citation
This review can be cited as:
Rowley, S.J. 2004. Membranipora membranacea Sea mat. In Tyler-Walters H. and Hiscock K. Marine Life Information Network: Biology and Sensitivity Key Information Reviews, [on-line]. Plymouth: Marine Biological Association of the United Kingdom. [cited 28-11-2023]. Available from: https://www.marlin.ac.uk/species/detail/2079
---
Last Updated: 05/08/2004