Prawn cracker sponge (Axinella infundibuliformis)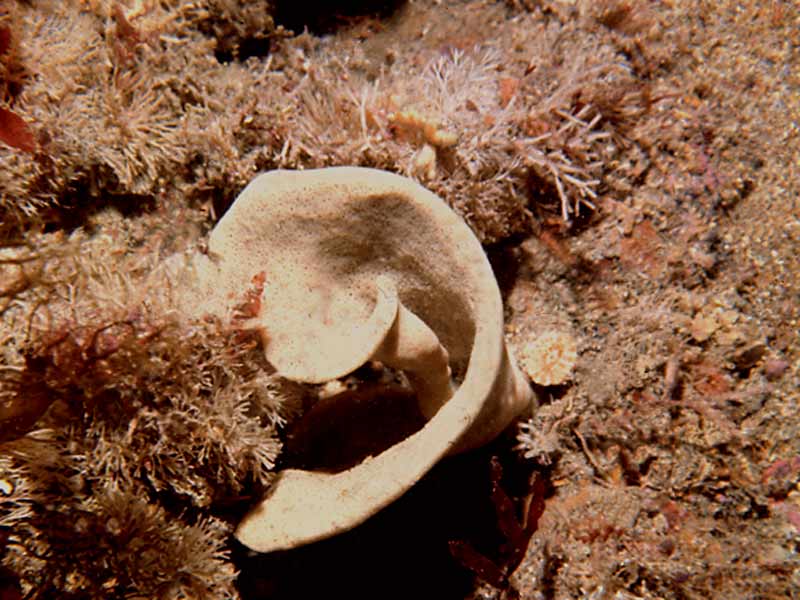 Researched by
Al Reeve
Refereed by
Admin
Authority
(Linnaeus, 1759)
Other common names
North Atlantic cup sponge
Synonyms
-
Summary
Description
Axinella infundibuliformis is light browny yellow, creamy white or creamy yellow in colour. It is cup shaped or fan -like (lamellate) if the cup is incomplete. The funnel can grow to 10 cm in diameter. The walls have a regular thickness of 3 -4 mm and terminate with rounded and firm edges. The exhalent pores (oscules) are distributed evenly over the inner surface and are larger than the inhalent pores (ostia) on the outer surface.
Recorded distribution in Britain and Ireland
Found on the west coasts of Britain and Ireland with records from south west England, Lundy, west Wales, the Isle of Man, south west and northern coasts of Ireland and western coasts of Scotland.
Habitat
Axinella infundibuliformis can be found, usually on upward facing rock, from the shallow sublitttoral down to 630 m depths.
Identifying features
Light browny yellow, creamy white or creamy yellow in colour.
Cup or cone shaped with the funnel reaching 25 cm in diameter.
Occasionally fan shaped if cone incompletely formed.
Body walls of regular thickness (3 -4 mm) with rounded and firm edges.
Additional information
Phakellia ventilabrum is similar in appearance but has thin walls and tapered, sharp edges to the cup. The composition of the internal skeleton (i.e. the spicules) are important taxonomic characteristics (see van Soest et al., 2000 for details). As with other Axinella species, Axinella infundibuliformis is likely to be extremely slow growing, long lived and does not colonize artificial reefs (K. Hiscock pers. comm.).
Bibliography
Ackers, R.G.A., Moss, D. & Picton, B.E. 1992. Sponges of the British Isles (Sponges: V): a colour guide and working document. Ross-on-Wye: Marine Conservation Society.

Hayward, P.J. & Ryland, J.S. (ed.) 1995b. Handbook of the marine fauna of North-West Europe. Oxford: Oxford University Press.

Howson, C.M. & Picton, B.E., 1997. The species directory of the marine fauna and flora of the British Isles and surrounding seas. Belfast: Ulster Museum. [Ulster Museum publication, no. 276.]

JNCC (Joint Nature Conservation Committee), 1999. Marine Environment Resource Mapping And Information Database (MERMAID): Marine Nature Conservation Review Survey Database. [on-line] http://www.jncc.gov.uk/mermaid

Moss, D., & Ackers, G. (eds.), 1982. The UCS Sponge Guide. Produced by R. Earll. Ross-on-Wye: The Underwater Conservation Society.

Picton, B.E. & Morrow, C.C., 2000. Encyclopaedia of Marine Life of Britain and Ireland. http://www.habitas.org.uk/marinelife/index.html, 2003-09-18

Van Soest, R.W.M., Picton, B. & Morrow, C., 2000. Sponges of the North East Atlantic. [CD-ROM] Windows version 1.0. Amsterdam: Biodiversity Center of ETI, Multimedia Interactive Software. [World Biodiversity Database CD-ROM Series.]
Datasets
Citation
This review can be cited as:
Reeve, A. 2005. Axinella infundibuliformis Prawn cracker sponge. In Tyler-Walters H. and Hiscock K. Marine Life Information Network: Biology and Sensitivity Key Information Reviews, [on-line]. Plymouth: Marine Biological Association of the United Kingdom. [cited 11-12-2023]. Available from: https://www.marlin.ac.uk/species/detail/2121
---
Last Updated: 30/06/2005