Sinistral spiral tubeworm (Spirorbis (Spirorbis) spirorbis)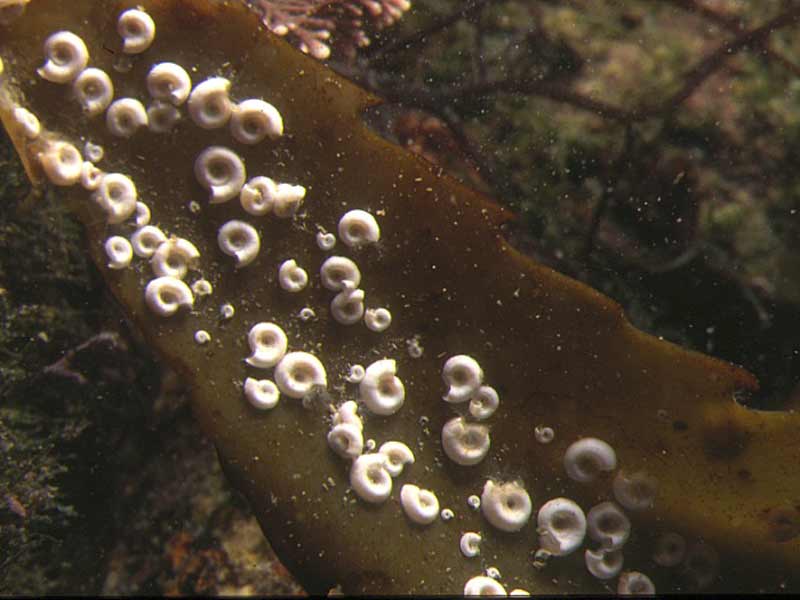 Researched by
Susie Ballerstedt
Refereed by
Admin
Authority
(Linnaeus, 1758)
Other common names
-
Synonyms
-
Summary
Description
The body of Spirorbis (Spirorbis) spirorbis is often no more than a few mm in length and orange-red in colour. It is permanently encased in a characteristic smooth, white, evenly coiled tube, 3-4 mm in diameter. The tube is sinistral (coils to the left) with a small, peripheral flange.
Recorded distribution in Britain and Ireland
Common on the rocky shores of Britain, particularly the west coast of Scotland, and also occurs in Ireland.
Global distribution
Common around the coast of north west Europe.
Habitat
Spirorbis (Spirorbis) spirorbis
particularly favours the fronds of
Fucus serratus
and
Fucus vesiculosus
in the shallow sublittoral and intertidal but also occurs on other algae such as laminarian algae,
Himanthalia elongata
buttons and, more rarely, stones.
Identifying features
Smooth, white spiral tube, 3-4 mm diameter.
Small peripheral flange spreading over the substratum at the attachment of the tube.
Tube coils to the left (sinistral).
Additional information
Large numbers of Spirorbis (Spirorbis) spirorbis individuals may be found on a single piece of Fucus.
Citation
This review can be cited as:
Ballerstedt, S. 2001. Spirorbis (Spirorbis) spirorbis Sinistral spiral tubeworm. In Tyler-Walters H. and Hiscock K. Marine Life Information Network: Biology and Sensitivity Key Information Reviews, [on-line]. Plymouth: Marine Biological Association of the United Kingdom. [cited 30-09-2023]. Available from: https://www.marlin.ac.uk/species/detail/2250
---
Last Updated: 20/11/2001