A sea slug (Pleurobranchus membranaceus)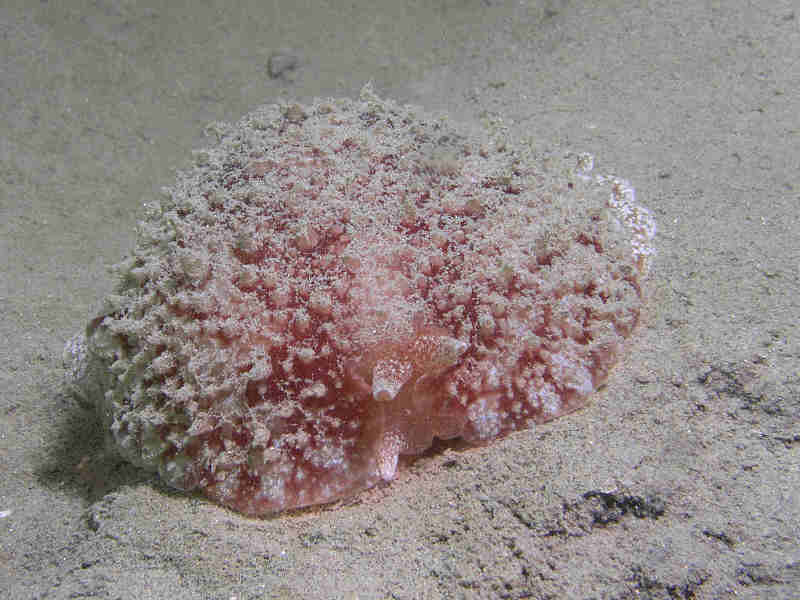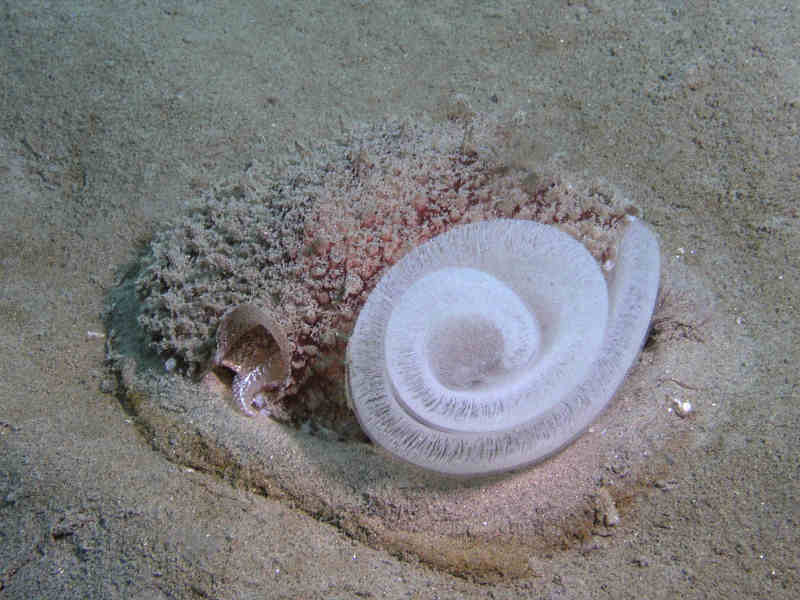 Researched by
Ken Neal
Refereed by
Admin
Authority
(Montagu, 1816)
Other common names
-
Synonyms
-
Summary
Description
Pleurobranchus membranaceus is a large, round sea slug up to 12 cm in length. The body consists of the brown mantle, which is covered in short fleshy projections known as tubercles, and a white foot, which forms a 'skirt' around the mantle. The front end bears obvious tentacles the outer oral tentacles and the rhinophores between them. The rhinophores consist of rolled extensions of tissue.
Recorded distribution in Britain and Ireland
Recorded from various locations around Britain and Ireland.
Identifying features
Brown body, up to 12 cm in length.
Dorsal surface bears tubercles.
Posterior edge of mantle lobed to form an exhalant siphon.
Two pairs of tentacles; oral tentacles, and the dorsal rhinophores that are longitudinally rolled.
Additional information
Pleurobranchus membranaceus may be seen swimming by turning onto its back and flapping the foot like wings.
Bibliography
Bruce, J.R., Colman, J.S. & Jones, N.S., 1963. Marine fauna of the Isle of Man. Liverpool: Liverpool University Press.

Crothers, J.H. (ed.), 1966. Dale Fort Marine Fauna. London: Field Studies Council.

Hayward, P., Nelson-Smith, T. & Shields, C. 1996. Collins pocket guide. Sea shore of Britain and northern Europe. London: HarperCollins.

Hayward, P.J. & Ryland, J.S. 1990. The marine fauna of the British Isles and north-west Europe. Oxford: Oxford University Press.

Howson, C.M. & Picton, B.E., 1997. The species directory of the marine fauna and flora of the British Isles and surrounding seas. Belfast: Ulster Museum. [Ulster Museum publication, no. 276.]

Picton, B.E. & Costello, M.J., 1998. BioMar biotope viewer: a guide to marine habitats, fauna and flora of Britain and Ireland. [CD-ROM] Environmental Sciences Unit, Trinity College, Dublin.

Thompson, T. E. & Brown, G. H., 1976. British Opisthobranch Molluscs. London: Academic Press. [Synopses of the British Fauna, no. 8.]
Datasets
Citation
This review can be cited as:
Neal, K.J. 2005. Pleurobranchus membranaceus A sea slug. In Tyler-Walters H. and Hiscock K. Marine Life Information Network: Biology and Sensitivity Key Information Reviews, [on-line]. Plymouth: Marine Biological Association of the United Kingdom. [cited 28-11-2023]. Available from: https://www.marlin.ac.uk/species/detail/2048
---
Last Updated: 02/11/2005